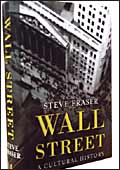 WALL STREET
By Steve Fraser
Faber & Faber
PP: 632
Price: Rs 770
You can love the stock markets or you can hate the stock markets. Ignore them, you can't. It doesn't matter who you are: A businessman, a housewife, a salary man, or a politician. Everyone's life, one way or another, is inevitably pulled by the mysterious money machine that often spins chaotically, but always relentlessly. Play it right, undreamt of riches could be yours; misread it, the result can be fatal. In India-home to Asia's oldest stock exchange, the Bombay Stock Exchange, founded in 1875 under a banyan tree-the stock market culture is barely two decades old. But the extent to which it has become a part of our everyday lives, is all too apparent. Sale of everything from capital goods to something as mundane as a grilled sandwich at a restaurant, is directly linked to the stock market's performance.
Unfortunately, nobody as yet has documented how India's growing obsession with its financial markets has impacted the psyche of the nation. But if what they say about history repeating itself is true, then India's capitalist future may have been foretold in Steve Fraser's Wall Street: A Cultural History. A former teaching fellow at Princeton, Fraser delivers a truly unique account of the world's most powerful stock market. His account is at once a chronicle of Wall Street's tumultuous history and a soul-baring of American capitalism.
In this delightfully engaging work, you'll encounter a variety of characters (ranging from a small-time "confidence man, William Thompson, to the legendary financier J.P. Morgan), a multitude of situations (the railroad boom and its impact on Wall Street to the bombing of the House of Morgan), and many pieces from contemporary Street history, including the dotcom boom and the Enron and WorldCom scandals. When Fraser writes, "Even in the teeth of the most stunning Wall Street frauds since the crash of '29, people remain enamoured", it is impossible to miss the truth it holds about the emerging Indian situation. Scams have been as old as the stock markets themselves, but every morning when the stock trader gets up to go to work, he thinks of profits, not losses. It is this irresistible promise that fuels the relentless money machine, be it on Wall Street or Dalal Street.
---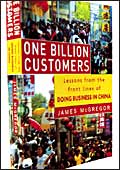 ONE BILLION CUSTOMERS
By James McGregor
Nicholas Brealey Publishing
PP: 301
Price: Rs 800
CHINESE PUZZLE
Given the title of the book, one Billion Customers, James McGregor may well be writing about India and not China. McGregor, a former China bureau chief for the Wall Street Journal and now a prosperous businessman in China, points out how nothing-honesty, truth, contractual obligations, partnerships and moral principles-is absolute or what it seems in China. "Forget face, get the facts," he advises readers as part of his do's and don'ts of negotiating in the complex, contradictory and often treacherous market of China. And McGregor illustrates all this through examples, borrowing from his own experience of living for more than 20 years in China, first as a journalist and now as a business consultant. In that sense, the book-meant for anyone with interest or stake in China-is also a "how not to do business in China" guide. For example, McGregor advises his readers to avoid joint ventures with the Chinese government, not to ignore the bureaucracy or the power of lobbying. But more than anything, he says, if you have gotten into a fight with either your Chinese partner or the government, be tough. Apparently, the Chinese respect you for it.