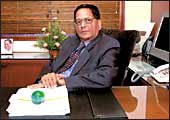 NAME: KALLAM ANJI REDDY
AGE: 64 years
DESIGNATION: Founder Chairman
GROUP: Dr Reddy's Laboratories
Circa 1967, when Kallam Anji Reddy, got his first job at the public sector Indian Drugs and Pharmaceuticals Limited, little did he expect that 38 years later, he would be the Founder Chairman of a Rs 1,947-crore Indian pharma MNC with a footprint covering 100 countries. He consolidated that presence in the first week of November by acquiring Roche's state of the art API unit in Mexico for $59 million (Rs 265.5 crore). Says Reddy, a PhD from National Chemical Laboratory, Pune, who founded Dr Reddy's Laboratories (DRL) in 1984: "The spirit of adventurism is very important if you want to compete with the best in the world." That spirit is evident from the several firsts that DRL has to its credit-it was the first Asian company (outside Japan) to launch an ADR issue (2001); that year again, it became the first Indian pharma company to successfully challenge a patent granted to an MNC. Result: it was granted a 180-day exclusive marketing period in the US for Fluoxetine 40 mg, the active ingredient in Eli Lilly's blockbuster anti-depressant drug, Prozac. Today, DRL manufactures and markets bulk drugs, dosages and generics worldwide. But the last couple of years haven't been happy for it. In 2004, it lost the legal battle in the us to launch a generic version of Pfizer's hypertension drug, Norvasc, dashing its hopes of raking in over $200 million (Rs 920 crore) from it; its sales and profits for 2004-05 were also down 3 per cent and 92 per cent, respectively. But things are looking up again. In March this year, it entered into a deal with icici ventures to raise $56 million (Rs 246.4 crore) to fund the launch of generics in the US market. And in the first half of this year, its sales and profits grew 8 per cent and 79 per cent, respectively, to Rs 1,114 crore and Rs 120 crore. Has Reddy regained his Midas touch? Investors will be praying hard he has.