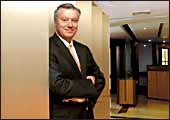 A. Daniel Meiland heads one of the world's best-known executive search firms, Egon Zehnder. The firm, which specialises in CEO and senior executive searches, fared relatively better than its peers through the industry's cold hard winter between 2001 and 2003. Now the fifth largest executive search firm in the world, EZ is considered a pioneer of sorts in its area: it was the first to have consultants specialising in specific industries; and it was among the first to follow a one-firm model (it has offices in 39 countries around the world), with partners getting to share profits (as opposed to a commission-based model). Meiland, a former McKinsey & Co consultant, has done his share of searches (his toughest was one where, hounded by the media while he was trying to find a CEO for a well-known company, he got the entire board to check in for a flight, diverted them to a bus on the tarmac, drove them back to town where the entire floor of a hotel had been reserved, and got them to meet with candidates), and was in India recently (Egon Zehnder completed 10 years in India this year). He met with Business Today for a discussion on EZ's Indian operations and the future of the executive search industry. Excerpts:
It's six years since you were here last and 10 years since your first visit. Do you sense some changes? Can you feel some changes in the country?
Yes, these are obviously coloured by India playing a much bigger role globally, so you hear about it constantly. I live in the United States and the influence of Indian business and the acceptance of the 'brains' from India to run major corporations in the country has been very pronounced. Ten years ago, India was something that you talked about. It was a big market. You said, almost like a consumer goods company, 'There are many people, they do have some money, so there must be a market and therefore we should be there'. If you talk to big corporations, they all probably did the same thing, saying, there must be a fantastically big market for us (in India). And then things started taking time. What's happened is that because of the brainpower and the acceptance of that globally, the whole view of the world on what is happening in India has changed enormously over the 10-year period, but especially since the bubble burst in 2000. India has become, in many ways, the driver. When you then come here and look at it, you see the enormous contrasts. A lot of the India I saw 10 years ago hasn't changed all that much. And then you come to (a city like) Delhi and you see how things have changed and how the opportunities have expanded enormously in India.

From the point of view of global searches-say, a large multinational corporation is looking for a senior executive-would India be more important than China?
If it is a global firm and the position is based in the US and Europe, India by far. There are not enough top managers who have surfaced that way in China (as they have here).
So, do you do lots of such searches that include India?
When corporations come with a big CEO search or top management search... I have been in this profession for 28, 29 years. In the old days they never meant it when they said, 'Search globally'. Less than 5 per cent of the searches we did were truly international. These days, almost a 100 per cent are. Of course, India plays a part in that, and the office in India will get a call saying, 'This is the position and is there anyone in India we should consider?' Also, there are people from India who have succeeded outside and they are certainly on our list. Global searches from India, where an Indian company comes to you and says, 'You have to look for someone outside India' happen constantly. There's compensation and other things that play a role in attracting these people. Like in any country, they have to say, 'We'll take one or two people'. The top, top, top people you can do that (hire globally), but if it is further down, it will destroy your compensation structure.
"We do not hire from competitors as we do not want to contaminate our culture"
Do you have an increasing number of senior executives coming to you and saying, 'I am open to working in India'?
We have an increasing number of successful Indians outside who are open to coming back and working in India. I would be saying something that is not truthful if I were to tell you that lot of people who are not from India come to us and tell us we are open to working anywhere in the world, including India and China. That tends to be at a level just below where most of our searches happen. Younger people see this (India) as a frontier. You have become what the West was in my generation. I come from Europe and the West was where opportunities were.
Where do you see your industry headed? What trends do you see emerging?
We call it a profession because we are focussed not on running Egon Zehnder as a normal business; we want to run it truly as a profession. This may sound banal to you, but I truly think that you cannot focus on the money in a profession like ours; it is a by-product. In our 41 years of existence, we haven't made profits only in two years and I think this is because we focus on the professional aspect of the work that we do for our clients.
You will see, in our profession, a split between those firms-and there will only be a few of them-that are capable of concentrating on what they do and not what they earn. It is kind of like the transition that happened in investment banking where years and years ago, it was much more of a 'professional' endeavour, where investment bankers worked for the client, not thinking about the fees first. Money and people is a dangerous mix. It is like a drug. The money became so big, that it became the focus. I personally think it is a pity that so many investment banks have gone public, through an IPO, having to answer first whether they have money growth and find out where they can get that, and (finally), 'Let us invent things that will get us the money'. Our focus is just the opposite.
Ten years from now, you will find only a handful of firms in our business that continue to do this. The rest will be running after the money. There will be room for them but it will become a transactional business.
I do not see our firm go much beyond the services we (currently) offer over the next decade. There are plenty of things we could do (but we won't). We probably know more of the movers and shakers in the world than anyone else. That's our livelihood. We know the people who make decisions. We meet with them (regularly). We have their confidence. There are so many private equity firms and big investors who have tried to get us to use these contacts to find business for us. That would be a natural if you want to just maximise the money you want to make.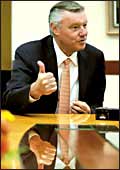 "Younger people see India as a frontier like my generation did the US"
How do you hire your people? What do you look for in them?
We do not hire actively from any of our competitors. That may be foolish, but we have a very distinct culture and we do not want to contaminate that. We need to look for people who have 'self-selected' and been 'selected' many times through their life. That's why we like education; we are the only executive search firm in the world that requires at least a master's degree, if not a doctoral degree. If people don't have it, we may help them get it, and we may even pay for it in some cases, if we really like them, but they have to have it. The second thing is, they must have worked for organisations where it was difficult to get in, especially in the early years. One of the reasons that we have so many ex-McKinsey people-I happen to be one of them-is because McKinsey is very strict in its recruitment. If they (our people) come from investment banking, you will see that they have been in Goldman Sachs, Morgan Stanley, Lehman Brothers. Why? Because it is very difficult to be picked by these organisations. These criteria are the easy ones. Then, we have to decide whether the person will fit into our organisation. We do that through a lot of interviewing. In the last 25 years, no one has entered our firm unless they have met between 25 and 40 of our consultants, in quite a few offices around the world. We allow a few of them to say 'I am not sure' but if three or four say that, the person will never get hired. We are not a firm that likes to hire and then say it isn't working for us. So far, we have been lucky. Our turnover rate is less than 3 per cent a year in a profession where the average is over 25 per cent. It has become almost a family thing. We would never, for instance, hire someone because he has 'contacts'. We have enough contacts. What we have seen is that people who think they have many contacts can never convert them.
If you look at the stage the headhunting industry is in India...
We don't call it that (we call it executive search).
... what stage is it that? Is it in a growth phase...
It is in an enormous growth stage. When we came in here we thought the same thing that happened to us in other countries would happen here too. That pattern was that our main clients would follow us into those markets. Around 70-80 per cent of our business in those markets was what we did for these clients. A different trend emerged. When Egon Zehnder International was set up in India, that was the time when family companies were professionalising, other strategic management consultants had grown very fast for two to three years before that and probably were advising these companies, and almost from Day 1, two-thirds or more of what we did in India, at fee levels similar to that we had for other companies in other parts of the world, was for Indian companies. If we were to continue to grow for the next 10 years at the same rate at which we have grown in the first 10 in India, then, we would end up being as big as some of the large it services firms here. Ten years from now, India will be among the top four countries for us.