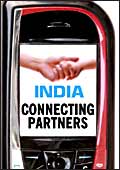 Days after UK mobile services giant Vodafone announced it would pick up a 10 per cent stake in Sunil Mittal's Bharti Tele-Ventures (BVTL) for an eye-popping $1.5 billion (Rs 6,750 crore), Spanish telecommunications operator Telefonica agreed to buy O2 PLC, a UK mobile company, for £17.7 billion (Rs 1,41,600 crore). The acquisition of o2, which has been a star performer in the European mobile telephony space for the past three years, enables Telefonica to further expand its footprint across Europe-earlier in 2005, the Spanish corporation had taken over Czech operator Cesky Telekom.
Even as European wireless giants scramble to consolidate their operations within the continent, there's a billion-dollar question now being asked in global investment banking circles. Post Vodafone's re-entry into India, how long will it be before operators like Sistema, Telenor, France Telecom-and Telefonica- make their intentions clear for the world's fastest growing wireless market? As Manisha Girotra, MD & Chairperson (India), UBS Securities (which represented Vodafone in the deal with Bharti), points out, the European operators have little option but to be in India. "The demographics work well for them, with the 18-25 age group being a huge population. Besides, the 3g problems are over in Europe and the next story will have to be Destination India," she states.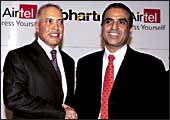 Right note: Bharti's Sunil Mittal (R) and Vodafone's Arun Sarin after signing an eye-popping $1.5 billion (Rs 6,750 crore) deal
To be sure, there are many who agree with that line of thinking, encouraged no doubt by the policy initiatives taken by the government for the telecom sector, the latest being an increase in the limit on foreign direct investment to 74 per cent. And if the Europeans are looking at India very closely, two huge triggers have prompted that interest. One is the near-saturation levels prevailing in European markets. And two, the conviction that Indian telecom has finally come of age, with the Bharti-Vodafone deal contributing in no small measure in reinforcing that belief. Explains Munesh Khanna, Managing Director, N.M. Rothschild India: "One would have expected it (a deal of such magnitude) to come from a place like China. This deal only proves that the levels of interest in India have certainly increased from the perspective of the players in Europe."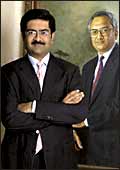 "Today, one cannot have a (telecom) strategy that is rigid and etched in stone"

K.M. Birla
Chairman/AV Birla Group
At the same time, the options for the European players are fairly limited with some of their markets having penetration levels in excess of 90 per cent. Stagnant revenues per user compound that problem. Against such a bleak backdrop, entry into newer markets is vital. Sure, but why India? According to Kishor Chaukar, Managing Director, Tata Industries, the growth in the Indian market-about 35 per cent in 2005 so far-is clearly one huge contributor to the interest in the Indian market. "India is a huge market, and there's also stability on the regulatory front," he points out. It also helps that most domestic players aren't doing do badly for themselves in this capital-guzzling business. According to Enam Financial Consultants' Co-Head Investment Banking, Mahesh Chhabria, operators are demonstrating healthy cash flows and there have been high-quality network rollouts. "India has major positives like the highest per minute usage rates and the lowest tariffs. With operators looking to provide more value-added services, there is ample scope for more money to flow in," he explains.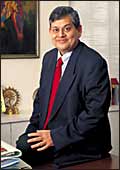 "India is a huge market, and there's also stability on the regulatory front"

Kishor Chaukar
MD/ Tata Industries
Clearly a newer and a more conducive environment has augured well for Indian telecom. As av Birla Group Chairman Kumar Mangalam Birla told BT recently: a lot of the regulatory overhang has been cleared. That has contributed to his group deciding to do a rethink on telecom as a business. "We were in exit mode and under the new circumstances, we thought it made sense to keep telecom as a strategic business. Today, one cannot have a strategy that is rigid and etched in stone. It has to be flexible," he states. The AV Birla Group has, in the process, decided to increase its holding in cellular major Idea Cellular to over 50 per cent from the earlier level of 33 per cent.
So, who are the most likely suitors? Russian operator Sistema comes readily to mind, as it has come close to clinching a deal in India on more than one occasion. It was one of the bidders when Cingular Wireless put its 33 per cent stake in Idea Cellular on the block; Sistema had also offered to acquire a 49 per cent stake in the C. Sivasankaran-promoted Aircel for a whopping $450 million (Rs 2,025 crore). Both the proposed acquisitions never saw the light of day, but as the buzz in investment banking circles indicates, those aborted bids haven't resulted in India dropping off Sistema's radar.
The case of Telenor is interesting. This Norwegian major, apart from a presence in its home country, operates in Denmark, Ukraine, Hungary and Malaysia. It also has a presence in neighbouring Bangladesh and will soon commence services in Pakistan. Going by that geographical spread, India would be hard to leave out. Here too, the news is that India is being seriously considered and it could just be a question of time before it comes in. The other players who are scouting around for buyouts in India are said to be France Telecom and Telefonica.
WHY TELECOM EUROPE IS KEEN ON DESTINATION INDIA

» India is the fastest growing market in the world
» Quick movement to the CPP regime
» European home markets are saturated with slow growth in revenues
» India could just be the next big 3G story
Any potential acquirer wouldn't want to wait too long before taking the plunge into India, given that valuations aren't getting cheaper. The Bharti-Vodafone deal placed Bharti's valuation at $17 billion (Rs 76,500 crore)-(same time last year, Bharti's market capitalisation was Rs 29,600 crore while it is over Rs 63,000 crore today)-and this could result in other players, including regional operators like Aircel and Spice, commanding a premium. Of course, the chances of Spice and Aircel being gobbled up by a pan-India operator such as Bharti or Hutch or Idea-rather than any of the global predators-are pretty strong. Aircel came close to sealing a deal with Hutch as it did with Sistema. The need for the smaller operators to sell out comes largely from their inability to expand their presence to more circles as they aren't in a position to rustle up the huge capital needed for such growth.
Other than India, China-the largest mobile market after the us where it is not easy to invest because of stricter regulations-would be a logical country foreigners should be eyeing, but from a domestic standpoint, India has its advantages. Regulations, point out bankers, are more sympathetic towards the operators. In 10 years of wireless telephony, India has managed to bring in the Calling Party Pays (CPP) regime quite effortlessly. (China does not have a CPP regime.) Small wonder then over the last couple of years, Indian operators have been consistently logging in over two million subscribers each month. The policy to allow a foreign operator to hold 74 per cent in an Indian telecom corporation is the cherry on the cake. "The increase in fdi will become an added incentive," avers Chaukar. So, who's it going to be after Vodafone? Watch this space.