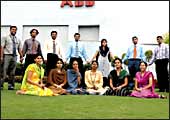 Early Bird: ABB has recruited 100 engineers this year
These are the best and the worst of times for old economy companies in sectors such as auto, power, cement and heavy machinery. Even though their order books are bursting at the seams, what with the economy on a roll, an acute manpower crisis is staring these companies in the face. "We have faced a huge talent crunch in the last couple of years because of the aggression unleashed by it companies," says R. Seshasayee, MD, Ashok Leyland.
The success of the IT industry, mainly software offshoring, and its seemingly insatiable need for engineers, is having an adverse impact on all other industry sectors. A recent ACNielsen Campus Track of engineering colleges across the country shows a marked preference among fresh graduates, almost two-thirds, for software and it consultancy jobs. And it helps that it companies, that earn huge margins, upwards of 20 per cent, can afford to out-pay most others at engineering campuses. "This is creating a demand-supply imbalance for traditional employers," says G. Raghurama, Dean, Admission and Placement, Birla Institute of Technology and Science (bits), Pilani. In the last four years, almost 70 per cent of bits pass-outs, and there are around 400 every year, have joined it companies.
Competition For Quality People
But isn't it strange that in a country with over 1,346 All India Council For Technical Education (AICTE) approved engineering colleges, which churn out over 350,000 engineering graduates every year, there seems to be a dearth of talent? The fact is just about 100 of these, mostly IITs and regional engineering colleges, are considered creditable by employers, and of all the pass-outs, just about a fifth qualify as employable engineering talent. Obviously, top companies, domestic as well as multinational, across sectors battle among themselves to select from this bunch. And big manufacturing companies such as ABB and Larsen & Toubro (L&T), which are unwilling to compromise on their induction standards, are forced to scrape the bottom of the barrel.
Traditional companies are getting a headstart by recruiting at campuses ahead of the IT firms
Huge competition from it apart, there is another challenge that the traditional engineering companies have to contend with. "Most engineers these days opt for an MBA and hence, move out for management careers," says Shiv Agrawal, CEO, ABC Consultants. Industry estimates suggest that over 50 per cent of all Indian Institute of Management students (and there are a good 1,500 of them who pass out of the six IIMs every year) are engineers, who eschew traditional shop-floor engineering jobs in favour of sales, marketing or finance ones.
Innovate, Hard Sell To Survive
The old economy players, though, are not taking it lying down, and are devising new ways to stay relevant in the job market. They are combing campuses much before it companies come calling, paying higher salaries, building performance-led incentives even for entry-level engineer trainees and generally flexing their solid, old economy brand credentials to woo potential recruits.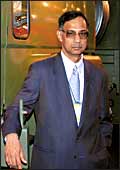 Ashok Leyland's Seshasayee (above) and ABB's Rajiv: Beating IT majors in the recruitment game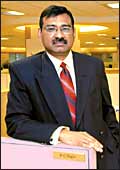 "We recently launched an innovative e-Campus recruitment programme, wherein we held pre-placement talks via video conferencing in 40 colleges, followed by an on-line web-based test," says P.C. Rajiv, Head, Human Resources, ABB India, on the company's new idea of beating it majors by going to top colleges much before the recruitment season kicks in. "Along with the salaries, we now offer our prospective employees performance-based incentives and other monetary benefits," says Seshasayee. Salary bills at manufacturing companies are up 20 per cent to 25 per cent in the last two years.
But what's heartening for some of these companies is that all the hard sell seems to be working. Mohan Kumar N., an electrical engineer from R.V. College of Engineering, Bangalore, is a case in point. He chose to work with ABB, despite an offer from Wipro. "This job is up my street. At the early stage of my career, I need exposure to the best electrical and electronics practices," says Shiba Anand, an electrical electronics engineer from MIT Manipal, who joined ABB in June 2005. Thanks to being the early bird, ABB managed to recruit 100 students this year, double its last year's count, from the 750-odd candidates that took its online tests.
"Students are increasingly realising the importance of choosing a career in core engineering organisations because it gives them an opportunity to polish and build on their domain expertise," says a spokesperson for L&T. "Last year, a lot of our students joined companies like Maruti, L&T, Tata Motors and Tata Steel, despite having many other offers. Many engineers are now choosing to uphold the pride of their vocation, rather than go for a coding job, which could be repetitive and hence, boring," says Professor Gautam Sinha, in charge of training and placement at IIT, Kharagpur. There is a kernel of truth in what he says, or how else would companies such as Hindustan Lever, ITC, Tata Motors, L&T and Ashok Leyland manage to attract a higher number of students this year than the previous years, even as the it bandwagon shows no signs of slowing down?
---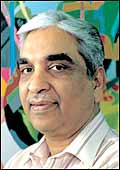 I have been working as a network administrator for the past 10 years. I am 35, have never upgraded my skills and am unable to make a career transition as the technology I use is outdated. Would you advise that I go for short-term certification courses or should I do a full-time two-year course in Computer Science?
I would advise you to do a short-term course as what you are looking for is upgrading your skills. Before you opt for a course, take into consideration what your strengths and core interests are and also the kind of technical job you want to do. Specialise in one particular area rather than trying your hands at all kinds of courses. It would be also advisable to get a job in a company that uses the latest technology. That way you will be able to hone your skills and at the same time get relevant experience. In a field where technology changes so rapidly, you have to keep abreast of latest developments. Otherwise, you will be stuck in a dead-end job, like your present one. As you update your skills and become stronger in your field, you can always think of going for an advanced course.
I have done my graduation in English and followed it up with a post-graduate diploma in mass communication from IIMC, Delhi. I am working as a copywriter with an advertising agency for the past two years. However, I am interested in pursuing a career in brand management. As I have no relevant experience in this field, how do I get a job in the industry? Are there any courses that one can do?
Given that you do not have the requisite qualifications or experience, you should try working in a public relations or communications agency. More specifically, you could try working in the client servicing area of an advertising firm, where you will be directly interacting with the client, devising marketing strategies and will also be involved in brand strategy, that is, advertising and promotion activities pertaining to the product. However, you should bear in mind that the competition you face is from marketing graduates who aspire for these jobs as well. If you have the inclination, then I would suggest that you think about pursuing an MBA course.
I am pursuing B. Pharmacy (final year) from Pune University. After graduation, I would like to do a post-graduate diploma in pharmaceutical management from reputed institutes like Narsee Monjee Institute of Management Studies or SIES College of Management Studies, Mumbai. I would like to know about my career options thereafter. Also, can I make it to the clinical trial industry with my background?
With Indian pharma majors like Ranbaxy and Dr Reddy's carving a name for themselves in the global market, the sector offers tremendous opportunity for growth. The salaries are also good, though it may vary according to the size of the company. After your post graduation, the avenues open to you are joining the marketing team of a pharmaceutical firm or a pharma research company. There is a dearth of good professionals in this segment and prospects for career growth are immense. As for clinical trial companies, they may be part of larger pharma firms, or may consist of smaller firms that do outsourced work. So, your job profile will be significantly different here. It's up to you which route you want to take.
I am a 24-year-old science graduate working with a leading pharmaceutical company for the last one year as a medical representative. However, I want to make a switch to the FMCG sector and work with top companies. Please advise if this is the right time to pursue an MBA, or if I should work for two to three years to get a managerial position with my present employer, and then do an MBA.
I would advise you to go for an MBA instead of working for some more years to get a managerial position. The extra years you put in without an MBA will not be in any way equivalent to the years you put in after you get an MBA. Also, given that you want to move from the pharmaceutical industry to the FMCG sector, your current work experience is not going to count for much once you complete your management studies and join the job market. Keeping your long-term career prospects in mind, apply to good institutes like the IIMs and XLRI for an MBA course. Your work experience will definitely help you when you sit for cat and go for group discussions and interviews.
---
Answers to your career concerns are contributed by Tarun Sheth (Senior Consultant) and Shilpa Sheth (Managing Partner, US practice) of HR firm, Shilputsi Consultants. Write to Help,Tarun! c/o Business Today, Videocon Tower, Fifth Floor, E-1, Jhandewalan Extn., New Delhi-110055..
---
As Real As You Hear
Company counsellors may have news for you.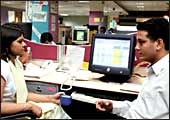 Talking heads: What an employee says is documented
Now companies appointing career managers or career counsellors is par for the course in the IT and ITEs industry. However, most employees tend to treat counsellors lightly, much like a feel-good hr initiative, more fun than any real means of taking help to plan their careers. That may be a big mistake.
For, increasingly organisations like Accenture and Sapient, though keeping such counselling relationships informal, are documenting the feedback. And more often than not, what the counsellor is telling a disgruntled or over-ambitious employee is more the voice of the organisation rather than friendly chit-chat. "When an individual hits a wall, the counsellor helps them find a widow," says Binoo Wadhwa, Director (People Strategy), Sapient Corporation.
"And in cases where an employee's performance is below par or there are some unrealistic expectations, the counsellor may suggest outside opportunities," says Rahul Varma, India hr Director, Accenture. And in Accenture's open-documented sessions, a 'good-to-be-eased-out' employee is even helped in finding another job and hand-held during this transition by the counsellor.
---
Procurement Jobs For Engineers...
...As global manufacturers scour for components.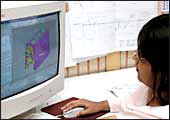 Good times: Engineers will be much in demand
If you are a mid-career engineer with experience in procurement and supply chain management, get ready for a big-ticket career. "There is going to be a boom for professionals in the procurement and logistics sector focussed on engineering," says Chetan Khurana, a headhunter with Gilbert Tweed.
With the country becoming globally competitive in terms of sourcing components for sectors such as automotive and aerospace, several new global procurement companies are expected to set up shop here. "We work on procurement and delivery of components for our clients anywhere in the world," says Rushen Singh Chahal, VP of us-based Corbus India, one such sourcing-to-delivery company. Engineers with three-four years experience in purchasing, quality, research or even production, are being hired for anything from Rs 3 lakh to Rs 7 lakh. "Though we hire across many disciplines, we need to train them for around four months to orient them to our needs and practices."
Recently, a motley group of over 40 procurement heads from top-notch European companies visited India for a preliminary, first-hand feel of the potential to source components from India. "Amongst the 20 odd that we met, India was being compared favourably vis-à-vis China," says Chahal.