I'm riding a vivid black Harley-Davidson Fatboy. My black-leather encased knees are gripping its 5-gallon teardrop fuel tank; my hands are gripping its wide cruiser handlebars. The wind whips my face and hair as the 1450cc engine with the legendary Harley sound develops 80...85, maybe more, brake horsepower and I glide down the vast open road, flat and smooth as a billiard table. I'm in love with this baby and I'm going to ride her as long as that road goes on.
That, as most discerning readers will be quick to realise, is a fantasy. Here's the reality: I'm riding a sexy Red 'n Chrome Royal Enfield Thunderbird. My knees are gripping its 14.5-litre teardrop fuel tank; my hands its wide cruiser handlebars. The wind, well, it plays around with my face and hair as the 350cc engine with its not-so-distinctive-yet-quite-satisfying sound develops some 18 bhp and I speed down the National Highway No.8, not very smooth, not very flat but a straight road nonetheless.
Royal Enfield India turned 50 this year and a colleague somewhat perversely thought it would be a good idea to have the only person in the office who's pushing 50 (well, not exactly, I have just a few more years to go!) to ride an Enfield and write about the experience. That's how I got astride the red Thunderbird with its incredibly sexy (as long as you don't let your thoughts stray to Fatboys and other fantasies) looks.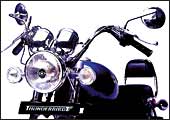 To tell you the truth, the proposal was enticing. It may be more than 15 years since I last rode a motorcycle but deep down I'm still quite crazy about them. Every time I see a nice big bike on the road, my head turns to check it out as it does to check out other non-mechanical stuff. So, when the guys over at Enfield agreed to let me have a Thunderbird for the weekend, I jumped.
Although I've owned as many as four bikes in my life, I've ridden but never owned an Enfield Bullet, a motorcycle that is undoubtedly the cult machine among Indian bikers. In my biking days I always lusted after a Bullet, then the most expensive motorcycle that money could buy and I couldn't afford. As a consolation I drove other vehicles. Enfield's wimpish step-through Silver Plus with a laughable 50cc engine; its stable-mate, the puny non-performing 200cc Mini-Bullet; then the slightly more respectable 250cc Yezdi whose kickstarter niftily (well, not always) swung back to become the gear pedal and, finally, when the Japanese made their first inroads and I my last purchase, a gleaming black Yamaha rx100, with a pick-up to die for.
INDIA'S HOG LOVERS

(From Businessmen Who Go The Whole Hog, Business Today, May 11, 2003)

...One of the eight is Rajeev Chandrasekhar, the 37-year-old CEO of BPL Mobile, cruising along Ring Road on his 95th anniversary-just for kicks, Harley is celebrating a century of existence this year-Ultra Electra Guide, a 1300 cc specimen. The bearded six-footer's Harley even boasts a four-speaker music system the man has affectionately dubbed "The Tower", and cruise control to boot. "I wear a full-face helmet on Sundays so that people don't recognise me," he says. That's perfectly understandable.

Sameer Thapar, the Delhi-based CEO of JCT Mills, rides to the gym or to Delhi's very own patch of historical green, Lodhi Gardens, for a run. The 38-year- old has even decked his bike out with a saddlebag and a chrome eagle claw stand. The twin-engined beauty (with a bod) stands by the porch at Thapar's 1.5 acre house in central Delhi.

Mumbai-based interior decorator Jimmy Mistry (actually he heads a Rs 52-crore firm) does one better than Thapar-he rides his VRSCA V-ROD cruiser in to work on Saturdays. He recently rode it down the city's heaving Lamington Street to meet with a client who was putting up a multiplex. The man gawked, "but then things settled down," grins Mistry.
The Thunderbird, as I discovered, combines the best of both worlds-the old worldly Bullet's mystique along with modern day innovations. To begin with, the Thunderbird is easier to start; you don't risk visiting an orthopaedic surgeon after you've tried to kick-start it. In fact, you can even use an electric ignition to get it going. Then, its aluminium engine casing doesn't leak all over the place like the old Bullet with its cast iron engine mould. And, in these days of spiralling petrol prices, it delivers reasonably good fuel economy.
Still, these are probably the very reasons why old aficionados of the Bullet will turn their noses up at the T'bird. Its new Harley-style exhaust and mufflers don't deliver the 'Da Thump' of the old Bullet; its new engine looks a bit spare compared to the older one and most blasphemous of all, its brake pedal and gear shift have switched sides.
But does that bother me? Not in the least. I think I'm going to buy one. Now, there's only the small matter left of getting an approval from the wife...