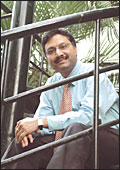 Suresh Raju


PRE-SWITCH JOB
DESIGNATION: Warehouse in-charge
COMPANY: Awalgulf Manufacturing, Bahrain
POST-SWITCH JOB
DESIGNATION: Senior Engineer
COMPANY: Symphony Services
PERCENTAGE INCREASE IN SALARY: 50 per cent
Help, Tarun!
Crunch Time
Vijay Mallya, 41, worked with State Bank of India (SBI) for 13 years, before he decided to quit. He was bored of his routine and was looking for better career prospects. He joined HCL Technologies, an IT company. "At SBI, I saw first hand the value that it could add to a business; and it was the chance to work in the global financial services market that drew me to HCL," says Mallya, who is the head of HCL's Banking Services unit. He is not the only one. The information technology industry is hiring hundreds of domain specialists (typically, veterans in a particular industry) from diverse fields such as banking, manufacturing services, retail and telecom to add depth to and leverage their experience in specific verticals.
"We aggressively hire executives with 15-20 years experience from Old Economy companies since they have strong experience in their respective industries and are able to manage significant businesses independently," says D.K. Srivastava, Senior Vice President, HR, at HCL Technologies. He adds that mid-ranking officers (Deputy General Managers, General Managers and Chief General Managers) in public sector banks, who are often stuck in bureaucratic jobs with limited mobility and average pay, make ideal candidates for companies such as his. The pay is invariably much higher, by between 50-300 per cent. HCL's Mallya, for instance, claims that his pay increased 250 per cent when he made the switch to it. The other big draw is the operational freedom they get. "Recruits at this level are placed in charge of business units or are put in customer-facing marketing positions since they understand the business well," says Srivastava. How do it companies deal with their lack of technical skills? "We put them through an intensive two-month training programme to bring them up to scratch with our standards," says Srivastava. Vendors such as HCL are not the only it services companies hiring mid-career domain experts. Companies such as Infosys are also aggressively hiring such industry specialists, especially, bankers. Both Infosys and its cross-town rival Wipro, incidentally, declined to comment on this trend.
"Domain specialists with 10-15 years experience are typically hired by enterprise software companies (like sap or Oracle) which require their skills for industry-specific implementations or by application providers (like Infosys and Wipro) which need their expertise to translate banking jargon into a language coders can understand," says Anish Singh, CEO of Techbridge Networks, a Bangalore-based staffing outsourcing solutions company. The roles these industry experts undertake are significantly different in an IT company, compared to their functional Old Economy jobs (a bank employee working at the teller for example), he adds. "Someone from a manufacturing company could be sent to a factory or plant by an ERP (enterprise resource planning) vendor to understand the business and how it can be used to enhance efficiency and productivity at the factory or work site. These are nuances that an engineer or a marketing person may miss while they plan or estimate a project," Singh says.
A Mid Career Switch
WHO'S HIRING: SAP, Oracle, Infosys, HCL Technologies and Cognizant, among others

WHO ARE THEY HIRING: Deputy General Managers (DGMs), GMs, Chief GMs, etc, from public sector banks, manufacturing companies, retailers, etc

FOR WHAT: To decipher business jargon, explain sectoral nuances and head business units that involve client interfaces

AT WHAT SALARIES: Rs 14-16 lakh p.a. for DGMs, Rs 15-18 lakh p.a. for GMs, Rs 18-20 lakh p.a. for CGMs; for people lower down the hierarchy, starting salaries could be 50-300 per cent higher than their last drawn salary

WHAT'S THE TOTAL DEMAND LIKE: Exact figures are not available, but industry executives and HR consultants reckon that such hires could constitute 5-10 per cent of new hires this year. That's a total of about 5,000-10,000 new jobs.
Arun Samak, 37, an accountant, leveraged his skills in planning and estimation to switch careers from retail to it. He moved from the Indonesia-based Gajah Tunggal Group, South East Asia's largest tyre manufacturer, where he worked for five years in its retail division, to Tesco Hindustan, the UK retailer's tech operations in Bangalore. At Tesco Hindustan, Samak is in charge of identifying specific projects that can be offshored to the Bangalore technology centre; he is also in charge of the nuts and bolts of transferring these projects into India. "There are several accounting skills, like budgeting, costing and estimation, that I continue to use even after I switched to the IT industry," says Samak.
Career growth and money are the two most persistent reasons for Old Economy veterans making the switch, but they aren't the only motives. "I worked with Procter & Gamble in Europe for nearly a decade. There's only so much you can do in a mature market growing at only a couple of percentage points annually. I longed for the buzz and excitement of working in a hot-growth environment. The promise of something dramatically new and different drew me to the it industry," says Sandilya Gopalan, 39, Consulting Director, Retail & Manufacturing Practice, Cognizant Technology Solutions, who has worked extensively across Europe in the consumer goods market, where he gained experience in finance, supply chain and operations management. "Here, we (his team of domain specialists) are considered an asset, and not an expense item in the P&L Account. We have the necessary resources and support systems to deploy our domain expertise in client engagements," he adds.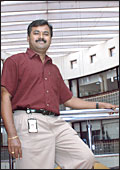 Vijay Mallya


PRE-SWITCH JOB
DESIGNATION: Project Officer, Computer and IT
COMPANY: State Bank of India
POST-SWITCH JOB
DESIGNATION: General Manager
COMPANY: HCL Technologies
PERCENTAGE INCREASE IN SALARY: 250 per cent
Opportunities exist for relatively junior domain specialists as well. Suresh Raju, 33, a Senior Engineer at Symphony Services, has nine years experience in the manufacturing industry, including a stint at Titan Industries. "The chance to translate learnings from the shop floor at Titan to the glass and steel offices of Symphony, an it services and solutions firm, was an opportunity I couldn't pass up. I now help develop software for one of the world's largest ERP vendors. My earlier hands-on experience comes in very useful in understanding the specific requirements of individual factories or manufacturing sites," says Raju, who, by virtue of being an engineer, was not a complete stranger to the world of it.
The best part, from the recruiter's point of view, is that most of these Old Economy hands still retain some of their Old Economy values; they are stayers, unlikely to jump ship for a few thousand rupees more. "I'm in Tesco for the long haul since I have a well-defined growth path and the company is just rolling out its India plan," says Samak. Mallya of HCL echoes this sentiment. "The it industry is not just for the geeks. There are huge opportunities for non-technical people who are able to establish themselves within a company or a business. My career has progressed rapidly and I don't see myself leaving HCL in the foreseeable future," he says.
And that means less competition for other domain specialists who are planning to make the switch.
---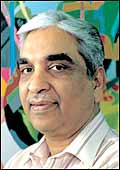 Q: I am an electronics engineer with nearly two years experience in a KPO and the training industry. I want to study further, but not in the technical field, and also change my job. I am keen on pursuing an MBA (Finance) or exploring the field of computers. Please advise.
An MBA (Finance) would take you into the financial and management world while a further degree in computers may take you into the technical world. As you have worked in a KPO, ask some technical people what it takes to be successful. Also, ask those who have taken the MBA route and see what their job entails. Then superimpose your interests and aptitude and decide what's best for you.
Q: I have 35 years of experience in the textile industry. I have handled the materials management, supply chain management and the procurement division of some of the biggest textile companies in the country. Though I retired two years ago, I want to utilise the experience I have.
A good option is to go back as a part-time or full-time consultant in the textile industry. There may be smaller firms happy to take you on as a part-time consultant. Also, look at the apparel industry or the dyes industry or any other industry connected to the textile sector for openings.
---
Answers to your career concerns are contributed by Tarun Sheth (Senior Consultant) and Shilpa Sheth (Managing Partner, US practice) of HR firm, Shilputsi Consultants. Write to Help,Tarun! c/o Business Today, Videocon Tower, Fifth Floor, E-1, Jhandewalan Extn., New Delhi-110055..
---
Crunch Time
India Inc is facing a shortage of personnel in some sectors, but there's no let up in hiring.
Two recent studies-one conducted by Manpower all over the world and the other produced by the Tamil Nadu chapter of the Confederation of Indian Industry-point to a massive manpower crunch in the country. The latter study reveals that as many as 50 per cent of the 140,000 engineering graduates and diploma holders who pass out of institutions in Tamil Nadu don't find suitable employment within one year; this figure declines to 40 per cent at the end of the second year. "The issue is one of 'employability levels'," says the study. "This shortfall will last 3-4 years. But things will change as industry develops linkages with educational institutions," says E. Balaji, COO, Ma Foi Consultants, a leading executive search firm. But the good news: of the 25 countries covered in the Manpower survey, the employment outlook for the third quarter of 2006 is strongest in India.
-Nitya Varadarajan