This year's placements at the top-rung business schools in the country reflect a changing trend: the IIMs are becoming export-oriented units, catering to the white-collar needs of overseas multinationals. Already, some Indian companies have had to settle for the lesser institutes owing to their inability to match the salaries offered by the MNCs. This year, a student at the Indian School of Business, Hyderabad, topped the charts, with an all-time high offer of $233,000 (Rs 1.07 crore) per annum. However, Indian industry couldn't stretch beyond Rs 30 lakh p.a., nearly a fifth of the overseas package.
This, ironically, is a healthy phenomenon, for it recognises two issues. First, flight of talent overseas reflects the growing global competitiveness of Indian B-schools. Secondly, domestic industry's hunt for talent will put pressure on the second-tier institutes to raise their level in every sense, be it the screening process, teaching faculty or the curriculum. All this will drive the B-schools to deliver managers who will make Indian companies globally competitive. Indeed, intra-IIM pressure is already at play: In 2004, the highest domestic industry offer was made to a student of IIM Lucknow at Rs 14 lakh p.a., compared to Rs 12 lakh p.a. at IIM Ahmedabad, which traditionally is a notch higher.
Indian companies, even those with global designs, seek to derive competitive advantage vis-à-vis MNCs through lower labour costs at every level, both blue-collar and white-collar. In fact, Indian companies pay less compared to the MNCs for overseas assignments as well. Over the last few decades, technology- and capital-led competitive advantages have petered out to a large extent, with both proving to be minor constraints. It is clearly managerial skills that have come to dominate the cutting edge of business. It is here that talent, of the kind that can be found in Indian B-schools today, counts.
Not surprisingly, the intake of Indian talent by Wall Street's finest is on the rise, with over 30 placements thus far from the IIMs.
For the knock-on effect of the IIMs to rub off on other schools, there is need for greater private participation in setting up B-schools. Furthermore, private endowments in government-run institutions must improve to ensure greater integration with industry. Importantly, the government's programmes must actively fund high-school education. China has shown the way in this regard. The results are there for all to see: A technical manpower base that powers its factories, and in turn, growth. India could do the same with its managerial talent.
---
The Next Wave Of Outsourcing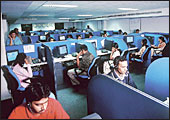 Outsourcing: Now includes 'nearshoring' too
Somewhere in the mid-1990s, the world woke up to the fact that Indian it companies were good at fixing code. By the time the Y2K bug hit, they were clearly in mid-season form and offered to write, maintain and fix (together called Application Development and Maintenance, in industry jargon) software. Their low cost structures allowed them to transition a major portion of the work back home. Package implementation (think ERP, CRM) of numerous vendors like sap, Baan, PeopleSoft and Oracle came next. They also discovered customers were happy if 'pain points' were addressed and the BPO industry came into being. Indian it companies decided that they would not just implement, but also advise their customers on what technology to opt for and how to implement it. Thus was born the consulting practice, a work still in progress.
With its 'follow the sun' mechanism, the Global Delivery Model or GDM (despite its name, it means moving work to India), with its low costs was a disruptive framework. The first wave of outsourcing essentially meant 'offshoring'.
However, there were limits to what GDM could deliver. Recent decisions by companies like Apple, Pervasive, PowerGen, Sykes and others to shut captive centres, is a telling indictment that running a captive model without sufficient scale isn't viable (and of, at another level, customer dissatisfaction). The next wave of outsourcing includes contract research and development, and infrastructure management services, all of which require a greater onsite presence. And more political backlash on outsourcing is just an election away.
So, companies are perfecting GDM Version 2.0; one company, Infosys, calls this 'Collaborative Distributed Development Model'. That's an ungainly name for sure, but it recognises that business models are more important than choice of destination. Its core premise is about marrying the best of skills available at lowest cost anywhere across the world to timely delivery. Outsourcing now includes 'nearshoring'. That is the reason Wipro, TCS, even Transworks are making selective acquisitions-to be near to their customers. While there are advantages of having a near shore presence (say Mexico to serve the us market) or low-cost East Europe to serve the UK, French and German markets, companies will have to battle new challenges now. These include protecting margins, ensuring availability of trained manpower, cross cultural integration and perfecting delivery processes across timelines and borders; this is sure to test their mettle. GDM Ver 2.0 is both an opportunity and a challenge.
---
A Confidence Issue

Becks' Hindi tattoo: Not his only claim to fame
Arcelor's guy Dolle may have puckered up his nose at the thought of being taken over by a company that was "full of Indians", but the fact remains that Mittal Steel, despite its name and the passport of its promoter, is not an Indian company. It is as European as an ABB, a Renault or a Nokia. Yet, its successful bid for Arcelor is being treated by most Indians as a victory for the country. Granted that L.N. Mittal is still an Indian citizen, but it must also be borne in mind that his investments in India till date are insignificant (and lower than, say, IBM's or Cisco's). So how does one explain the media frenzy and public interest in this deal? For that matter, why do we, as a nation, spend so much time following the careers and achievements of people like M. Night Shyamalan, Arun Sarin, Sabeer Bhatia or Gurinder Chadha, all people of Indian origin, who have achieved success in the West. In fact, we extend this frenzy even to David Beckham's Hindi tattoo and to Uma and Maya Thurman's Indian first names.
We now have enough home-grown heroes in almost every field of human endeavour, but in the popular psyche, success in and recognition from the West-even on a relatively modest scale-counts for as much if not more than achievements at home. This points to a crucial flaw in our national character: a lack of self confidence. The roots of this can, perhaps, be traced back to the racist and Eurocentric education system imposed on India by Thomas Babington Macaulay in the 1830s, much of which remains unreformed till this day.
But things are slowly changing. The process of economic reforms has led to unprecedented social churning. Non-metropolitan India, long derisively dismissed as PLT (people like them) by the Wogs, is now aggressively claiming its place under the Indian sun. Just look around; small towns, and even villages, are throwing up new superachievers everyday. India is slowly, and in spite of herself, waking up to her true potential. Once this process gathers critical mass-and the logic of empowerment underlying reforms will ensure that it will do so in a few years-we will, as a nation, be able to place foreign and domestic achievements in perspective and do justice to our home-grown heroes as well. Meanwhile, there's no harm in celebrating Mittal's consolidation of his position at the top of the global steel industry.