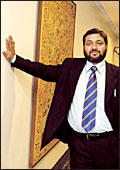 Amar Babu, Intel India's managing director for sales and marketing, must have mixed feelings about his relocation to the US. He must surely be happy that he is exchanging country-specific responsibilities for a larger corporate role at Santa Clara, but at the same time sad that he will miss all the action back home. In the seven years that Babu, 40, has been with Intel India, the local marketing business has grown from a four-city set up to an estimated Rs 2,733 crore in annual revenues for 2004-05 (Intel doesn't disclose figures). Of late, however, a reinvigorated rival, AMD, has been growing its market share aggressively (up from 17 per cent to 23 per cent just past year). "The competition keeps us honest, but we are streets ahead of them in the local market," says Babu. His India lessons may just come handy in the US.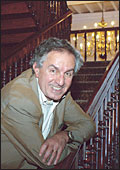 A Vision For IT
What's the co-father of one of management's top buzzwords, reengineering, up to these days? Taking a close look at Indian it. James Champy, 64, who wrote Reengineering the Corporation with Michael Hammer, is currently the Chairman of Perot Systems' consulting practice, and keen on ramping up the relatively small it vendor's India operations. Behind the plan is his belief that players such as CSC and EDs "are very American in their style of functioning and it's not clear if they can survive in a global market", while the Indian it firms need to "enter into technology-enabled areas like remote it management, rather than people-centric ones". Read more about it in his next book due in two years.
Glad To Make Way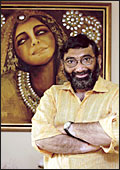 Not too many CEOs fancy quitting ahead of their time. But euro-RSCG's Ishan Raina, who's stepping down two years ahead of his self-set retirement age of 50, has no such problems. "CEOs should be changed every 10 years because fresh minds induce freshness in the way an organisation thinks and works," says Raina, who set up the Havas-owned outfit from scratch. Does he rue the fact that he couldn't make it a top-five agency on his watch? Raina sees it differently. "We were the only MNC start-up here in India till Dentsu came three years ago...(and) focussed on organic growth," says the alumnus of IIM Calcutta. Suman Srivastava, Raina's first hire 10 years ago, takes over as the new CEO. Raina will continue to be the Chairman, but don't be surprised if he soon finds another job worth his next 10 years.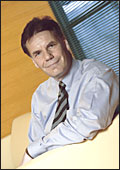 One For OPK
At a time when some foreign investors seem to be having serious doubts over India's low-cost benefits, it's reassuring to have someone like Olli-Pekka Kallasvuo, aka OPK, around. Nokia's Global CEO of one month has announced plans of moving the telecom equipment giant's managed services business from home country Finland to India. Nokia's brand new Global Networks Solutions centre is already up and running in Chennai, and will eventually serve as the hub for its operation centres around the world. "The strong outsourcing ecosystem in India and the availability of innovation are the key drivers for this move," explains Ashish Chowdhary, Nokia's Country Director, who is slated to head Global Managed Services by the year-end. And don't forget that Nokia also recently opened a plant in Chennai.
Barclays' Catch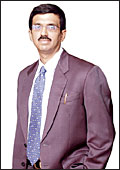 Home-grown HDFC bank seems to have become a poaching ground for foreign banks. A year ago, Standard Chartered lured away Country Head for Retail, Neeraj Swaroop, and now it's another global financial services major, Barclays, that has snagged Samir Bhatia from HDFC Bank. Bhatia, 43, was one of the founding executives of the bank in the mid-90s and most recently headed its commercial banking business. Therefore, he seems tailor-made for Barclays' India plans. The British banking major, which has been in India since the late 80s, but with little to show, plans to pump in $220 million (Rs 1,012 crore) to boost its investment banking and commercial banking businesses. Bhatia, who did a seven-year stint with Citi before joining HDFC Bank, will have to hit the ground running. Barclays intends to more than triple its India headcount to 150 in the medium term. Besides, Barclays is currently a small player in both the M&A (mergers and acquisitions) and commercial banking markets, and non-existent in retail. With other big international banks such as Deutsche Bank already making their moves, Bhatia needs to come up with some smart strategies.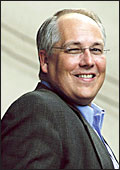 Joining Ranks
Qualcomm's global CEO, Paul Jacobs, had better turn on the charm after he lands in India on June 26. As if Anil Ambani's Reliance Communications threatening to go the GSM way wasn't bad enough for Jacobs' competing CDMA technology company, its only other customer in the country, Darryl Green-headed Tata Teleservices, has also decided to take up the issue of royalty. Unlike Reliance, the Tata Group company doesn't have a presence in GSM-based mobile telephony (it recently exited that business by selling its stake in Idea Cellular) and has fewer subscribers (just under 10 million) than the former (about 19 million). But Green, 45, has decided that a cut in royalty is needed to make his company more competitive. It will be interesting to see how Qualcomm responds to the twin assault.