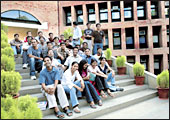 IIM-AHMEDABAD
The class of 2007 in front of the main building
So, what makes Indian Institute of Management Ahmedabad the best B-school in India? Is it the case study method of instruction, the faculty, the placements, the alumni network, or simply the heritage of the place? Or it is merely an issue of perception, of IIM-A being the biggest B-school brand in the country? Prakash Apte, Director of IIM-B (Bangalore), contends that it is the latter. "We also employ the case study method. Our faculty is as committed and renowned. Our placements were, in fact, better than IIM-A's this time (the best overseas salary in 2006, $193,000, Rs 88.78 lakh, went to an IIM-B student; there is not much gap in the domestic salaries either)," he says. "It is just a perception that they are better than us."
There are those in IIM-A who admit that the school's standing comes from a virtuous cycle. "(We have) everything, from the best students to best recruiters to best placements," says Professor M.M. Monippally, Chair of the school's post-graduate programme (PGP) in management. "We churn out the best year after year and that strengthens the perception that we are the best." Is it all brand-image and perception, then?
FACTFILE: IIM-A
Founded: 1961
Batch size: 250
Faculty: Student ratio*: 1:8
Average domestic salary in placements 2006: Rs 9.66 lakh per annum
Average international salary in placements 2006: $92,500 (Rs 41.6 lakh)
Number of offers made during placements 2006: 510
Number of companies offering overseas jobs in 2006: 20
Success rate for applicants for 2006-08: 1:680 (one out of every 680 students who wrote the test secured admission to the school)


* For Post-Graduate Programme only
Delivering The Brand Promise
There are many who don't agree. "It isn't that the institute has been sitting pretty all this while," says Professor Bakul H. Dholakia, Director, IIM-A. "If it is considered an excellent brand, then that's because its custodians have consistently delivered on the brand promise and worked to keep its essence contemporary." Those on the IIM-A campus, and many outside it, agree with him. "When I went to IIM-A in 1990, I was a plain mechanical engineer with no exposure to business," says Pulak Prasad, Managing Director, Warburg Pincus India. "When I walked out in 1992, I had been exposed to a wide range of business practices, like finance, marketing, strategy and most importantly, to an exceptional peer group and world-class faculty who helped broaden my perspective of the world."
Indeed, the school has, year after year, worked towards ensuring that its brand pedigree remains undiluted. It still remains the most difficult business school, globally, to gain admission into, and hence, attracts only the best students in the country (the success rate for admissions in 2006 was 1:680). "The campus has an extremely competitive environment," says V.N. 'Tiger' Tyagrajan, a Class of 1985 alum and currently Executive Vice President, Genpact. "You are rubbing shoulders with an exceptionally intelligent, ambitious and spirited lot all the time, which keeps the adrenalin going." "The rigour that starts with the entrance test is maintained right till the end," adds Madhabi Puri-Buch, Senior General Manager and Country Head, Operations, ICICI Bank and a class of 1988 alum. "The school readies you for 14-16 hours of work a day under extreme pressure." That hasn't changed a bit, laughs Mayank Rawat, an electronics engineer from IIT Delhi and a second year student. "I was given some half-a-dozen case studies on the very first day and asked to prepare for a discussion the next day."
The courses themselves change year on year. Take electives or optional courses that students opt for in their second year. The school offers 65 such. "One third of these electives are scrapped every three years and new subjects are introduced to ensure contemporariness," says J.R. Varma, Dean and Professor, Finance and Accounting. A sampling of new electives: entrepreneurship, telecom policy, insurance, agriculture and retailing. "No other school can boast such varied choice," adds Varma. The method of education itself remains case-study-led, which is a Harvard Business School-inspired way of teaching where students are challenged to present solutions to real-life problems faced by corporations and managers.
BRAND AMBASSADORS
YOUNG TURKS
Sanjeev Bikhchandani
Founder/ Naukri.com
Rajesh Khanna
MD/ Warburg Pincus India
OLD BRIGADE
K.V. Kamath
Managing Director/ ICICI Bank
M.S. Banga
President, Foods/ Unilever
THE WOMEN
Vedika Bhandarkar
MD & Head, Investment Banking/JP Morgan India
Madhabi Puri-Buch
Sr GM and Country Head (Ops)/ ICICI Bank
OFF-TRACK
Harsha Bhogle
Sports Commentator
Mallika Sarabhai
Danseuse, Actress, Social Activist
The Brand Custodians
Dholakia believes that IIM-A's faculty is its differentiator. "A constant focus on research and development, which leads to evolution of new products and processes, which in turn provide an excellent interface between academics and business world, are the key to IIM-A's success and, this ever-evolving balance comes from the extraordinary work done by our faculty," he says. The institute has an in-house faculty of 82 (rival IIM-B has 71) and according to Dholakia, "their selection process is even more competitive than the entrance test for graduates". Two-thirds of management research in India comes out of IIM-A every year, he adds. IIM-A's faculty also consults for leading government and corporate entities; apart from helping generate material for case studies and burnishing the IIM-A brand some, this also brings in money, crucial for an institute that hasn't received a grant from the government for the past three years (50 per cent of the amount individual faculty members earn from consulting assignments goes to the school). The government-stipulated salaries for the instructors are a bit of a joke (a professor can earn between Rs 35,000 and Rs 42,000), but the faculty isn't complaining. "The autonomy, the atmosphere and the affiliation with a world-renowned institute, more than compensate for it," says Varma.
The world may have discovered India's better B-schools but schools in the US, even Europe are still considered a class apart. Despite this, a significant proportion of the country's best graduate talent chooses to stay back and study at the IIMs because, according to Rawat, "they offer a fairly world-class education at an extremely competitive price." For instance, while IIM-A's two-year post-graduate programme costs around $4,000 (Rs 1.84 lakh), the corresponding figure is around $100,000 (Rs 45 lakh) for European B-schools and over $150,000 (Rs 69 lakh) for American ones. And most students venturing abroad, maintains Monippally, do so because they can't clear cat. That IIM-A is no less a brand than some of its global peers is evident from its track record at placements. This year, Barclays, a leading global investment bank, made 22 offers; of these, only 16 were accepted. The bank offered one student an eye-popping salary of $185,000 (Rs 85.1 lakh) per annum, a 22 per cent increase over the highest overseas salary ($152,000) offered by HSBC, London, last year. That a bank like Barclays should come to India to hire staff for its global offices and pick up as many as 16 candidates from one school, confirms what global B-school rankings don't. And other placement-statistics only drive home the point: 20 companies offered overseas placements; 17 students accepted jobs in the us, 28 in Europe, and several in Asian capitals; the top 50 students who took up jobs abroad were all made offers in excess of $100,000 (Rs 46 lakh).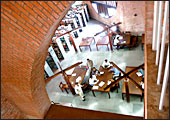 Knowledge temple: IIM-A boasts of one of the biggest management-focussed libraries in the countrybuilding
Brand Extensions And Affiliations
IIM-A, insists Dholakia, has constantly been evolving and expanding. The school, he points out, offers the most number of courses and seats of any B-school in the country. For instance, it launched a PGP course in agri-business management last year; another, for executives, was launched this year. It also offers a doctoral programme in management, some 70 short-term management development programmes, and a faculty development programme for teachers, researchers and trainers. The school will have around 800 students on the campus next year and the new courses will help fill its coffers, too. The vision: to be among the top 20 business schools in the world by 2012. "In terms of our curriculum, faculty and students, we are already among the best in the world," says Dholakhia. "Where we lack is global exposure and diversity." Already, IIM-A runs a comprehensive exchange programme with some 35 global business schools. Every year, one-fourth of the PGP batch spends one term at these schools and in return, their students come to IIM-A. The school is also launching a double degree programme with France's ESSEC Business School and it has forged an alliance with Duke Corporate Education (us) to provide customised corporate education programmes to managers. "We will not set up our independent centres overseas till we are able to garner resources, like infrastructure and faculty," says Dholakhia. "Any gap there would dilute our brand equity."
IIM-A loyalists, though, point to certain gaps that the institute should plug while moving towards achieving its larger goals. "Innovation and introduction of new courses should happen at a faster pace," says Warburg's Prasad. "IIM-A still doesn't have a comprehensive set of courses on practical aspects of capital markets and on investing as a profession." Genpact's Tyagrajan believes the school doesn't do enough to build soft-skills. "Management education in India doesn't lay much focus on people management. Skills like managing an older team, taking touch decisions like sacking should be taught seriously." And ICICI Bank's Puri-Buch believes that since it is undoubtedly the leader in its space, IIM-A should start emphasising the need for significant work experience before an MBA. "Practical experience helps understand theory better. This partly explains why graduates from Harvard or Wharton are considered superior to their Indian counterparts." Then, Dholakia and his team are not oblivious to these realities. "We know that if brand IIM-A has to rule the market, it will have to innovate and evolve constantly. We are at it," says Dholakia. "Always."