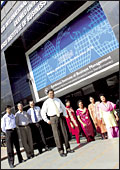 SIBM PUNE


Director Arun Mudbidri with faculty members outside the SIBM building
Not very far from the quite unremarkable four-storey building that houses Symbiosis Institute of Business Management, still inside the B-school's smallish campus on one end of Pune's Senapati Bapat Marg, is a life-size statue of cartoonist R.K. Laxman's best-known character, the Common Man. It seems somehow apt that this, the epitome of ordinariness, stands as close as it does to the school which is, at once, both ordinary and extraordinary. It is ordinary because (let's be honest now), its name isn't just the location, prefaced by the letters I,I, and M. It is ordinary because it doesn't have a campus designed by architects as renowned as Louis Kahn or Balakrishna Doshi. And it is ordinary because it still (note the word) isn't among the first five or six words that come out of anyone's mouth when asked to name B-schools: IIM-A, IIM-B, IIM-C, IIM-L, XLRI, FMS.... It is extraordinary because it has ranked 6, 5, 8, and 4, in the three preceding editions and the current one of this magazine's survey of Indian B-schools. It is extraordinary because its success has engendered, at last count, five other Symbiosis schools that teach anything from human resources development to telecommunications management (more on this later). And it is extraordinary because, late last year, some 78,000 students sat for snap (Symbiosis National Aptitude test), the admission test to the various Symbiosis schools (SIBM would be everyone's first choice); this number compares favourably with the 125,000 that sat for cat (Common Admissions Test), the admission test to the Indian Institutes of Management (IIMs). Arun Mudbidri, a Class of 1984 alum and Director of the school, is happy enough with Symbiosis' achievements to start thinking of a brand-equity equal to that of the IIMs. "I want to make SIBM top of mind for prospective students." Already, by one measure at least, the success of Symbians (as the graduates are known, even though they hardly use this term anymore) in industry, Symbiosis would seem to have arrived. Why, in April, Shoppers' Stop, Perfetti India, and the India Today Group (which publishes Business Today), announced the appointment of new CEOs (Govind Shrikhande, Prakash Wakankar, and Ashish Bagga respectively) all within the space of a few days, and all Symbians.
FACTFILE: IIM-A
Founded: 1978
Batch size: 149 (class of 2006) increasing to 300 (class of 2010)
Faculty: Student ratio: 1:25
Average domestic salary in placements 2006: Rs 7.2 lakh
Average international salary in placements 2006: $85,000
Number of offers made during placements 2006: 191
Number of international offers made during placements 2006: One
Success rate for applicants: 1:300 (54,000 students opted for SIBM in the SNAP, 180 made it)
The Makings Of Greatness
In many ways, the IIMs, at least the big three among them, the ones at Ahmedabad, Bangalore, and Kolkata, have it easy. They are established brands, and strong ones, and are probably the first choice of any student who wants a post graduate diploma in business management (pgdbm is what the IIMs offer, not an MBA). The best graduates compete for admission to these schools, and the few that get in do so after a three-stage process including a tough test, a group discussion, and an interview. The gruelling two-year programme sharpens the skills of these best-of-the-best. And companies vie to hire them. In turn, these individuals go out to companies and perpetuate the culture and the brand of the IIMs. So, how does a school like SIBM break into this elite club?
WHAT MAKES SIBM TICK
» Long serving faculty: Most of SIBM's teachers have been around for over a decade and many of them are from the institute
» Great corporate relations: SIBM's students and faculty go out of their way to facilitate corporate interaction from weekly industry reports to even doing projects for no cost
» Unmatched alumni interaction: The institute holds four annual alumni meets, but last year increased it to eight, including meets in Dubai and Singapore, and maintains an extensive alumni database
» Lots of extra-curricular activities: Students always have more than management studies on their minds, and that keeps them sharp
The hard way (actually, there would appear to be no other). Since 1978, when it was founded, SIBM has worked hard at the things that make a good school: a tough entrance test (until 2002, this was a test for admission to just SIBM; since then, the school has moved to snap), a good curriculum (till 2002, SIBM was under the purview of Pune University, and had to follow the university's guidelines; in that year, Symbiosis Society was recognised as a deemed university by the government, allowing it to set its own curriculum for courses, and conduct snap, a common test for admission to several Symbiosis institutions), a vibrant on-campus culture (despite the fact that there isn't really much of a campus), and good relations with alumni. Last year, for instance, SIBM organised eight alumni meets, including one each in Dubai and Singapore, and the school even boasts a Young Managers Development Programme that helps just-out-of-SIBM students cope with the first six months on a job. "You'd be surprised at how effective this is," says Mudbidri. "There are several reasons (why SIBM is popular with students) but the two major ones are the strength of our alumni network and the quality of corporate interaction," adds Shikha Singhania, a second-year student at the school.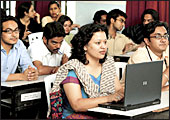 Talent house: SIBM students sharpen their skills in a vibrant culture
The alumni factor is beginning to count now: it takes an individual between 15 years and 25 years to make a mark in industry, and Symbiosis is now 28 years old. Several students from earlier batches are now in senior management positions in companies, and the school has managed to stay in touch with most. "The bonds you made back then still hold," says Ravi Menon, Director, Global Investment Banking, HSBC, and part of the Class of 1986 (his wife, Tina, is from the same class). "It (Symbiosis) was a great place to study."
One Brand, Many Schools
Today, Symbiosis Society runs six post-graduate management institutions. Apart from SIBM, these are Symbiosis Centre for Management and Human Resource Development (SCHMRD), Symbiosis Institute of Management Studies (SIMS; this is only for the children of defence personnel), Symbiosis Institute of International Business (SLIB), Symbiosis Institute of Telecom Management (SITM), and Symbiosis Institute of Operations Management (SIOM).
Most recruiters associate the name Symbiosis with SIBM, but there are some who do it with the other schools; even in the BT-ACNielsen ORG-MARG survey, it is likely that most respondents meant SIBM when they said Symbiosis (which would mean that of all the Symbiosis schools, SIBM has the first claim to being the fourth best B-school in the country).
| | |
| --- | --- |
| | |
| Umbrella brand: S.B. Majumdar, founder, Symbiosis Society, wants the family to get even bigger | Bonding with the best: It's a great place to study, echo students as their brand equity soars |
"SIBM is the oldest and its alumni are beginning to do very well and therefore, maybe it does get associated with the name more," admits S.K. Mujumdar, Founder of the Symbiosis Society, who see Symbiosis as a sort of umbrella brand. "Old recruiters know the difference between SIBM and the rest," says Shloke Churiwal, a second-year student who is on the placement advisory team, "but there is a level of confusion, particularly among companies we approach for the first time."
That doesn't bother either Mudbidri or Mujumdar; both can't wait for SIBM to move into its new campus, just outside Pune. "If SIBM has to become a world-class institute, it needs a residential campus with great infrastructure," says Mujumdar. "We will expand courses and enter lucrative areas such as executive development," gushes Mudbidri. And that, too, will do its bit for the Symbiosis brand.
THEY WENT TO SIBM
Ranjan Acharya
Corporate VP, HRD/ Wipro (class of 1980)

Melwyn Rego
MD & CEO/ IDBI Home Finance (1981)

Vikas Phadnis
CEO/ Bell Granito Ceramics (1981)

David Lobo
VP/ GE Consumer Finance (US) (1983)

Bhaskar Menon
President/ Mphasis (1984)

Govind Shrikhande
CEO/ Shoppers' Stop (1984)

Prakash Wakankar
CEO/ Perfetti India (1985)

Pradeep Gidwani,
MD/ Red Bull Beverages, Dubai (1986)

Ravi Menon
Director/ GIB - India, HSBC (1986)

Ashwin Deo,
MD/ Moet Hennessy India (1987)

Vivek Chandra
VP, Business Develop./ Tech Mahindra (1991)

Arun Mansukhani
GM, HR/ Hutchison Essar (1993)