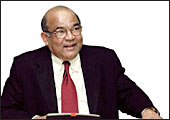 Cassandra? RBI governor Y.V. Reddy isn't one, but the bank's report is alarming
The country's gross domestic product (GDP) grew 9.3 per cent in the last quarter of 2005-06, fuelled by dark horse agriculture, breaking all projections and expectations. Industry grew an even more impressive 9.5 per cent. The India story was jogging along, Finance minister P. Chidambaram and Deputy Chairman of Planning Commission Montek Singh Ahluwalia assured us. "There is no evidence of overheating in the economy. There is further scope for expansion," the latter said.
But that assessment was for the fourth quarter of 2005-06 and, as economists and investors know only too well, a quarter can be a long time for an economy. In April-May 2006, i.e., the first two months of the first quarter of 2006-07, a new picture seems to emerging, and the first impressions of it aren't that positive. But statistics are like bikinis; they hide more than they reveal, and, we repeat, these are only first impressions.
The Reserve Bank of India's (RBI's) Weekly Statistical Supplement released on June 16, 2006, reveals a credit contraction (both food and non-food) of Rs 13,962 crore in the April-May 2006 period compared to the previous corresponding period. The disaggregated figure for non-food credit, too, shows a downturn. Non-food credit grew Rs 36,038 crore in the first two months of 2005-06 compared to a negative growth of Rs 12, 334 crore in April-May of 2006-07.
In absolute terms, the credit offtake this year has been a negative Rs 13,962 crore compared to Rs 40,644 crore in April-May 2005.
Deposit mobilisation, a key tool to fund credit expansion, is also down. RBI figures reveal that scheduled commercial banks have aggregate deposits of Rs 27,214 crore in April-May 2006-07 against Rs 78,671 crore in the corresponding period of the previous year (see Sign Of Things To Come?).
Is this the first sign of an incipient slowdown? Or is this a result of the window dressing that banks resort to in the final quarter of every financial year to doll up their balance sheets?
"There is usually a deceleration in credit in the first quarter," says G.V. Nageswara Rao, CEO, Commercial Banking, IDBI Bank. Several bankers agree with Rao, but caution that the gradual hardening of interest rates and the higher provisioning mandated by the apex bank for real estate and personal loans can significantly damage the retail credit party and, by extension, the overall India story.
RBI data reveals that retail credit has grown by 40 per cent per year since 2001-02 and contributed one-fourth of the incremental non-food credit in 2005-06. As a result, the share of advances to individuals increased from a low of 10 per cent of total bank credit six years back to nearly 25 per cent in January 2006. It follows, then, that a slowdown in loan-driven consumption-especially in the housing, auto and consumer goods sectors, which have direct linkages to several hundred other industries-will affect the fortunes of all these sectors.
P.K. Tayal, Chairman, Bank of Rajasthan, strongly refutes this logic. "Domestic credit demand from all sectors of the economy remains robust. This is actually a slack season," he says.
There is a logical, and less alarmist, explanation for the slowdown in corporate credit offtake. Most companies have earned bumper profits over the last two-to-three years and several of them have raised large sums from the primary market prior to the crash in the secondary market. They can, thus, meet their funds requirement through internal accruals, overseas borrowings and by dipping into the funds they have mobilised from the market. Hence, the rationale of this argument goes, they have little use for bank funds.
The real danger to the Indian story, say bankers, will come from an oil shock-induced global slowdown and consequent overcapacity in the domestic market. Alternatively, the inadequacy of Indian infrastructure can also create bottlenecks for growth. A recent RBI report warns that sustaining the growth of manufacturing, the key driver of industrial growth, will depend critically on bridging the large gaps in physical infrastructure.
So, is the economy gradually losing steam? It's still too early to reach any conclusive decision on this. But the primary evidence, despite the pat explanations, is disturbing. In the days ahead, all eyes will be glued to bank credit offtake, and other economic indicators like sectoral growth rates. Nobody's suggesting that the 9.3 per cent GDP growth figure is a flash in the pan, but it's best to be cautious.
---
INSTAN TIP
The fortnight's burning question.
Will the government succeed in overcoming the Left's opposition to disinvestment this time?
Yes. Jagdish Khattar, Managing Director, Maruti Udyog Ltd
The Cabinet Committee would not have cleared the proposal unless the government was confident of pushing through its disinvestment agenda this time. The government must have received ample indication that it will be able to overcome all opposition because any reversal or rollback will cause great embarrassment.
Yes. Arjun Sengupta, Congress-backed Independent MP
All I can say is there is no Left opposition to disinvestment this time round. So, you can judge yourself, the fate of the decision.
No. Nilotpal Basu, CPI(M) MP
I am not an astrologer and cannot say if the government will succeed or not. All I can say is that we will oppose this unilateral decision tooth and nail. It's a blatant lie that the Left had agreed to this. Earlier, the Union Mines Ministry had said the proceeds from the sell-off will be used to inject fresh funds into NALCO, but now it seems the funds will be used to meet the budgetary deficit. We cannot support that.
---
BETWEEN THE LINES

The new policy:
» Gives industries flexibility to deploy their labour force
» Delegates the powers of the Labour Commissioner to the designated Development Commissioner for SEZs
» Allows for single window clearances relating to various labour laws in SEZs
» Curbs unannounced visits by factory inspectors
» Declares all industrial units and other establishments in SEZs as Public Utility Services under the provisions of the Industrial Disputes Act
The Maharashtra government has quietly introduced new hire and fire norms for Special Economic Zones (SEZs) in the state and has even notified them in its Special Gazette dated May 2, 2006. This means "ancillary" staff like canteen workers, gardeners, cleaning staff, security personnel, courier service employees, workers engaged in transport of raw materials and finished products and loading and unloading of goods within factories located in SEZs will no longer be able to claim permanent status as a matter of right.
"The Congress knows we will oppose such laws in Parliament, so it has got its state government to pass it," says Shyamal Chakraborty, National Vice President, CITU. However, Govind Swarup, Principal Secretary, Employment and Self-Employment Department, Government of Maharashtra, says: "This is an operational set of policies for improving the lot of labourers."
The state has belled the cat. It's a test case; if employment figures head north following this, it will puncture the stand of the Left and others whose ideological orientation is holding up job creation in the economy.
---
IT Story Still Intact
The pullout of some IT firms from India points only to the failure of the captive model.
Some of the recent headlines have not been pretty: Apple logs out of India; Pervasive shuts down Indian operations; Sykes bids India goodbye; Dell to relocate some BPO work back to the US; Powergen packs up. Critics of the it outsourcing story have seized upon these announcements to buttress their argument that India is getting way too expensive and that the quality of the Indian workforce is not really up to scratch. This latter argument, in particular, has gained ground as some companies have specifically cited quality issues as the main reason for their pullout from India.
Does the steady trickle-no; despite the screaming headlines, it's not a deluge yet-of such bad news signal beginning of the end of the Indian it outsourcing story? No, say industry analysts emphatically. John MaCarthy, VP (Asia Pacific Research), Forrester, a Cambridge, Massachusetts-based technology and market research company, says: "A few failures among thousands of success stories do not herald any kind of slowdown. Let us not confuse issues here. We have to examine whether the failure is that of the captive model (for those who came in late, a captive is an exclusive setup which caters to in-house needs of a company only) or that of Indian it model. I feel it is more a case of the former."
This is an argument with which Avinash Vasishtha, CEO, Tholons Inc., a Washington-based services advisory and investment firm, agrees. He says a majority of the companies which have had bad experiences have not done their homework properly. "Companies must have a very clear idea of what can be outsourced, when it should be outsourced and at what price such outsourcing will be financially viable. Companies must figure these issues out carefully for effective results. This requires process maturity that third party service providers like WNS and EXL have mastered," he adds.
Incidentally, most of the captives which have failed do not have sufficient economies of scale; they, thus, find it difficult to attract and retain talent and are also unable to spread their overheads across a sufficiently large number. Vasishtha also points to another significant fact: some players like Pervasive have not actually withdrawn from the Indian market; they have simply shut their captives and transferred work to a third party vendor (Aztec Software in this case).
With infrastructure management services, the third wave of outsourcing-the first was in services, and the second in BPO/ITEs-set to take of in a big way, the Indian it story is still intact.
-Venkatesha Babu
---
Nearshoring Is Here
Indian BPO companies are now moving up the value chain and closer to customers.
After five years of running an offshore call center in India, Powergen, a British energy company, decided to move it back to the UK in mid-June. This, its Managing Director Nick Horler says, will create 500 new jobs in Bedford, Bolton, Leicester, Nottingham and Rayleigh "and provide better quality service to our clients and reduce the number of complaints". Media reports quoted him as saying: "When customers contact us, they need to be confident that their query will be fully and quickly resolved. Although the cost of overseas outsourcing can be low, we're simply not prepared to achieve savings at the risk or expense of customer satisfaction."
Everyone BT spoke to for this report was emphatic that this move in no way signals the end of India's voice-based business offshoring story (also read it Story Still Intact, page 18). They point out that several Indian companies, too, are getting into nearshoring, or the practice of setting up call centres near client locations. "This does not indicate that clients are not comfortable with offshoring work to India. Instead, it shows that Indian business process outsourcing (BPO) companies are moving up the delivery and value chain. The business is no longer about cost arbitrage, but about process expertise," says Ananda Mukerji, CEO and MD, ICICI OneSource, a large Indian BPO company which will, in July and August, open two nearshore centres in Northern Ireland. "Clients have realised that the Indian offshore centres have process discipline and process improvement capabilities which are lacking in their onshore operations, and they want us to replicate these qualities in their onshore centres," he says.
Progeon, Infosys' BPO, too, has two nearshore centres in the Czech Republic and China. The former was set up at the request of its client whose worldwide operations it services in 16 languages, including Finnish, Italian and Russian. It employs 110 people; 20 per cent in the voice-based business, and the remaining in transaction processing. "The documentation has to be done in various European languages, so it was imperative for us to set up a nearshore location," says Vijay Menon, the company's Vice President (Marketing). The China centre currently has less than 50 people, and was set up because the nature of the job required expertise in the local language.
HCL Technologies, which pioneered the concept of nearshoring in 2001, today has two delivery centres in the UK and one in Malaysia which handle front and back office processes and a technology help desk. The rationale for nearshoring: geographic risk hedging, process-related sensitivities, timeline alignment and cultural affiliation. Says Sumit Bhattacharya, Executive Vice President, HCL Tech.: "Having a global delivery footprint is a pre-requisite for these."
Powergen's exit from India, experts say, should not be seen as the beginning of a trend. "About 90 per cent of call centres focussed on the US and UK markets have voice-based business models. And though the voice business is very capital intensive and prone to risks, it is here to stay," says Suresh Ramani, COO, Intelenet Global Services, which is looking to take over boutique firms in the US and the UK to meet rising demand for nearshore delivery centres.
-Shivani Lath