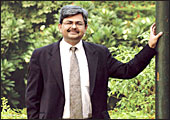 NAME: SANJEEV AGGARWAL
AGE: 45
DESIGNATION: CEO
STATE: IBM Daksh
Sanjeev Aggarwal is moving on. The co-founder of Daksh, who sold the company to IBM for Rs 750 crore in 2004, is planning to set up a $140 million (Rs 644-crore) technology fund called Helion in partnership with Kanwaljit Singh and Ashish Gupta. It's an emotional time for him. Aggarwal had set up Daksh (now IBM Daksh) in 2000 with $2 million (Rs 9 crore) in venture capital funding, three partners and 10 employees. Since then, he has piloted it to the numero dos spot in India's business process outsourcing world; it now has an employee roster of 20,000 and 30 clients worldwide. Incidentally, it was Gupta who introduced Aggarwal, a be and MBA from Punjab University, to Pavan Vaish, coo and another co-founder of Daksh, who will hold fort as interim CEO once Aggarwal leaves.
But becoming a poster boy of the Indian outsourcing boom wasn't quite on Aggarwal's mind when he started his career in the early 80s. Beginning his career with DCM, he moved to Compaq, 3Com and Motorola. It was his stints with the US companies that opened his eyes to the opportunities in the outsourcing space. He realised that a lot of the work being done in the US could be done in India at a fraction of the cost. Thus, the idea of Daksh was born.
A low profile person, Aggarwal prefers to stay away from the spotlight. People who've worked with him say he's very good at strategic thinking and at identifying the right levers to push to get things done. His management style is also quite open. "He sets the broad direction and lets people execute the plan," says Vaish. He is also "extra-generous and fair to people," he adds. Because of this even those who have left Daksh remain emotionally attached to it.
Aggarwal planned his departure very carefully. "Sanjeev wanted to ensure that his baby continues to thrive. His leaving is like marrying your daughter away," says Vaish. But why is he leaving? "I'm leaving in search of new intellectual challenges," says Aggarwal.