If you head out of Bangalore, take national Highway 7, drive north by northeast towards Kolar (famous for its now-defunct gold mines) and make a detour towards Malur from there, all you will see are swaying paddy and ragi crops. Picturesque, but not very different from a majority of the six lakh plus Indian villages, one might say. That is true till you hit (and the chances are you will, in all probability, miss) Shivarapatna, a remote village located just a few hundred metres away from the main road. But ask and you will be told where it is. Visitors from across the world do that round the year. There's a reason for this.
As you enter the village, you are greeted by the delicate sound of hammers and mallets (called ulli and sutthi in the local lingo) chipping away at granite or marble blocks. Scores of shilpis (sculptors) are bent over their tools in their respective front yards, carving images of gods, goddesses and mortals, just as their forebears had done for centuries. All the 180 families in the village are connected to this trade in one way or the other. Statues of Lord Venkateshwara, Lord Ganesh, Goddess Lakshmi and B.R. Ambedkar are in various stages of completion.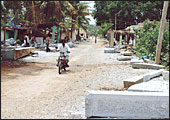 Shivarapatna: A village like no other
Welcome to Shivarapatna, the village of sculptors.
Shankarnarayana Charya is a 14th generation sculptor and winner of numerous awards, including the President's Medal. His small house is filled with medals, citations and certificates from the central and state governments and from satisfied clients. "My statues have been shipped to Ichigan (Michigan), Sanpaddru (San Pedro) and Glassugu (Glasgow)," he says proudly. Idols made in this village adorn numerous Hindu temples in the US, UK, Germany France and Australia. Adds S.B. Nanjundacharya, an octogenarian who still spends six hours every day chipping away at stone: "Most of us are descendants of Amara Shilpi (immortal architect) Jakanchari, who designed the world famous (13th century) temples in Belur and Halebid. Sculpting runs in our blood."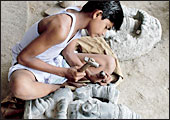 Petty profits: Low returns are making this profession unattractive for villagers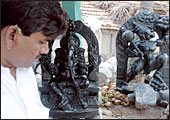 Age-old legacy: All the 180 families in the village are engaged in carving images of gods, goddesses and mortals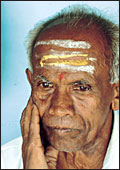 Padmanabhacharya: Where are the profits?
That is almost literally true. Children in the village are initiated into Shilpa Shastra, the ancient Indian art of architecture, design and sculpture, at the age of five. They begin by sketching and graduate to full time sculpting only after 10-15 years of rigorous training. "Shilpa Shastra teaches you all about proportions; say, if the face is of a particular size, then the nose, eyes, lips and ears have to be of a particular dimension. Once a person masters this, the rest just falls into place," he says. Adds Nanjundacharya's son, S.N. Tyagarajacharya: "Initially, we copy and emulate our elders; later, as one matures and picks up the finer aspects of the art, one also develops an individual style." Every family has its distinctive secrets which are guarded fiercely and handed down from generation to generation. "I won't even teach my son-in-law some of the tricks of the trade; those are reserved for my son," says Kumar Acharya, a veteran carver.
Statues are usually carved out of Krishna Shila (black granite) and Balapada Kallu (soap stone) though marble and Kempa Kallu (red granite from Jaipur) are also used. The most popular and in-demand statues: Hindu gods and goddesses, Ambedkar, Mahatma Gandhi and Jawaharlal Nehru. "All we need is a photograph of the leader or a replica of a statue," informs Nanjundacharya.
But in spite of the demand for their statues and the high prices they command-in India a lifesize idol can cost Rs 15-20 lakh at the retail end; abroad, this rises to $50,000-80,000 or Rs 23-36.8 lakh, (prices vary according to the stone and the amount of carving that needs to be done)-most of these sculptors are very poor. Says S.B. Padmanabhacharya, a Karnataka state award winner: "Government support is non-existent. And middlemen take away all the profits. I don't want my grandchildren to become sculptors. They should study and work in air-conditioned offices." Most sculptors also suffer from diseases like piles and lung infection-a consequence of the long hours they spend sitting in difficult postures and inhaling stone dust. "We work with gods and others pray to the idols we make, but God does not seem to hear our prayers," adds Padmanabhacharya.