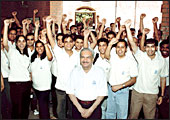 Mint-fresh: IIM-A's Bakul Dholakia poses with the maiden batch of executive MBA, called PGPX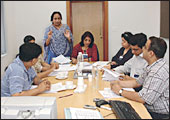 Learning @ISB: KPMG managers hone their skills at ISB's Hyderabad-based campus
Picture this. You are on the operations side in your company. You have five to seven years of work experience, a decent pay package, supportive colleagues and a promising work environment. Yet you haven't managed getting to that coveted general management position. What comes in the way is the lack of that crucial MBA tag to your resume. Most of your colleagues with MBAs have already passed you by. You are in a fix as to what to do because you cannot leave your job for two years to get back to a regular MBA programme, primarily because of the opportunity cost involved. Besides, who's going to pay the bills (the EMIs for your apartment and car) while you are away in a B-school?
The top B-schools in the country probably had managers like you in mind when they devised their executive education programmes. The concept is, of course, not new, but it is rapidly evolving. Says Prakash Apte, Director, Indian Institute of Management Bangalore: "There has been no major change in management education in the country, except for executive education. There is a growing demand from practising managers for management courses." In fact, among themselves, the top 10 B-schools in the country offer as many as 20 such courses, not counting those with duration less than six months. More than 3,000 executives are enrolled in such courses. While some are fully or partly residential, a fair number are weekend or distance learning courses (via VSAT). Says Prof. B.B. Chakrabarti of IIM Calcutta, "If someone has done line management throughout his career, he might find it difficult to rise to the level of a General Manager. We can at least provide the requisite knowledge and skills that would help him reach there."
Chakrabarti says that the curriculum for the one-year, full-time residential Post Graduate Programme for Executives (PGPEX) at IIM-C is devised to help executives taking general management positions in their respective organisations. "To rise quickly up the ladder," reckons C.D. Bhattacharya, Dean, Faculty of Management Studies (FMS), Delhi, "a person needs to have strong conceptual, analytical and communication skills." Bhattacharya claims that several middle-level executives who have graduated from the three-year, part-time MBA programme at FMS have quickly risen to senior management positions.

Look Before You Leap
But most such people have risen within their own domains. Executive programmes are not passports to an entirely new career. So if you are looking to shift, say from manufacturing to hr, executive education may be of little help. "We advise those looking for a change in career against pursuing such courses," explains a Delhi based B-school professor. "At best these programmes are a value-addition to your experience within the industry," he says. Moreover, executive programmes do not offer any formal placement assistance. "Students do make attempts to organise something on their own," says Professor M.S. Narasimhan of IIM-B, where students of the eight-month Executive General Management Programme (EGMP) are trying to tie up with placement agencies for lateral moves. Out of the top 10 B-schools, only IIM-A, C and I offer placement assistance. XLRI Jamshedpur, however, plans to introduce a regular placement facility for two of its executive education programmes, starting this batch.
But a promotion and a fatter pay packet are not the only reasons why middle-level executives aspire for management courses. IIM-B, for one, claims that its executive education programmes are aimed at "broadening the outlook and strengthening the skills of practising managers". This is exactly what Mukta Arora achieved after going through EGMP at IIM-B. "I joined the programme to develop my skills around strategic thinking and also for networking around the industry," says Arora, Vice President (Supply Chain Management), Eli Lilly. Arora, with 15 years of experience, now finds herself better equipped for her career ahead. "The basic change is that one begins to appreciate the cross-functionality within the organisation," she feels. Adds Vasudev Chivukula, a 39-year-old executive with Larsen & Toubro, currently pursuing a three-year, part-time MBA at XLRI: "There is no scope any more for applying trial and error methods at the workplace. Today, you need to be effective very timely and in every circumstance."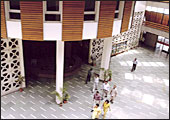 Lure of IIFT: Globalisation has made its courses popular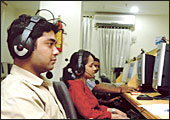 Tech-savy: Executive education is now delivered online
Since the takeout from executive courses can vary widely depending on the participant's own input in terms of time and energy, the institutes tend to pick their participants with some care. Typically, a minimum work experience of, say, five years is expected. Another requirement is experience at a supervisory or decision-making position. "Executive students often have clearer goals in mind as compared to most freshmen," says L.D. Mago, a professor at the Delhi-based Indian Institute of Foreign Trade (IIFT), which runs three different executive programmes.
The core curriculum of most such programmes is similar to that of a regular mba course. Where they differ is in delivery. The teaching is mostly through case studies, which require the students to do extensive reading and discussion to come up with appropriate solutions. "The level at which we pitch the course and content is very different. Here the things are to be done in fast track," says IIM-C's Chakrabarti. "We do not dwell too much on the elementary aspects of subjects like organisational structures, as all students are working executives and have a fair grasp of the practical aspects," adds Mago of IIFT.
The programmes are, therefore, designed to focus more on real-life business situations and the workplace. Most schools (especially the IIMs) now follow the case study method for executive courses and some even develop their own case studies based on the most recent developments in industry. Some others like FMS, however, still cover aspects theoretically. "We are not as rigid as some of the IIMs when it comes to teaching methodology," explains Bhattacharya of FMS. Almost all B-schools, especially the autonomous ones, claim to modify and even overhaul their course modules on a regular basis so as to remain relevant to industry needs. But those like FMS that are a part of the university system, find it harder to affect change quickly.
The B-schools claim that these courses are as rigorous as the regular MBA programmes. In fact, some schools also claim that their executive programmes (especially the ones offered part time) are longer than regular MBA programmes so as to keep the academic content as rigorous as that of the regular courses. "Our Post Graduate Programme in Business Management for Working Managers is as good as any MBA programme. It is a part-time programme that is why it is three-year long," claims Professor Sushil Kumar of IIM Lucknow. Some like Abhishek Kumar, a Tata Steel executive pursuing a part-time MBA from XLRI, choose to do a part-time course because they "want to have the best of both the worlds". But there are others who candidly admit that an executive programme can, in all fairness, never be as competitive and rigorous as a regular MBA. "The number of applicants for such courses is far fewer. Moreover, because most such courses are non-residential with classes in the evening or over the weekends, there is often minimal interaction between the faculty and students and among the peer groups themselves," concedes a senior professor at one B-school. "Conducting such courses often becomes a logistical nightmare."

The ISB Effect
The Hyderabad-based Indian School of Business has played a key role in popularising executive education in the country. Although ISB doesn't call it so, its flagship one-year MBA programme is actually a perfect fit for managers who don't want to spend two years out of employment for an MBA degree. Therefore, a large number of the students who get into ISB have several years of work experience. A minimum experience of two years is mandatory. The programme's objective, says Deputy Dean, Ajit Rangnekar, "is to create leaders for a fast-developing economy, which need a new kind of leadership". An MBA at ISB, which looks for leadership potential among its applicants apart from their GMAT scores, doesn't come cheap: It costs a whopping Rs 14 lakh (not including accommodation and food). That apart, the school runs several short-term courses, often designed specifically for some companies.
Remote Delivery
As a result, B-schools are experimenting with various delivery methods. IIM-B and IIFT offer their programmes over the weekend on campus and also to remote centres via live webcast. On the other hand, IIM Indore, which offers an 18-month long Executive Post Graduate Programme in Management, has its course divided into six terms of three months each, and the participants are supposed to stay on campus twice a term, for nine-10 days each. This is where the employer's consent becomes important. Professor Ashish Sadh from IIM-I says that employers are encouraging this type of education. "Organisations provide abstract ideas, which become inputs for such courses," contends R.K. Jadhav, Director, Jamnalal Bajaj Institute of Management Studies (JBIMS), Mumbai. To ensure that there is no objection from the employer while the employee pursues the course, most schools seek organisational sponsorship or a 'no objection certificate' from the employer. Kamal Singal, who took the programme at IIM-I, says he went for this even after putting in 10 years in industry and after having already reached the senior management position. "The organisation also supports this kind of learning as it is good to see people growing," says Singal, Head (Operations) for denim garments, Arvind Mills. Concurs Dipankar Dasgupta, Abhishek Kumar's line manager at Tata Steel: "Such programmes help broaden the canvas available to employees and develop skills they require to take on greater responsibilities."
Executive education, however, does not come cheap. There is a huge difference between fee structures of courses offered by autonomous/private B-schools like the IIMs and XLRI and those such as FMS and JBIMS that operate within the university system. If you plan to pursue a year-long PGP for executives at IIM-A, be ready to shell out Rs 10 lakh in fees. Similar, but not identical, programs at IIM-B and IIM-I will set you back by Rs 8 lakh and Rs. 4 lakh, respectively. On the other hand, a three-year, part-time MBA from FMS and JBIMS will cost you a little over Rs 30,000 and Rs 51,000, respectively. This disparity may not remain for long. If informed sources are to be believed, FMS may raise its fee from the current Rs 10,000 to Rs 1 lakh per annum. But if you can manage to convince your employer to foot your bill, be prepared to stay on at the company, since that may be part of the sponsorship contract.
Despite the high costs involved, there is a growing number of takers for such courses. "Managers today are beginning to recognise the need to beef up their resume, which is why executive courses are gaining ground," reckons Prabir Sengupta, Director, IIFT. Father N. Casimir Raj S.J., Director, XLRI, agrees: "As long as corporations feel management graduates contribute to their growth, such programmes will remain attractive." And B-schools, which make a killing on executive education, are only too happy to oblige.