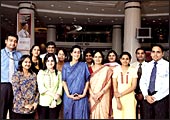 Team HSBC: Kidwai (in blue sari) with staff
In early august, HSBC India did something it had never done before. The bank moved to a five-day week. August 5 was the first 'off-Saturday' for its employees-a small event perhaps for the outside world, but a giant leap for HSBC employees. Make that yet another giant leap for HSBC employees. Indeed, over the past five years, the Hong Kong-headquartered bank's Indian subsidiary has been quietly but surely transforming itself from a perceptibly ponderous organisation into one that's more contemporary and forward-looking. A laidback style of managing has made way for an aggressive, growth-oriented mindset, the best reflection of this in the market place being HSBC's bid to acquire a stake in the UTI Bank in 2003. And yes, in the process of becoming more proactive, HSBC's also become a cool place to work in. As Tim Kirby, Head, Human Resources, puts it: "We want people to work for us because they want to work for us."
SNAPSHOT
NET INCOME:
Rs 2,302 crore (2005-06)
PROFITS:
Rs 515 crore
Total employees:
4,985
Attrition (per cent):
22.3
Average career tenure:
5 years
Training budget (budgeted/actual):
Rs 8.5 crore/ Rs 11.5 crore
Training man-hours (actual):
11,590
Allowing employees the luxury of a longer weekend is just one way of making them want to work for HSBC. There have been other similar initiatives in the recent past to change the culture from a prim and proper way of work to a more casual one. One such initiative is an open-door policy, endemic at most organisations, but arguably blasphemous at HSBC till a few years ago.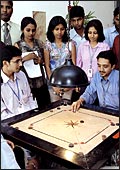 Play as I, think as we: Working in collaboration as a team is the essence at HSBC. The bank has adopted a more informal style to make it a cool place to work in
"We are serious about the open-door approach. It is important for people to know that they are working for a growing organisation and that the organisation has laid down specific career progressions for them," says Kirby. Given that there are about 5,000 people who work for the bank alone, and 22,000 across the organisation-HSBC also has an asset management company, a securities outfit, a software development centre in Pune and outsourcing hubs in Bangalore, Hyderabad, Visakhapatnam and Kolkata-monitoring individual needs isn't easy. But it's an imperative nevertheless.
Making that task even more challenging is the fact that over half of the bank's employees have been around for less than 18 months (perhaps a rather high attrition rate of 22 per cent has something to do with that). Kirby himself has been in his current assignment for about a year now, having done stints with the bank in West Asia, Europe and Asia earlier. The good news today, though, is that people are willing to join HSBC from competitors who are perceived to be more aggressive and savvy. Consider, for instance, Kalpana Ajayan, Vice President, Insurance Products & Alternate Channels (Personal Financial Services), who has been with HSBC for two years now. Her previous stint: Four years with- ahem-Citibank. Reason for the shift? "The promise of the scale of things to come and a vision that is getting clearer," in Ajayan's own words. According to Kirby, HSBC is looked at by students in a positive light. "They think we are a sales-oriented organisation, a fair payer and more importantly an equal opportunity employer," he explains.
But it's not as if most of HSBC's workforce is made up of Johnnies-come-lately. In fact, roughly 19.4 per cent of the personnel have been with the bank for a decade and more. Like, for instance, Basab Majumdar, Senior Vice President and Head (Western India), Corporate Banking, who has done a 12-year stretch with HSBC. And if you think the veterans lack the passion, listen to what Majumdar has to say. "Over the past two years, corporate banking alone has added over 400 new corporate relationships. This is at a time when competition is no pushover."
INTERVIEW/

NAINA LAL KIDWAI

/HSBC'S GROUP GM AND COUNTRY HEAD, INDIA
"I am Here Because of the Customer"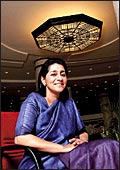 HSBC's India CEO of six months spoke to BT's Krishna Gopalan on her people agenda. Excerpts:
On HSBC's four Cs: Communication, customer centricity, competitive benchmarking and collaboration.
The one thing that is key is customer centricity. The dimension I wanted to bring is that apart from an external customer, there is also an internal customer. So, every support group within the bank also has a group. Football was used as an analogy where we wanted to highlight that you should "play as I" but "feel as we". What we are saying is there is individual excellence, but you must feel as a part of a team. The theme here is: "I am here because of the customer" and we all need to work in collaboration as a team. The third thing is about communication; we allow anyone to ask the top management anything they would want to know. I want people, for instance, to address me by my first name and to bring in the element of informality. While we are doing very well, it is about how we do vis-à-vis market share and competition, which is what competitive benchmarking is all about. This is about keeping our eyes and ears open all the time.
On the culture and the work environment at HSBC.
The uniqueness is that everyone here identifies very strongly with HSBC. It is important to combine that with a degree of informality and respect for diversity which brings with it freedom of thought, ideation and even action, but within our norms. I want us to retain what is very solid about HSBC, which is its identity, integrity and our strong commitment to corporate social responsibility. Meritocracy to us is very process-driven, which includes employees being assessed for their leadership and management capability.
On the challenges for the bank over the next couple of years.
The biggest challenge for us is to continue to grow organically in a regulatory environment where offering new branches is not easy. We must grow in a compliant way and be able to deliver on bottom lines.
On the India opportunity.
It is a very exciting time for India and the challenge lies in capitalising the opportunity. India has just made it to the top 10 contributors of HSBC. The challenge for me is to retain my position when I am up against competition from emerging markets like other BRIC nations (Brazil, Russia and China), Mexico and Turkey.
For a large number of HSBC employees, the organisation is an important part of their life. "It largely determines what happens in my day-to-day life. Yes, we are demanding, but we also strive to strike a balance between work and personal life," says Sonal Dave, Vice Chairman and Chief Operating Officer, HSBC Securities and Capital Markets. Dave, a 10-year veteran at HSBC, has a team which is close to a 100 people and attributes her long stint, quite simply, to a "need to enjoy coming to work". In her words, the last 10 years have had some big changes. "We have become extremely sales-focussed and very proactive. The sales focus has really gained momentum over the last three-four years," adds Dave.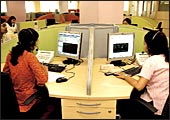 An open culture: To let people grow and enjoy work
The desire to succeed at HSBC is hard to miss today and the mantra for success revolves around what is often described as the four Cs-communication, customer centricity, competitive benchmarking and finally, collaboration. "We bring a truly, young, resilient organisation that is thinking, creating and one that is perpetually reinventing itself. I think we have some of the best people in the country working for us. Everywhere I go, I see a team that has a huge amount of energy and a desire to excel," says HSBC's Group General Manager and Country Head, India, Naina Lal Kidwai.
The rewards that come the employees' way are varied in nature-a variable bonus scheme, incentive schemes and stock options too. "We also have recognition schemes which include things like Bright Ideas and Thanks Awards. The latter for example is a monetary award," adds Kirby. While the Indian economy has been on a growth phase for a while now, it is really left to HSBC to see how much it can capitalise on this kind of an opportunity. "It is about letting people rise to their potential. The organisation has to be an enabling one to do that and that's what a culture like openness does," sums up Kidwai.
A DAY
IN THE LIFE OF
BASAB MAJUMDAR, 38 Senior Vice President and Head (Western India),
Corporate Banking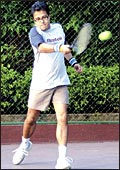 On the ball: Majumdar gets into the groove with a game of tennis
Basab Majumdar is a man with a variety of interests. by his own admission, he is a sports freak and a World War II enthusiast. His day starts off at 6.45 a.m. with a game of tennis which he religiously plays for an hour; that's followed by preparations for another day at work. He is at work at about 9 a.m., which is when I proceed to join him as a part of my assignment.
The day looks pretty action-packed and Majumdar and I sit across the table for a cup of tea where he briefs me on his schedule for the day. For starters, it is a Monday morning and I am sure his hands are full. I am not completely off the mark. He has to interview a candidate at 10:30 a.m. and we quickly get around to discussing what he plans to do after that. "A large part of my job is related to HR," he says. Majumdar has relationship team heads reporting to him and he never fails to underline the point that he is, at the end of the day, a frontline salesman. "I am nowhere without my customers," says a candid Majumdar.
Lunch is quick; a few sandwiches later we continue our little conversation. The agenda for the afternoon is a meeting with a client in Lower Parel in central Mumbai. I proceed to ask him if he has to put his thoughts together for the meeting. "Considering that travel time is a lot in Mumbai, I ensure that a lot of work is done while I am in my car," he says with a smile. He still ensures he has enough time for his family, which includes his four-year-old daughter. "I am not a workaholic. I am a highly committed professional and I ensure I have enough time for other interests," says Majumdar. He is done with work by about 8 p.m., which leaves him enough time to catch up with the happenings on the international football scene. The work-life balance can't get much better than that.