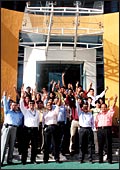 United we stand: Employee first, customer second is the company's credo
I am the force of one' is the dictum we urge all our employees to follow," informs J. Kalyanaraman, Sr. Vice President (HR), HCL Comnet, before he launches into a presentation on what an employee means to the company. Kalyanaraman, 'Kalyan', as his colleagues fondly call him, should know; he's been with HCL Technologies for the last 20 years, and with HCL Comnet since its inception. And to be sure, Kalyan is not the only one who has stuck around with the company long enough. Business Today's Best Companies to Work for survey results show that on an average, HCL Comnet employees choose to spend a little less than three-and-a-half years with the company and attrition rates are at a modest 14 per cent. This, in an industry, where companies are resigned to losing nearly a third of their workforce each year.
In fact, if numbers are anything to go by, HCL Comnet already has notched up an impressive set. Consider this: the company has been growing year-on-year at well over 60 per cent, its turnover is close to Rs 500 crore, up from Rs 305 crore last year; it has expanded its workforce by a third and now employs well over 3,000; its training budget in 2005-06 was Rs 75 lakh, which, Kalyan says, has since risen fourfold.
SNAPSHOT
REVENUES:
Rs 503 crore (2005-06)
PROFITS:
Rs 38.5 crore
Total employees:
3,047
Attrition (per cent):
13.89
Average career tenure:
3.39 years
Training budget (budgeted/actual):
Rs 75 lakh
Training man-hours (actual):
103,957
Yet, the secret of remaining one of India's 10 best companies to work for the third year in a row does not lie in these numbers. "We believe in the philosophy 'Employee First'," explains Vineet Nayar, CEO, HCL Comnet and President, HCL Technologies, the parent company. "Our employees are the most crucial asset we have." And employees sure do seem to have caught on to this philosophy. Survey results show a positive internal employee feedback, with most employees surveyed rating the company highly on the quality of work life and the level of job security. "One important aspect that differentiates HCL Comnet from most other companies is that it allows me to make mistakes, thereby, giving me a chance to grow," says Rahul Menon, a middle-level employee who heads a team of some 35 people. "I know that the next morning I will have an office to go to," says the man, who earlier worked for Hughes Software.
Yet, the company is not a soft employer, as a senior company executive points out. "We give our employees enough room to experiment and learn," he says, "and an underperforming employee is typically given three chances, before being asked to move on." Explains Nayar: "I do not want bench sitters to work for me, I want people who grow into their respective roles. I cannot play the headmaster and punish them each time they go wrong." Anant Gupta, COO, HCL Comnet, echoes this sentiment. "Mistakes are an important part of the learning curve, they are inevitable."
INTERVIEW/

VINEET NAYAR

/CEO, HCL COMNET
"The Start Point Of Everything Is The Employee"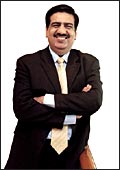 Vineet Nayar spoke to BT's Aman Malik on how Comnet has been the HR trendsetter within the HCL group. Excerpts:
You are one of the smaller companies on the list. Is being small in any way a disadvantage?
Would you rather work for Apple or IBM? The reason we are admired is because of our different values and because we execute what we say. In our smallness is the value, and it is precisely because of this value that we are becoming very big very fast. We do not believe in volumes.

So is HCL Comnet HCL Group's Apple? Are you a cult company within the group?
We are a not a cult company, but a catalyst company within the group. Most things adopted by HCL Comnet, including all our HR policies, have been replicated by HCL Technologies. We are HCL's Apple and are also making HCL an Apple.
How has globalisation impacted the people side of business?
Globalisation has ensured free flow of capital and human resources across countries. This has meant that competition in the marketplace has also increased. To succeed in such a scenario, you have to look at what differentiated value can you really bring to the table. The search for this unique differentiation is the compelling vision for success. So, when we look at it, we are led to believe that it's people who drive value. We believe in "Employee First, Customer Second", thereby, implying that the start point of everything is the employee. The fact that we have been registering robust growth year-on-year, means that this dictum is working rather well for us.
How would you typically react if an employee were to walk up to you and tell you he lost a client?
Mistakes are healthy, because if mistakes do not happen, people aren't learning. This is an important step in making leaders out of people. Now, if there is a problem, the first thing I would say is, do not surprise me. If you were aware of such a problem, you should have sounded me out. Then, did you do everything that could have been done to prevent it? If you did not, do you now know what went wrong and what should now be done to prevent it. Mistake is not the problem, the employee has to be willing to understand he's made a mistake.
The company lays a huge premium on training its employees. It runs a 'virtual university' (christened 'Comnivarsity'), which takes care of all training needs. Apart from an MBA programme conducted on its premises by IMT, Ghaziabad, and a B.Tech (upgradation) programme for diploma holders, it runs scores of in-house, domain-specific courses and e-learning initiatives. "We figured that if an employee wants to educate himself, he'll do it anyway," says Gupta, "and this was what prompted us to start such courses."
| | |
| --- | --- |
| | |
| Teeing off: Time to exercise those legs a bit | Elbow room: Mistakes are seen as part of the learning curve |
Comnivarsity is just one of the several integrated HR practices that HCL Comnet has put in place over the years. At the core of the company's HR infrastructure is an online system that is a one-stop shop that addresses virtually all HR needs of the employee, from as basic a need as figuring out his pf balance to proposing an idea on virtually anything related to the company to a unique ticketing system, which allows employees to air their views and grievances to anyone up to the CEO. "We have tried making this system as interactive as possible," informs Kalyan as he navigates through the system. System navigators like 'Natasha', the company mascot ("she lends a human face to the whole interface") and 'Radio Comnet', the company's in-house fortnightly radio newsletter, add a dash of colour to it.
Another important practice that HCL Comnet is proud about is its 360-degree appraisal system. "Out of the six main parameters on which a person is appraised, only one refers to his past performance, the other five focus on what he can potentially achieve in future," says Kalyan. Compensation is often one of the most critical determinants of employee satisfaction. Barring the top 15 per cent, all other employees get a fixed salary, which is revised every year, a clear departure from an industry-wide practice of offering as much as 30 per cent variable compensation. "It is usually the top 15 per cent employees whose decisions usually determine the profits of a company, so why should those at lower levels pay if profits dip?" asks Nayar.
Despite the fact that it keeps its employees happy, the company seems to suffer from an external image problem, with headhunters rating it poorly. Kalyan, however, is unfazed. "Nearly 60 per cent of our hiring happens out of employee referrals, so we do not depend on headhunters. Moreover, since we innovated remote infrastructure management, we know where to tap our resources from." Nayar couldn't agree more. "What often irks headhunters is the fact that we do not give them enough business." he says.
Nayar and his team would have you believe that HCL Comnet is HCL Technologies' 'Apple'. Why, you ask and he replies, "All HR practices that were put in place by us have now been replicated by other group companies. So our company is a catalyst for change within the group." He should know. Before he was elevated to HCL Tech as President in April 2005, Nayar used to run HCL Comnet hands on. We can already bet what Nayar is planning at HCL Tech: Apart from propelling it into tier I of the it league, get its name on our list of 10 best companies to work for in India.
A DAY
IN THE LIFE OF
RAHUL MENON, 30 Consultant (End-user computing), HCL Comnet
You know, his 31st birthday is round the corner and we'll all make sure he gets his share of 31 bums," informs a colleague as you are introduced to Rahul Menon. Menon, a post-graduate in business administration from Symbiosis Institute of Business Management (SIBM), Pune, heads a team of 35 people working for a UK-based FTSE 100 chemical manufacturer. "I work UK hours," he says, "so, on a typical day, I reach office by noon." This is followed by a round of meeting with his colleagues. By the time he gets back to his desk, it is already 2 p.m. and it's time to sift through e-mail, connect with clients in the UK and colleagues in office. "But it's not all work and no play, we indulge in a whole lot of banter in office," he informs. "Usually, I am the first one to crack up." Then, it is down to dealing with issues related to project management and more client calls. "Such client calls typically keep me busy till 11 p.m.," he says, "by when the UK business day has wrapped up and I go home too." So, do skewed work hours affect his personal life? "Not really," he says, "my wife is in the same industry and keeps similar hours." Menon, who has spent eight years in the industry (he quit Hughes Software to join HCL Comnet two years ago), plans to stick here for the long haul and grow with the company. So, what endears him to HCL Comnet? "The 'Employee First, Customer Second' philosophy, which ensures the employee, an internal customer, remains happy and is always at his productive best," he says.
| | | |
| --- | --- | --- |
| | | |
| Good afternoon: Menon (standing) starts off with a meeting | Dinner time: Stocking up before getting back to client calls | Tracking work: Heading a team of 35, Menon has his hands full |