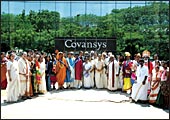 Oodles of fun: Covansians dressed up to the spirit of Indian states for the Ethnic Day celebrations
On Friday, October 6, the Covansys campus was transformed overnight. It was Ethnic Day and at 10 pm the previous night, Covansians had started working on transforming their respective departments to the theme of an Indian state or a client country. The best department had a prize waiting. But choosing to get into the "spirit of the thing" was purely optional.
"We decided to take part in the contest only at 5 pm yesterday," says Vijay Devarajan, a team leader at the company. Team members worked late to convert their unit into "Kerala"; a beautiful Kathakali figurehead in rangoli welcomed visitors in the HR department. There was also a big handcrafted boat, a toddy stall (there was no toddy, though) and a tea stall mimicking the original ones. Other departments had "created" Andhra Pradesh, Tamil Nadu and even Japan. And surprise-every Covansian across the campus participated. People even took turns to finish work for colleagues tied up with the event. Result: work did not suffer; deadlines were met; yet, everyone had loads of fun.
Says Rahul Shah, Head of Financial Planning, who joined Covansys from a top-tier it company: "We had our own fashion shows and other functions at my earlier workplace on a much grander scale, but the personal touch was missing." Covansys India President and CEO K. Subrahmaniam says: "We believe in taking a holistic approach to developing the personalities of Covansians."
SNAPSHOT
REVENUES:
$435 million or Rs 2,001 crore (2005-06)
PROFITS:
$37.5 million or Rs 172.5 crore
Total employees:
5,713
Attrition (per cent):
18.81
Average career tenure:
4.9 years
Training budget (budgeted/actual):
Rs 4.2 crore/Rs 4.6 crore
Training man-hours (actual):
187,616 hours
The emphasis on having fun at work, which Business Today wrote about last year, has now become more encompassing. This year, Founder Chairman Raj Vattikutti has articulated a "Culture for Growth" theme, where every employee is free to involve himself in every aspect of the company for his own and the company's benefit. So, while fun and games provide a nice balance to work, employees are now empowered to do many more things than in the past. "They are free to take decisions that benefit customers and, therefore, the company; they are free to suggest best practices to be followed; and they are also free to decide their own personal performance contract according to their competencies and work content," explains B. Subramaniam, a Project Director at the company.
Shorn of jargon, this means an employee and his manager define the factors that will be used to judge performance. This ensures that performance-related data collection is not perceived as a threat and results in greater acceptance of the process. Individuals are empowered to set their own goals and managers are empowered to reward-these range from Rs 1,500-80,000 every quarter-the best performers in consultation with the respective Group Heads. This is over and above the regular annual appraisals and increments. No wonder the general feeling is that Covansys pays well, often better than the market.
INTERVIEW/

K. SUBRAHMANIAM

/COVANSYS INDIA PRESIDENT AND CEO

"Addressing employees' concerns top our agenda"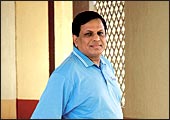 K. Subrahmaniam spoke to BT's Nitya Varadarajan on how he keeps colleagues enthused. Excerpts:
How much have you progressed since last year's survey?
We have largely been focussing on consolidating our strengths and leveraging them for future growth. In order to attract and retain the right talent, we have introduced complimentary programmes, technical and non-technical, to ensure a top-notch resource pool. Besides these, we have a tool called Compass that helps us understand the real and specific needs of employees and capture concern areas at the individual level. Inputs are gathered from various sources (many of them non-intrusive) and the remedies include suggesting changes in behaviour patterns of employees.
How about improvements in the workplace environment?
All Covansians can have their say in almost anything involving the company; this results in creating a conducive work environment and a motivated workforce. Addressing their concerns and de-stressing them remains a top item on our agenda. We ensure that people take a holistic approach to work. In turn, people have "returned" much more than what we thought possible by way of performance.
Are you not overplaying the "Fun at Work" theme?
Not at all! We get a chance to see creativity and activity in different fronts; this helps us understand the innate abilities of individuals. Refining the concept further, we can give appropriate work/projects that they can handle and excel in. For example: the company is sponsoring the MBA course for M. Shakthi, an office boy, because it spotted his innate abilities.
Search firms have given a below-average feedback about the company. How will you address this?
As part of the "Culture for Growth" theme, Covansys is revamping its sourcing strategies. Brand building, both internal and external, is a major initiative and this will help us attract customers and software professionals alike. We are discussing with partners ways to strengthen our talent sourcing programmes. With the growth of the company, all touch points with employees, partners and prospects are being strengthened, and, we expect to see a positive impact soon.
In line with the new policy of Culture for Growth, the company is setting up informal communications groups, cutting across functions. "We don't want people in various units to be isolated in their own world," explains Jayanthi Vaidyanathan, Director, Human Resources at the company. Then, there is Chatterati, a platform that allows like-minded groups-from a Shah Rukh Khan fan club to literary discussion groups to techno clubs-across functional boundaries to keep in touch. "The family that plays together stays together," points out S. Muralidharan, Senior Vice President.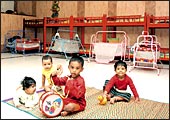 Helping hand: Covansys does its bit to help out young mothers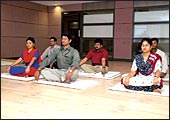 Stairway to heaven: For Covansians, office doubles up as a de-stress center
Chatterati has achieved great results for the company. For instance, attendance at Covansys' Best Practices Meets has increased; so has attendance at career-improvement courses-largely because of cross-departmental interactions.
In fact, employee initiatives and ideas are encouraged to such an extent that G. Ravindran, Global Head of HR, "sometimes worries about what will happen to the processes for which we are recognised". But, adds Vijay Menon, Senior Executive, HR, who quit Ford Motor India and joined Covansys 10 months ago: "For the first two months, I did just what I was assigned and did not go the extra mile. But now, I make suggestions within and outside my work area and many of them get implemented. My seniors don't tell me: 'You are too young...'"
The company is also extremely women-friendly (one out of four employees is a woman)-we had mentioned crèche and dormitory support last year. Suganya Karthikeyan, a Team Leader, was pleasantly surprised at the treatment meted out to her in the UK where she had gone for a site visit. When she complained about her apartment, it was changed in a jiffy. "Your comfort is our first priority-so, if you have any complaints, please let us know," her colleagues there told her. Closer to home, she is happy about the MCA programme sponsored by the company-she was just a BSc grad in 2000. But since then, five onsite trips have given her exposure and she is very satisfied with the work-life balance that her employer insists upon.
Covansians get to spend 45 minutes a day on average on other (non-work-related) activities; the crèche facilities have improved; the pure south Indian menu has given way to a Food Court; a badminton court has come up on the premises, but slippers are still not allowed at work-even on Fridays, though jeans are now allowed (they weren't when we published this list last year). The company sponsors willing office boys for MBA courses, and expecting mothers have accommodation arranged for husbands if they are deputed onsite.
A DAY
IN THE LIFE OF
JAYAN NARAYANAN, 36 Senior Manager, Sales and Marketing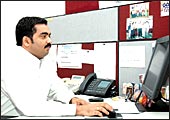 Power-packed Narayanan: Every day holds a surprise for him
He packs in 12 hours or more of work every day starting 8.30-8.45 am. His team supports the sales force globally. "This means that every day holds a surprise for me," he says. E-mails are checked in between calls from all over the world. The first one comes through from Chicago. A symposium is scheduled the day after and Covansys would like to put up a stall there. What should be done to ensure crowds? Narayanan quickly calls his team for a short meeting where the slogans, fliers and other appropriate materials are designed immediately and emailed across. A vendor in the US will produce the actual stuff-and he needs 24 hours of lead time. "Sometimes we get just two minutes to respond. My colleague in the US could be talking to a customer and he expects me to provide the information immediately," he says. Lunch is at 1 pm; he opts for Chinese food, and after a relaxed 45 minutes, is back at work, which is relatively light till about 3 pm. Calls from the US start pouring in again at 5 pm and he's back to the grind. This carries on till 9 pm when it's time to pack up. His wife, who works in Cognizant, returns home around the same time as he. "We spend time together on weekends; our son then decides for us which company is better," he laughs.
If there is one complaint it is that Covansians lack aggression. Says Sankaran Annaswamy, who worked in Covansys for five-and-a-half years before moving over to Siemens Infosystems as head of its PeopleSoft practice: "Though the organisation is people-friendly, it has lost out to competition since 2000. It is now slowly coming back on track; if it bags a couple of large orders, the market perception of the company will change." Says Subrahmaniam: "We are back on the growth track after a lull and expect to be a significant player in 2007."
Ravindran says there is more vibrancy in the organisation and no one is bored. Qualitatively, attrition has been contained in a scenario where everybody is rapidly expanding and where the industry average is going up and up. The company's image seems to have improved since last year; this is evident in the 50 per cent higher footfalls at the company's stalls at job fairs and the 100 per cent higher response to job advertisements. "But we still have a long way to go to achieve the total employee satisfaction that we are aiming for," he says.