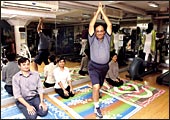 A human employer: Freedom is the buzzword for Ambwani (foreground)
Vikas Shirodkar's daughter takes dance lessons every Saturday at a school just behind the Johnson&Johnson (J&J) office in south Mumbai's Tardeo. Instead of dropping her to class, going back home and then returning to pick her up, Shirodkar, J&J's Vice President (HR & Administration), decided to spend the hour in his office, checking e-mails and finishing some work. This happened three Saturdays in a row. On the Monday that followed, he got a call from the company's Managing Director, Narendra Ambwani, asking if all was well. Shirodkar didn't quite understand the reason for the question till his boss revealed that he had seen the register at the entrance and found that Shirodkar had been coming into office Saturday after Saturday. Was he overburdened and did he need additional staff? the MD wanted to know.
For Shirodkar, it was a touching moment. Not surprisingly, in the seven years he has been with the company, in the same role and designation, he has never had a reason to look for another job.
SNAPSHOT
REVENUES:
Not available
PROFITS:
Not available
Total employees:
537
Attrition (per cent):
6 (2005)
Average career tenure:
15 years
Training budget (budgeted/actual):
Rs 52 lakh/ Rs 52 lakh (2005)
Training man-hours (actual):
15,000
Ditto for most other employees in the company. The average tenure of employees here is an eye-popping 15 years-quite an achievement in times when job-hopping is the norm. And the credit for this, says Shirodkar, goes to the company's Credo, a document which defines the way it functions, its responsibilities to, first, the consumer, then its employees, then the environment and society and finally, its shareholders.
The fact that this isn't just a value statement ("Even Enron might have had one," quips Shirodkar), but a working document based on trust, respect and fairness is evident from Ambwani's conversation with Shirodkar. At induction sessions, held for every new batch of recruits, the top management spends a whole day explaining the company's value system to the newcomers, with examples of cases. "Instilling these values of fairness, trust and respect in its employees is as much a priority for the J&J management as mapping the strategic direction and roadmap for the company. People find it strange that a company's philosophy can be so similar to basic human values," says Shirodkar, adding that it is also the reason why employees find it easy to work independently and take quick decisions. "If you are asked to do what you believe is right, and you know the company will back you, where's the question of asking anyone for permission?" he asks.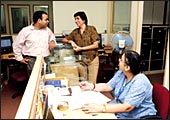 J&J employees: They thrive on responsibility and the opportunity to learn
That is one thing Riddhi Parikh, Assistant Manager (Human Resources), learnt quickly from her boss. "When I joined nine months back, I used to keep asking him what he would do in particular situations where I had to take a decision on an employee. He would just remind me of the Credo and the company's responsibility towards its employees," she says. Translated into actionable advice, that meant she could decide on sanctioning an employee's travel allowance, or relocation expenses, without the risk of annoying her bosses.
Freedom to do what they think is right is what makes this organisation and its employees tick. It's no magic formula or rocket science, says Ambwani. "I have to only think of what I would like as an employee-I like to be free; I like the power to take decisions; I thrive on responsibility and opportunity to learn-and as long as I give my people the same things, they should be happy," he says.
J&J is also a very humane employer. This is evident from numerous incidents and decisions that it has taken over the last 60 years-be it while relocating some of its Mulund plant employees to Himachal (giving them perks unheard of in the company before then), tackling the baby oil case against it (where it refused to be drawn into a mud-slinging match with a rival), divesting the Permacell business (when 250 employees had to be hand-held to work under a new employer).
INTERVIEW/

NARENDRA AMBWANI

/MANAGING DIRECTOR, JOHNSON & JOHNSON
"Our Employees Feel They Own The Company"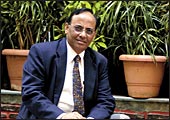 The CEO of J&J spoke to BT's Shivani Lath about its much-lauded HR policies. Excerpts:
Why do you focus so much on employees?
You can have vision but you cannot execute it without the right people. Ten years ago, when I took over as MD, I wrote down the board of management's accountability rules-strategic direction, work environment, people, teamwork and communication. Four of them are people-related.
Is the same culture maintained across J&J globally?
J&J focusses on the consumer, its employees, the environment, society and finally, its shareholders. We believe that if you take care of the consumer, employees and environment, you take care of the shareholder as well.

How do you maintain an open environment?
We encourage people to talk and challenge the management. We even open our strategic plan document for debate and change or correct our direction based on these inputs.
The average tenure of employees at J&J is 15 years. How do you manage that at a time people are switching jobs almost every year.
We make them feel the company belongs to them. It's the basic philosophy of decentralisation and empowerment that contributes to their growth and commitment.
As one of the longest-serving employees at J&J, what would you say is the essence of the company?
As recently as March, I attended a programme on the skin care and beauty business, which I had no knowledge about. Prior to that, I trained on how to assess a company on processes, became a process examiner and went to the UK to do an examination of a J&J company there. So, there are opportunities to learn continuously.
J&J was also one of the first companies to consolidate its allowance system in the mid-80s. "We realised the fallacy of this system-because the basic pay was so low (generous allowances made up the bulk of the salary), staff who retired from the company after, say, 20 years of service got a pittance as retirement benefits-and decided to end the entire allowance system. Today, all employees get a basic salary and an HRA in their salary slips," says Ambwani.
A caring employer aside, what keeps people motivated at J&J is the fact that they are allowed to move across functional boundaries, take up international assignments (within the J&J fold) and constantly reinvent themselves by learning new skills. "We never hold back people's chances of moving to new locations (within the J&J fold worldwide), though this sometimes leads to work in India suffering as a result," he says.
In fact, the last five years have seen about 35 people from India move to various locations in South East Asia. Only last week, the Managing Director of J&J Indonesia called, asking if the India Marketing Manager for baby products could be transferred to his unit. There was more-he said he wanted the person by November. "It's going to be tough for us; and we will definitely feel his absence for a couple of months at least (till a replacement is found)," admits Ambwani. But that has not stopped him from clearing the transfer. "At no cost should my people miss an opportunity like this," he adds.
A DAY
IN THE LIFE OF
ELKANA EZEKIEL, 42 Vice President (Marketing), Johnson & Johnson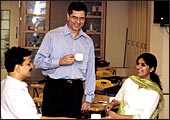 Phone calls and face-to-face meetings: For Ezekiel (centre), the two are the best ways to get work done fast
Tuesday is like most days (when he is not travelling). Ezekiel logs into office at 9.30 a.m. and immediately gets into his routine-a series of back-to-back meetings with marketing managers and product managers. On the agenda are strategic planning discussions and stiffer sales targets. Ezekiel comes across as an unassuming person, but this J&J veteran is a pro at his job. He is, after all, the guy responsible for turning around J&J's sanitary protection business after Procter and Gamble rolled it out of the market between 1989 and 1995. Today, J&J's sanitary protection business has a 57 per cent market share in India.
The meetings carry on till 1 p.m. "I like to finish my work quickly, so I avoid e-mailing my local colleagues. Phone calls and face-to-face meetings are the best ways to get work done fast," he says. Following the meetings, he gets busy with phone calls to and from his counterparts at other J&J units across the globe, sharing his plans with them, and receiving feedback on the same. "I also keep in touch with them over e-mail," he says.
It's now 1.30 p.m. and time for lunch. Ezekiel usually goes home for lunch, which is just a stone's throw from the J&J office in south Mumbai's Tardeo, but today, he's doing lunch with his team.
His routine after lunch includes more meetings and discussions with his team. He calls it a day at 6.30 p.m. and heads home. Ezekiel switched five jobs in seven years after completing his MBA from XLRI, Jamshedpur, in 1987, before joining J&J 12 years ago. He is candid and admits that his work has its share of pressures but not of the kind that "burns me out or drives me to the ground".
Jitendra Gupta of Niche Consulting Group, which has been hiring people for J&J for the last 13 years, says the company enjoys a very positive perception among prospective employees. "People are always willing to explore the opportunity when you say there is an opening at J&J," he says.
But if there's one thing Ambwani would like to change at J&J, it is its appetite for risks. "As a corporation, we are very strong financially; that is our strength. On the flip side, it tends to make us risk-averse. We should become risk takers," he says. What else can employees ask for? one wonders! Little wonder then, that employees don't want to leave.