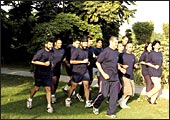 Let the good times begin: Venky and his team get set for Hutch Delhi Marathon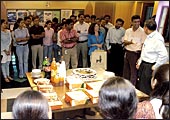 Party time: At Agilent, you can have your cake and eat it too... it's all work and all play for the employees
Water-cooler gossip, vacant work stations, a boss who's never in his office...so that's what it takes to be one of The Best Companies To Work For In India, you mutter under your breath after spending a few minutes in Agilent Technologies' four-storeyed corporate office in Gurgaon. It's true: Enter the building, and you stumble into people (presumably employees) either lolling around or huddled together in a chinwag. The 9-5 cycle has peaked, yet there are plenty of unoccupied cubicles. Walk up to the Country Manager's corner room-and he isn't there. "He's never at his seat," grumbles the good Secretary.
So what's going on? Plenty in fact, which is what you realise soon enough. If there are many seats lying empty, it's only because employees at Agilent have the option of working out of home. If Country Manager Venkatesh Valluri, aka 'Venky', can't be found by Madhu Loyal, his Secretary, that's because he's on his daily office excursion; it usually begins from the basement (where the canteen's located), moves on to the terrace (the ubiquitous smoking zone), and further on to the adjacent building that houses the research & development division. "I like to move around, and catch people at their desks, instead of talking on the phone within the office. It is more fun to meet people personally," says Venky. Nobody seems to mind, except perhaps Secretary Loyal. "He leaves his cell-phone in his cabin, so I have to look for him all over the floors," she moans.
SNAPSHOT
REVENUES:
Rs 500 crore approx. (2005-06)
PROFITS:
Not available
Total employees:
1,300
Attrition (per cent):
15
Average career tenure:
3.07 years
Training budget (budgeted/actual):
Rs 6.9 crore/ Rs 6.7 crore
Training man-hours (actual):
140,400
It's all done in good humour, of course. For a company that's into a fairly solemn kind of business -it makes testing instruments for electronics, communications, chemical analysis and life sciences-the air at Agilent isn't that heavy. At the time of writing, Venky is preparing for the Hutch Delhi Marathon by running 11 km daily in Gurgaon's Leisure Valley Park. "These days I am trying to convince my staff to participate in the marathon, and already there is a team of 30 people in place," says a proud Venky. "Every day there are some more people joining me from office, so we might even top 30," he adds with glee.
If that sounds too cool for a company you'd normally associate with esoteric test software and equipment, it just keeps getting better. Zacharias Cherian, aka Zach, apart from heading Agilent's Learning and Development portfolio, is also busy practising drums with the rest of the 'Agilent Rock Band' for the 'Family Day'. "I play the drums, though I am equally comfortable with guitar, and though Saturdays are off, we jam every Saturday in the office gym," grins Zach. Then there's the Sports Club (in addition to the Performing Arts Club, the Trekkers Club, the Golf Club and the Adventure Club!), which practises every Saturday. "The cricket season is coming up. We just defeated IBM Daksh in a friendly match and we are going to be busy till March now," says Siddharth Chopra, Supervisor (Accounts Payable), and also the captain of Agilent's cricket team. Also "busy" in October is Parmeet Ahuja, Director (Accounting Services), Global Financial Services. "It's not the year closing that I am looking forward to," he grins, "but the Family Day and the Diwali Party. The core team had gone to Ananda for a couple of days earlier this year and we are planning another such trip before the year ends," he adds for good measure.
INTERVIEW/

VENKATESH VALLURI, AKA 'VENKY'


COUNTRY MANAGER, AGILENT TECHNOLOGIES
"We Work On Emotional Attachment"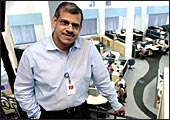 Agilent's top boss spoke to BT's Pallavi Srivastava on how 360-degree evaluation is plenty of fun. Excerpts:
What is Agilent's leadership philosophy?
It is all about transformational leadership. Leadership that drives, a culture and a value system that fosters an energetic, motivational & innovative environment succeed in building sustainable organisations. Leaders who walk the talk and base decisions on experiential learnings with a strong foresight make a big difference.
What role does HR play in the company's vision?
The TEL factor-Technology, employees, leadership-works here. Technology, inspired leadership and motivating employees are the guiding principles here. The HR cost as a percentage of total revenues is 0.10 per cent here, which itself denotes the kind of investment we put in our employees.
What are Agilent's expansion plans?
India and China are the big focus areas and we are looking at an investment of nearly $30 million (Rs 138 crore) within the next two years in India alone. We are looking at expanding offices in Hyderabad, Mumbai, Chennai and Bangalore, apart from a 'state-of-the-art' facility in Gurgaon. Revenues from India stand at Rs 500 crore currently and we plan to double them in three years. On an average, with 40 recruitments every month, we will cross the 2,000 mark within two years easily.
How do you create employee loyalty?
We are a niche company with value as the driving force. We don't offer the moon (with average annual increments of 12 per cent) but still our attrition rate is 15 per cent compared to the industry rate of 25 per cent. The work culture we have is so different that most of the employees who leave want to join back and they do too since we don't have a policy against them. We spend a lot of time and effort on working on the new employees. They even have a 'buddy' assigned to them who hand-holds them for the initial period. Instead of luring the employees with monetary benefits, we work on 'emotional attachment'.
Any new areas that you are looking at, apart from life sciences, communications, chemical analysis and electronics?
Nano-technology. Agilent provides an extensive variety of instrumentation to assist in the evaluation and characterisation of nano-devices and we are planning to start a dedicated unit in India too. Genomics is another niche area that interests us.
Venky isn't exactly the type to frown at such apparent frivolity. The Country Manager flits between Gurgaon and Bangalore when in India, which is every alternate month. He tries to spend an entire week of a month-or at least every weekend-in the garden city, where his family is settled. "A strict vegetarian, Venky ends up having lunch and dinner in office; he makes us all eat with him, just to give him company, so you can say we wine and dine together," quips Ahuja, as they sit together for lunch in the office canteen. "Apart from running together", pipes in Deepak, one of the participants in the marathon. During lunch, one of the jokes is at the boss' expense, as all at the table guffaw about Venky's dance moves when he performed to the tunes of Kajrare and Bunty & Babli at the 'Talent Day' held last month. Almost everyone in the Gurgaon office took part in the day-long programme. "Everyone was given a coffee mug with the individual's performing picture on it; it's now displayed proudly on every desk I check out. Even Venky has one in a Kajrare pose," says Jayantika Dave, Director (HR), who jived with him on the stage.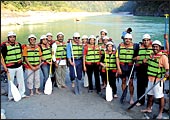 It's all about team bonding: The river rafting trip undertaken by the leadership team is one such exercise
Along with the fun and games, Agilent must be doing something more that's right on the human resources front. After all, the attrition rate has plunged from 25 per cent two years ago to 15 per cent today. And 35 per cent of the new hires are referrals by existing employees. Well-defined performance management systems-like My Accountability & Performance Standards (maps)-360-degree evaluation, learning modules for future managers, leadership succession practices across the company and the like are all par for the course at Agilent. What makes it tick can be summed up in two words: Commitment (of employees) and feedback (of the boss). For instance, one manager travelled from Bangalore to Delhi for a two-day client meeting with a fractured leg. Madhu R. Nair, Head (Strategic Accounts), recalls the time he worked late for an entire week on a deal, which he and his team eventually struck. "My boss called up my wife to praise me. And the entire team was told to go out for the evening," reminisces Madhu. The bill, needless to say, was sent to Venky.
A DAY
IN THE LIFE OF
DIPTI BHATIA, 33 Global Process Manager (Cash Accounts, Treasury Accounts and International Corporate Accounts)
Though Dipti manages to reach office by 10 every morning, these days she gets delayed as she is running 8 km daily to be in shape for the Hutch Delhi Marathon. So, once in office, she starts her day by socialising with her office pals, like a true Agilent worker. "I look forward to coming to the office daily, even though I have the option to work from home." Until last fortnight, Dipti was in the United States, where she was one of the four participants from Agilent's Indian offices to attend the 'Global Leadership Forum;' the forum is held for managers with potential to join the ranks of the integrating manager (the next level). This CA, who joined Agilent two years ago as a Supervisor (International Corporate Accounts), has moved on to become Global Process Manager (Cash Accounts, Treasury Accounts and International Corporate Accounts).
Work constitutes resolving issues such as transition of activities, system enhancements, and system project upgradations. While there are daily meetings with the team, peer and her boss, Parmeet, there are calls from her overseas customers as well; and also from subordinates from international offices. Dipti's day at office usually ends by 7-8 p.m. but that doesn't necessarily mean the work ends there. "There are times when I get international calls in the middle of the night." The rock climber, wine-taster and mother of a four-and-a-half year-old works out regularly, and these days she is busy planning a trip for her entire team to Chaukidhani (Jaipur) in November. "My entire team went to Rishikesh in February and it is about time we had another one." On weekends, Dipti is either busy tasting wine (her latest hobby) or playing squash, tennis or golf with her office pals. Rock-climbing is another passion of this 33-year-old and during lunch breaks you may just catch her attempting to convince her colleagues to join in.