It's all about people focus: Soomya Banerjee believes in giving his employees an environment of freedom
On a Thursday afternoon recently, a group of Sapient employees gathered for a meeting at the conference room on the seventh floor of its office at Cyber Greens, Gurgaon. Chocolate pastries, muffins, and cookies were laid out on the table. The purpose: to discuss the venue for a party planned that evening. A project had just been completed and client satisfaction had surpassed expectations. Therefore, the celebrations.
At Sapient India, the Indian arm of us-based business and technology consultancy firm, the people focus is reflected in the company's everyday work culture. "Sapient is a purpose-, vision- and core value-driven organisation which facilitates the development of a person's full potential," says Soumya Banerjee, Managing Director, who joined the company 16 years ago at the entry level. "We give our people an environment of freedom, flexibility and trust, and this is what engenders loyalty," he adds.
SNAPSHOT
REVENUES*:
$319.5 million or Rs 1,437 crore (2005)
PROFITS*:
$25.7 million or Rs 115 crore
Total employees:
2,000
Attrition (per cent):
18 per cent
Average career tenure:
2.69 years
Training budget (budgeted/actual):
N.A./ Rs 2.39 crore
Training man-hours (actual):
127,039


Global figures
"Our approach requires a high degree of cultural alignment across teams, and thrives on strong values shared by colleagues across the globe, transparency and a strong leadership," says Binoo Wadhwa, Director (People's Strategy), Sapient's nomenclature for the human resource (HR) function. "We give individuals lots of responsibility and freedom. This empowers them and provides them with both the opportunity and the platform to grow," says Wadhwa. "The system allows you to give free reign to your latent potential by bringing it out," says Sanjay Menon, who heads Sapient's European Business in India.
The company emphasises the importance of teamwork and has a system of providing feedback at every stage. "We look at people's interests, what they are passionate about and then work out how we can utilise it to unlock their potential," says Banerjee.
Designations hold little meaning at Sapient; Associates (one rank above trainees), who display potential and spunk, are often entrusted the role of Project Managers. Says Sandeep Mahal, a Senior Associate: "I felt I could handle the role of a project manager, rather than just being a creative designer, and the company helped me realise my goal." This also helps Sapient identify future leaders.
Purpose-, vision- and core value-driven organisation: Yes, Sapient helps in facilitating the development of a person's full potential
The filtering process, in fact, starts at the recruitment stage itself. "More than just domain skills, we assess whether candidates possess the values that are core to Sapient and whether this is exhibited in their behaviour," says Banerjee. The process of integrating new recruits into Sapient also starts at this stage. Once selected-and before they officially come on board-candidates are given an overview of the company's businesses, and, in a nice human touch, return home to find a bouquet of flowers from their new-or rather, soon-to-be-employer waiting for them. "This not only helps keep prospective employees well-informed, they also feel involved with the company from Day Zero. Once they join, employees have to undergo an induction programme that gives them an understanding of Sapient's culture and their role within the organisation," says Wadhwa. "Following the induction process, new recruits are assigned a coach or a career manager, who are, typically, top or senior managers. The role of these mentors is to help them define career goals and chalk out a viable growth path," he adds. The company has around 80 coaches in India.
Sapient also employs a 360-degree performance appraisal system. Employees are rated not only by their superiors, but also by their peers and even subordinates. This cuts out, or at any rate minimises, the possibility of bias or favouritism creeping into the process. Result: an amazingly robust HR architecture. "And promotions can happen anytime, even in six months, depending on performance," says Wadhwa.
INTERVIEW/

SOUMYA BANERJEE

/ MD, SAPIENT
"Freedom, Flexibility, Trust Allow People To Blossom"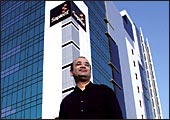 The man, who joined at the entry level 16 years ago and rose to the top, spoke to BT's Amit Mukherjee. Excerpts:
What makes Sapient one of the most sought after employers?
Sapient is a purpose- and value-driven organisation where everyone is empowered to take decisions in line with our culture. We provide a unique environment of freedom, flexibility and trust that allows an individual's potential to flower; this results in tremendous growth opportunities. Such a culture, naturally, appeals to everyone.
What exactly do you mean by Sapient "culture"?
The entire culture is rooted in our overall strategic objective and determines the work environment and prescribes the way we interact with our clients, partners, and each other. It ensures a high degree of alignment and cohesiveness across and among teams, fosters the best global business ethics and values, emphasises transparency and respect for each other and brings out the latent leadership capabilities of our colleagues. The culture enables our people to be innovative, develop fulfilling careers and be incredibly effective with their clients.
How do you choose your people?
In line with our culture, we look out for candidates who have the potential to be successful. A person may not possess the exact skills that are required for a particular assignment but we try and figure out if he/she has the aptitude, attributes and ability to pick up the skills and grow on the job. We also look at a person's core values to ensure a cultural fit.
Does a 360-degree appraisal really help?
Individuals are evaluated not only by their superiors, but also by their colleagues and subordinates. They are also expected to evalute themselves during the 360-degree process; this gives them a great sense of responsibility and empowerment which gets reflected in their output.
Further, the company takes pains to project itself as a caring organisation. Soon after his marriage in 2004, Menon was on an assignment in the UK, which had to be extended by a number of days. "I was really surprised when my boss called to say I should ask my wife to join me there at company expense," he says. "The company helps us strike a balance between our professional and personal lives," adds Ritika Basu, Programme Manager at Sapient.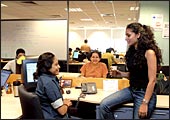 Bonding with colleagues: There's work, no doubt, but employees also take time out to catch up on other things
It also has a good reward system in place. Every quarter, the company nominates individuals who have excelled in one or more roles. The names of the winners and the nominees are prominently displayed in the office corridors. Besides this, the company uses stock options to reward employees. "The highest reward is a trip to the Bahamas with your family," says Rakesh Krishna, Senior Associate (Technology). "I think such awards are a great motivating factor."
Despite its people-friendly practices and the high praise heaped on it by employees, Sapient has a global attrition rate of about 18 per cent; the Indian figure is even higher (the company declined to share the exact figure except to say it is lower than the industry average of 30 per cent). But there are reasons for the company to be worried. This year's figure marks an increase over last year's attrition rate of 15.4 per cent. Industry sources say that despite good HR policies, many companies are losing people because they are being offered better pay packages elsewhere. "We always talk to people who plan to quit and in many cases, manage to work out a win-win solution," says Menon, who encounters such problems within his team every once in a while.
Headhunters are also quite positive about Sapient. "It is perceived as one of the more stable organisations with positive growth prospects," says Arun Dasmahapatra, Managing Partner, Heidrick & Struggles, an executive search firm. This ensures a steady pipeline of talented recruits. But for the company to hold on to its position as a preferred employer, it will have to continue tweaking its HR policies to counter stiff competition for talent from its bigger rivals," he adds.
A DAY
IN THE LIFE OF
RITIKA BASU, 31 Programme Manager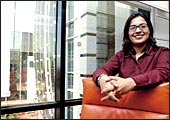 It's one meeting after another: Yes, most of Ritika's day is spent in the boardroom
She clocks into office at 9.30 a.m. every day and immediately delves into her e-mail inbox. There are queries from colleagues within the office as well as from far-flung project sites across the globe. It takes about half an hour for her to deal with all of them. Thereafter, it's one meeting after another as she updates herself on the status of various projects. On the Friday when BT meets her, she has called a meeting at the company's boardroom at 11.30 a.m. A client in The Netherlands wanted an issue clarified ASAP, and Basu wants immediate answers from the seven-member team working on it. Over the next 45 minutes, she engages in a highly technical discussion, interspersed with PowerPoint presentations projected on a whiteboard, till a solution emerges. She looks relieved as she rushes back to her workstation after making a call to the client around 1:30 p.m. "Yes, it was a troubleshooting session, but it's over!" she says.
Basu has been with Sapient for two years and plays a lead role in the delivery function at the company. "The job involves project design and management, quality control and most importantly, ensuring that the team is happy and motivated," she says. "At times, it can get quite demanding and stressful but the flexibility and freedom I get makes it satisfying," she adds. Basu sometimes works out of home when personal commitments (such as her three-year-old daughter Rianna) demand. "We get excellent logistics support and so, can operate from almost anywhere," she explains. "Sometimes I start working after my daughter goes to bed after 10:30 p.m.," she laughs over a sandwich and coffee at a much-delayed lunch. It's more of the same through rest of the day-back-to-back meetings to check the status of various projects, interacting with clients and, quite often, troubleshooting. Though she prefers and encourages her teams to leave office early, her work sometimes stretches on till late night, and she also often works from home. "But I feel attached to the company, despite the long hours, because of its operational transparency," she signs off as she heads for her car.