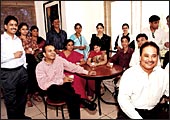 Keep it simple: The philosophy has come in extremely handy for Prasad (sitting, extreme right)
G.V. Prasad's spartan corner room at Dr Reddy's headquarters in Hyderabad sports a new motivational sticker: In keeping with its message, it just says "Simplify". For about a year now, Prasad has used that word as a mantra to steer his pharmaceuticals company out of the rough patch it first hit back in 2004, when fierce price competition in the us generics market led to Dr Reddy's first-ever decline in sales and profits the following year. For one, Prasad, 45, has cut down the number of meetings he attends. "I used to have around 15 quarterly review meetings and now these have been cut down to almost half," says Prasad. Another thing he has stopped is to suffer elaborate power-point presentations. "It's a waste of time, it's better to discuss and sort out the issues," he quips.
SNAPSHOT
REVENUES:
Rs 2,426 crore (2005-06)
PROFITS:
Rs 163 crore
Total employees:
6,810 (India); 8,453 (overall)
Attrition (per cent):
16
Average career tenure:
5 years
Training budget (budgeted/actual):
Rs 2.40 crore/Rs 2.60 crore
Training man-hours (actual):
207,120 (67 hours/person)
As the Rs 2,426-crore company starts becoming more global (it has bought a few companies globally, including Germany's betapharm for m480 million this year.), it is putting in a variety of initiatives to gear itself up for the new challenges and opportunities. "There cannot be a big bang initiative that can build a great organisation, it has to be a number of small initiatives," says Prasad. So, in some sense, Dr Reddy's is creating a new global organisation brick by brick. Take, for instance, Prasad's (and COO & MD, Satish Reddy's) one-on-ones with high-potential employees every Friday afternoon. The chat is rarely about company business or customers. Instead, Prasad and Reddy spend the one hour trying to sense employee aspirations and identify career opportunities best aligned to the interests of both the employee and the company. "It helps me understand who they are, where they come from, and what doubts they have," says Prasad. "In that process, I am looking at what role he or she can play in the medium and long term."
The complexities involved in managing a global business has meant that Dr Reddy's has had to think of ways to foolproof the most important aspect of strategy: execution. As a result, work processes are being simplified and the organisation, debureaucratised. Close to 900 processes and procedures are currently under review and by April next year, many of them would either be getting scrapped or grossly simplified. And it is the weapon Dr Reddy's is using in this fight against flab. It is spending an impressive Rs 15 crore on an initiative called "mydreem" (for Dr Reddy's Execution Excellence Model), using MYSAP Business Suite to wire up the organisation. Once launched, it will enable end-to-end process support to human resource management, which in turn will improve operational efficiency, speed up processes, and lower execution risks across the organisation. Already, the company's pan-India sales force has been integrated on an IT platform called drlintouch. This enables Dr Reddy's 1,750-strong field force (comprising medical reps and their field managers) to view and operate a single, integrated platform for all their HR transactions. The pay-off: Increased service levels of all employee-related processes and a reduction in the turnaround time.
| | | |
| --- | --- | --- |
| | | |
| Divers culture: At the company's recently-concluded 'Olympics' in Moscow | Thinking heads: Dr Reddy's quiz team Chakravyuh | Have your say: Opinions are welcome |
Needed: New Capabilities
Information technology apart, Dr Reddy's has been investing in people. "We see HR as an investment and not as a cost," informs Saumen Chakraborty, who till recently was the Head of HR, but is now the CFO and Head of it and BPE (business process excellence). This is despite the fact that employee costs have been rising-from 6 per cent of sales in 2001 to 18 per cent in 2006. Chakraborty expects it to stabilise at 15 per cent, which, he says, is in keeping with international trends. Once again, a reason why employee costs have risen is that Dr Reddy's hasn't just been expanding abroad, but also hiring senior executives from different parts of the world. "The kind of people that are joining us today come with a high pedigree and we are able to attract very good talent from various institutions across the world," says Prasad. For instance, the company's head of API R&D in Hyderabad is a former professor of chemistry from Texas A&M University. Crispin Rivera, a Mexican, who was the Head of Process Engineering at the acquired Roche facility in Mexico, is moving to Hyderabad to head the company's Centre of Excellence for Engineering to help build engineering excellence and improve the capabilities at all the chemical plants of Dr Reddy's.
INTERVIEW/

G.V. PRASAD

/EXECUTIVE VC & CEO
"There's More Confidence In The Company Now"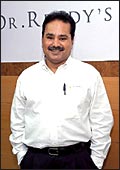 G.V. Prasad spoke to BT's E. Kumar Sharma on Dr Reddy's changing people priorities. Excerpts:
How has globalisation influenced the company in its handling of people? What are the learnings from the recent acquisitions?
It has really helped us. I think we are learning a lot of different things from different cultures. From the German acquisition, we have learnt quite a bit about how to integrate social responsibility with business that makes people very proud to work with the company. Then, we have seen a very lean organisation in betapharm and, in fact, we are now questioning our own ways of working, and are looking at how to improve it. In Mexico, we see engineering excellence. So, we have actually got the engineering head to India to help us improve here. There is an enormous amount of learning across cultures.
How is the employee profile changing in the company?
The kind of people joining Dr Reddy's today come from a very high pedigree. There is very good talent joining in from institutions across the world, adding to the vibrancy of the work environment. There are more women, for one, more youngsters and there is more global work profile. We are hiring talent from US universities. We have had summer interns from Harvard and Duke.
Same time two years ago, things looked very difficult for Dr Reddy's. Performance was suffering, employee morale was low...How much have things changed?
I think there is more confidence now in the company. There is less doubt about our strategy. In the past, people would question whether we were doing the right thing by going after generics. Now, they find it OK. There are fewer questions now about strategy and more about execution.
How has your engagement on the people issue changed in the one year or so?
Now, I spend more time in hiring the right people and ensuring that there are right people in the right jobs. I know certain areas where talent is critical for the company like R&D and business development. I have always been a fan of hiring good people, but now I am more involved in the kind of talent we need to hire.
The need for new capabilities has meant new ways of recognising and rewarding employee performance. Over the past 12 months, Dr Reddy's has overhauled its variable pay plan, allowing top performers to earn up to three times their variable pay component. "People can actually see the link between high impact creation and the rewards," says Prabir Jha, Head, HR & Corporate communications. "The system clearly differentiates between average performers and top-end performers." Apparently, the new compensation plan has been well received by the employees.
The rationale behind changing the compensation system, simplifying systems, and investing time and money on employees, says Reddy, is to develop "a new cadre of managers" by tapping talent both within and outside the company. Not surprisingly, then, the company has moved promising youngsters into positions of responsibility. Amit Patel, until recently a junior member of the corporate development team in the US, has been made its head. Prasad's former executive assistant now works as an integration manager in Mexico, in charge of facilitating a smooth integration of the acquired Roche facility and its related businesses with Dr Reddy's. Umang Vohra used to be a middle manager in finance, but is now the head of Licensing and Business Development in India.
A DAY
IN THE LIFE OF
NIKHIL SHAH, 30 Associate Director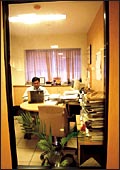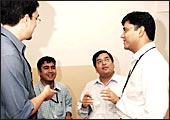 Re-defining rules: Shah (top) has bagged live promotions in six years
It is so different now and one meets people from such diverse backgrounds," remarks Nikhil Shah, sitting in his cabin on the first floor of Dr Reddy's corporate office at Ameerpet in Hyderabad. It's easy to see what he means. Consider Shah himself. When he joined Dr Reddy's back in September 1999 as a management trainee, he was the "only tie-sporting non-Telugu on the floor", he says, but today, there's greater diversity at the workplace. And, oh, Shah, hired initially for internal audit, is now an Associate Director, and the man who led the due diligence team for Dr Reddy's biggest acquisition yet (betapharm). "Dr Reddy's allows individuals to re-define rules of the game when it is in the larger interest of the company, and that is how it nurtures innovation and talent," says Shah, an MBA from Osmania University.
Today, he's just returned from an overseas trip ("cannot tell you what the project was about," he says) and which is why he has arrived to the office closer to lunch time, against his usual time of 9:30 a.m. Other than special projects, Shah handles investor relations. That explains why Shah stays glued to the phone most of the time (he handles, on an average, 20 calls a day from analysts and investors). "It is quite strange (that I ended up where I am), as even back then Dr Reddy's was in a sense experimenting and looking for a generalist and not a hardcore accountant for the role (of internal auditor)," says Shah, who has bagged five promotions in just six years. Talk about growth.
Interestingly enough, Dr Reddy's is also borrowing best practices from the companies it has acquired abroad. Betapharm, for instance, is a very lean organisation and Dr Reddy's is now trying to figure out how to replicate that back in India. Like at betapharm, Dr Reddy's is also keen to put women in leadership positions, but not at the cost of merit. "About 12 per cent of our workforce comprises women and we are trying our best to increase it all the time," says Jha.
Top-performing women executives are already getting equal opportunities to grow. Take Ritha Chandrachud, for instance. This 42-year-old has in the last one year moved from heading the oncology business in India to overseeing the entire oncology portfolio globally. In terms of designation, she has moved from general manager to vice president, and is part of the global strategy and marketing team for the "rest of the world" (which excludes the us and Europe). Chandrachud, who earlier worked with Fulford India (an affiliate of Schering-Plough), joined Dr Reddy's in 2003 despite having to move to Hyderabad without her husband, who works in Mumbai. So, why did the mother of two think the sacrifice was worth it? "Compared to a multinational, Dr Reddy's, I thought, offered a lot more opportunity to grow," she says. Chandrachud couldn't have been more accurate.
Clearly, the journey that Prasad and his team have embarked on will prove richly rewarding to those employees who rise to the challenge of creating an Indian multinational.