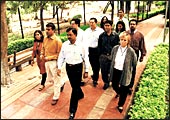 Leading the way: Satyam's Raju (in the forefront) with his future business leaders
As the young head of HR at Satyam Computer Services, Hari Thalapalli (simply Hari to colleagues) is expected to wear multiple hats. But that still doesn't explain why he should have a box of Camel Redimix water colours and chocolate wrappers in one corner of his workstation. That, he explains with a smile, is a return gift from Aishani Mishra, the nine-year-old daughter of Lalatendu Mishra, Head of Delivery for Energy and Utilities vertical. It was her way of thanking her father's employer for remembering her birthday. Till the earmarked corner on Hari's table doesn't run out of space, Mishra's water colours will continue to remind Hari and his team that, when it comes to bonding, every little gesture counts. "We need to address the important events in an associate's (or Satyamite's) life," says Hari, pointing to the soft board in his cabin that features a list of people whose birthdays fall over the next 15 days.
The exercise, however, is part of a larger plan at work. The top managers at Satyam (like elsewhere), explains Hari, not just have business responsibilities, but often must spend a lot of time away from their families. So, there's a greater need to help with family bonding. A pilot project launched in June this year already ensures that for 130 Satyamites at and above the level of vice president, but now it is being rolled out to the next level, comprising 700 people (star performers across levels). Keeping track of everyone's birthday and other special days may not be a cost-intensive exercise, but Satyam does seem intent on helping make a difference in the lives of its associates (read: employees). Last December, for instance, it launched a three-day global leadership programme for employees' children in the age group of 12 to 17. "It is not enough for us to be global leaders, it is important for us to nurture our children to be global leaders as well," says Hari. In all, 60 children were brought together for this in Hyderabad (the programme is to be replicated at other centres), with the objective of helping them understand themselves, and demonstrating the power of decision-making and the importance of networking.
SNAPSHOT
REVENUES:
Rs 4,634.31 crore (2005-06)
NET PROFIT AFTER TAX:
Rs 1,239.75 crore
Total employees:
30,000
Attrition (per cent):
19.1 (2005-06)
Average career tenure:
3.1 years
Training budget (budgeted/actual):
Rs 139.03 crore/146.44 crore
Training man-hours (actual):
2,069,209
Not surprisingly, then, Satyam's internal score on its associate delight index is at 4.28 (on a scale of 5) as against only 3.6 last year. The index is used to gauge how the employees feel about the organisation based on a variety of parameters, ranging from performance to communication and infrastructure, among others. Having a constant finger on the pulse of its workforce is important for any employer, but more so for Satyam, which, until recently, had to deal with an attrition rate of 19.1 per cent. (It includes a performance-based attrition of 3.6 per cent, so the real attrition is lower. Since Satyam was in the silent period ahead of its second quarter results, Hari declined to give specific numbers, but said that things were improving.) The emphasis now, he says, is on offering job flexibility (which allows employees to choose the role they want to play), greater work-life balance, and fun at the workplace. The ultimate idea, Hari explains, is to shift the focus from teams to independent businesses, from managers and leaders to CEOs of own businesses, from growth to value, and from delegation to empowerment.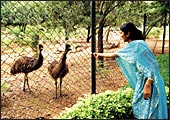 A campus to kill for: A deer park at Satyam's Bahadurpally centre
Changing Trajectory
From an organisational design perspective, the new initiatives are aimed at keeping Satyam, which today employs around 30,000, as nimble as a small firm. "It is built into our organisational design, which creates a network of value-creating entities," says Satyam's Chairman B. Ramalinga Raju. What he is referring to in specific is a recent move that puts Satyamites literally in charge of small 'companies' within the bigger corporation. For instance, Satyam has carved out certain areas within the organisation and divided them into 1,500 small businesses with 'CEOs' for each of them. And over the last one year, it has made it possible for the 'CEOs' to generate monthly profit and loss (P&L) accounts for almost 1,000 of the 1,500 businesses. The distinguishing feature of the new system is that employee incentives are now driven more by how their businesses perform rather than by the organisation's performance on the whole. Says Vikram Chimalgi, 32, 'CEO' of one such business unit that caters to a major appliances player in the US: "It is an end-to-end responsibility. One is involved right from the estimate of the project to getting the right people to work on it, ensuring that it is executed in the most cost-effective manner and can result in profitability for the business." Earlier, Chimalgi says, his responsibility as a project manager would begin and end with the timely delivery of the product or service to the customer.
INTERVIEW/

B. RAMALINGA RAJU

/CHAIRMAN, SATYAM COMPUTER SERVICES
"Our Responsibility Today Is To Grow Leaders"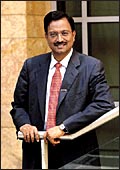 The man who came to IT via textiles spoke to BT's E. Kumar Sharma on Satyam and its people challenges. Excerpts:
What would you say has changed about Satyam over the last one year?
Satyam has had an inflection point, as we have come of age and have a certain size (a billion dollar in revenues, with over 30,000 employees and a greater global presence) and we now want to move to the next level, which we call the 6th Orbit. It is about leadership and innovation (the underlying point being that Satyam has traversed five orbits, with the last one centred around deepening knowledge in domain areas and strengths in providing integrated solutions).
How has your own role and that of the senior management changed in dealing with the people issues?
The responsibility of the senior associates today is to grow leaders, focus more on integration and getting involved in shaping the future of not just our organisation but also of our customers. A greater proportion of our time is now spent on leadership development. We need to ensure that we have the right eco-system for value creation.
Attrition, at 19 per cent a year, must be an issue. How is Satyam dealing with it?
We have seen a reversal in the trend and you must recognise that there is an element of performance-based (forced) attrition in this and if you normalise that number, then we are quite in tune with the trends in the industry.
Satyam has about 30,000 employees today. As the organisation grows, how do you propose to ensure that the nimbleness of a small, promoter-driven company is retained?
In a way, that is built into our organisational design, which creates a network of value-creating entities. The company has, for instance, carved out within the organisation 1,500 small businesses with each having their own P&L (profit and loss) account.
Analysts who have tracked the company over the years do see it taking steps to "broaden employee pyramid" and "grow management depth". A case in point could be the roping in of Edward S. Cohen, who in 1999 founded consulting firm Booz Allen Hamilton's Centre for Performance excellence. He is now heading the newly-founded Satyam School of Leadership, which has Harvard Business School professor Krishna Palepu as its strategic advisor. Apparently, the thrust on leadership lower down the line comes from Raju himself. In all his recent meetings with the HR team, Raju has asked them to focus on creating a more global outlook within the organisation. For instance, in their last meeting with Raju, a team member says, HR discussed issues on how to handle growth in China, in the new development centres in Central Europe and Asia Pacific.
A DAY
IN THE LIFE OF
ANUPAMA BUGATHA, 39, Assistant Vice President (Manufacturing)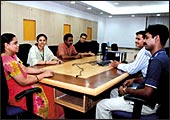 Taking stock: Bugatha in a meeting with her project team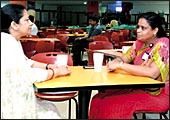 One-to-one: Taking a coffee break at the company cafeteria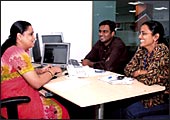 Not yet end of the day: Here she's discussing the status of invoicing
After dropping her two kids at school, Anupama Bugatha is at Satyam's Chennai office by 9 a.m. Straightaway, she ploughs through the 50-odd e-mails waiting for her in her in-box. That done, Bugatha gets on the phone to talk to her accounts department for some invoices that need to be raised. It's the beginning of the month and she is busy billing customers for the work done the previous month. Some of her colleagues from the onsite team are here today and she goes into a quick meeting with them. It's an action-packed day, and Bugatha is having a good time. One reason why she joined Satyam via Sundaram-Clayton (two years) and TCS (six) was that, back in 1998, "it was a smaller organisation that was growing rapidly and one that would offer enough opportunities for growth". And grow she has. From a project leader back then to an Assistant Vice President in the manufacturing vertical, with 150 people reporting to her. A computer science student, Bugatha now works more like a venture capitalist, responsible for multiplying 'shareholder' wealth. As you must have guessed, she, as the 'VC', has five CEOs reporting to her. Their five units are among the 1,500 entities that are run like independent businesses with their own P&L accounts. But Bugatha wants to go farther. She is currently pursuing an MBA programme sponsored by her employer. So, by half-past seven in the evening, she's walking out of the office door, but there may be a call or two to handle later in the evening. And going by her purposeful strides, you can tell that she's eager to get back to work.
Importantly for Satyam, all its people initiatives seem to be making a difference. "I think the one thing we have achieved at Satyam now is making the entire set of people in the company aware of the business fundamentals. The focus has today shifted from a culture of manning a project to owning a project," says A.S. Murthy, Director and Senior VP (Leadership Development Group). This is accomplished partly by an in-house handbook called 'SatyamWay', which forms the welcome kit for new employees and explains Satyam's business fundamentals, and its aspirations and goals. The Leadership Development Group was created in April this year to give greater focus to leadership development. Murthy, who was earlier heading HR, was made its head and reports directly to Chairman Raju.
Like Hari points out, "It is important to generate business leaders at a pace that matches the business growth (which is 30 per cent per annum)". Globally, he says, the industry tends to have only 50 per cent of the business leaders it needs at any given point. Satyam's attempts at creating 1,500 business leaders, then, seems like a good strategy. Retaining them will require an even better strategy.