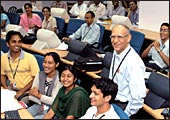 Let's talk: Soota interacts with every new batch of recruits, emphasising transparent communication
In June this year, Mindtree Consulting, the Bangalore- and New Jersey-based it services company, took the unusual step of publishing All About Integrity, a small, hardbound booklet, which listed how (former) employees had breached the company's non-negotiable policies on honesty and had been fired for their troubles. As it turned out, it wasn't just junior employees fudging account statements or calling in sick when they really weren't ill, but senior executives, such as an (unnamed and at one point best-paid) employee who reportedly over-billed the company for his cellphone expenses. The company fired 80 employees last year for faking their academic achievements or work experience and was quick to publish that in this 15-page booklet.
"We want to retain our small company soul even as we continue with our rapid growth; and clear and transparent communications is a key part of our strategy," says Chairman and CEO Ashok Soota. This means that over 2,000 MindTree Minds get copies of every piece of communication (quarterly results, press releases, analysts' presentations and even top-secret SWOT analyses of the company). "We provide employees with this information and trust them not to misuse it," he says. Soota and Subroto Bagchi, MindTree's coo, are themselves at the centre of this communication initiative. The former addresses up to a dozen batches of fresh recruits every year. "These are things that I don't miss," Soota says.
SNAPSHOT
REVENUES:
Rs 448.8 crore (2005-06)
PROFITS:
Not available
Total employees:
3,900 (India)
Attrition (per cent):
12 (2005-06)
Average career tenure:
4.5 years
Training budget (budgeted/actual):
Not available /Rs 1.7 crore
Training man-days (actual):
26,337
(Total learning person days)
"Ashok (Soota), Subroto (Bagchi) and the founders remain accessible to all employees and are open to criticism and suggestions," says Radha R., Vice President, Global Business Intelligence Practice. In the six years that she has been with the company, MindTree has grown from a small start-up into an established it services outfit. "I've had dozens of job offers along the way, at, often, double my current salary, but MindTree feels like home," says Radha. The company's rapid growth, however, means that the top management can attend All Minds Meetings (as employee meetings are called) less frequently than before.
Building leadership: MindTree believes that the best way to retain people is by giving junior and mid-level managers more responsibilities and planning their career paths
A cornerstone of MindTree's operating philosophy is the C.L.A.S.S. (caring, learning, achieving, sharing and socially responsible) framework that every employee and vendor is expected to follow. "These are values that we expect not just MindTree Minds, but our vendors also to follow," says Soota.
Aside from building a close-knit community at MindTree, the top management has also made a conscious effort to build second and third rungs of leadership and has given them autonomy to take independent decisions. "Project managers can take calls on margins; and we don't sack them for making the odd mistake... that's the only way they will learn," says Krishnakumar Natarajan, President and CEO, it Services, MindTree.
"Many of our employees get offers from larger Indian companies and MNCs, but we believe that it's our culture and the sense of being part of a growing, yet sensitive, organisation that keep people at MindTree," Bagchi says. Interestingly, Soota, Bagchi and other seniors get few concessions for their seniority. For instance, the limited number of parking spaces at the company's head office in Banashankari, a middle-class neighbourhood in south Bangalore, aren't reserved for anyone, and late comers (regardless of rank) have to park on the street.
INTERVIEW/

ASHOK SOOTA

/CHAIRMAN AND CEO
"People are MindTree's Best Ambassadors"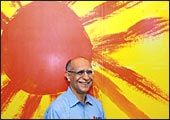 Soota, who left Wipro in 1999 to start MindTree, spoke to BT's Rahul Sachitanand on his people strategy. Excerpts:
MindTree hired over 1,000 people last year and is rapidly growing out of its small company shell. How do you manage to keep the feel of a small company going?
For starters, communication holds the key to retaining a "small company feel". We have two or three philosophies here. One is that we want to be close to our people. We also have this whole variety of communication mechanisms, both indirect and direct, including Snap Shots, my mailer to all MindTree Minds. Fundamentally, we want to give more information to our people than any other company does so that they know and understand everything that is happening around them. Another way of keeping the small company feel is to build inclusiveness into the company's culture. In the long term, we can be in just three-four locations. This will allow our top management to visit everyone at least once every quarter.

Why is communication so important?
I personally put in a lot of effort on this since it's a great way for me to interact with people as they join us. I meet every new batch of recruits. Never for a moment have I thought of changing this pattern. I speak to them in groups of 80-100 as they come in, and end up doing 12 such sessions in a year. I find the interaction and the feedback very valuable.

MindTree does a sizeable chunk of lateral hiring and often uses references of its own employees. Why?
When MindTree Minds bring their friends, it's a great way of saying: "We are not only happy to work at MindTree, but happy to bring our friends here." You don't bring someone to a place you aren't comfortable about. And, they are our ambassadors, as they deal with our customers every day.

How will you scale up these practices to keep pace with the rapid growth projected over the next 12-24 months?
Our policies, practices and information sharing processes are common across the globe. Personal interactions and the use of web-based programmes to stay in touch with our people are key. For example, after we had our MindTree Minds Meet in July this year, we ran an exclusive programme for our employees overseas so that they could tune in and didn't feel left out. We would like both our teams and customers to retain the closeness of MindTree... retaining and living by our values. This will ensure that MindTree will become more than just a financial success.
Soota proudly points out that 39 of the 42 top managers MindTree started off with are still with the company and that, on average, employees stay with the company for nearly five years-a rarity in the industry. MindTree, incidentally, is one of the few Indian it companies to offer a distinct technical career ladder to employees who want to focus on specific areas rather than get into the nitty gritty of managing teams, projects and business divisions. "A technical architect is a rare resource in the industry, since everyone wants people who can manage 300-person teams, rather than a technology specialist who works independently and has no one reporting to him. We believe there is a huge potential for these architects," says S. Janakiraman, President and CEO, R&D services, MindTree.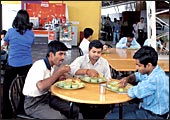 A close-knit community: On an average, employees stay with the company for nearly five years
Lateral hires (who constitute nearly half the recruitment at MindTree) have an Arboretum (literally, a place where plants and trees are grown for scientific purposes; in this case, a learning centre) to imbibe the MindTree culture. "Given our rapid expansion, it is important for them to get used to our value systems fast," says Bagchi.
There are, however, areas of concern. Though MindTree may have shot up eight places on this year's listing, there are issues it needs to address in order to remain a preferred employer. For one, headhunters, a key cog in the business, aren't overly impressed with the company's image and branding. "MindTree is just one of thousands of companies in a very competitive market. And with the likes of IBM and Infosys hiring by the thousands, it may get progressively difficult for it to find the best talent," says Gautam Sinha, CEO, TVA Infotech, a Bangalore-based HR Consultancy that hires regularly for the company. Then, there is the (much-debated) issue of salaries, which, at the entry- and mid-career levels, remain way below industry blue chips such as IBM, HP or Infosys. "At the mid-management level, there is a critical shortage of people and despite the good intentions of the top management, salaries need to get better," says Sinha.
However, with an IPO in the pipeline and a new centre at Bhubaneswar, Orissa, also in the works, it looks like the good times will continue to roll. "We've done exceptionally to reach this level. The hard part will be to maintain it," admits Bagchi.
A DAY
IN THE LIFE OF
RADHA R./ 39, VICE PRESIDENT AND HEAD, GLOBAL BUSINESS INTELLIGENCE PRACTICE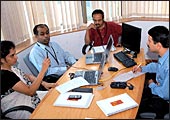 You get my point? Radha (extreme left) quit IBM to join MindTree and she has no regrets
Like most business heads, Radha R, an IIM Bangalore alum and former sales hack at IBM India, arrives in office at 9 a.m. and without preamble proceeds to clear her laden e-mail inbox and set up meetings for what will turn out to be a packed Friday. As the head of the 350-person Data Warehousing and Business Intelligence Practice, she is responsible for expanding the business, generating new leads, taking existing customer engagements forward and, perhaps, most importantly, finding people to run projects. Soon, she's on the phone with customers on the US west coast, straightening out misconceptions and probing for opportunities for larger, more lucrative contracts. Radha's next assignment takes her in a completely different direction as she gets a tech update from three of her colleagues (hierarchy, this correspondent soon discovers, isn't something overly emphasised at MindTree) on RUBIC, a data warehousing framework being developed in-house. "As the head of this unit, it's imperative for me to understand both the technology and the operations side of my division," says Radha.
She then dons her businesswoman avataar for her next meeting, butting heads with her colleagues on the progress and probability (varying between 60 per cent and 90 per cent) of various deals. Colleagues say her apparently easygoing demeanour hides a fiercely competitive techie who takes nonsense from no one. "I am taking it easy today, since you guys are around," says Radha, pointing at this magazine's photographer. Radha, who quit the relative comfort of a multinational job at IBM to join the then fledgling MindTree six years ago, has no regrets about her career choice. "MindTree has allowed me to experiment with a variety of job profiles and feels like home," she says.