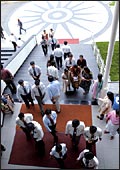 RANK 1
INFOSYS
Employees now demand control over their careers, an enhanced pace of learning, individualised attention and the exciting possibility of unlimited growth
Opting for a job in corporate India is no longer just a career choice-it is now a way of life. As individuals spend increasing amounts of time delivering on work commitments, the 'employer' is beginning to occupy centre stage in the employee's life. Their daily timetable, lifestyle and opinions, as well as their perception of "doing well" are firmly rooted in the company's context. With the organisation becoming the focal point and, to an extent, the dominant factor of one's life, it is only natural that choosing an organisation to work for also becomes a deliberate and calculated decision.
Today, employees are no longer willing to bargain a substantial chunk of their lives for basic "hygiene factors". An exhaustive list of benefits, time-bound promotions and the possibility of a foreign trip or two are now passé. Meaningful work and rewards are what employees are looking for. In addition, they now demand control over their careers, an enhanced pace of learning, individualised attention, responsive management systems and the exciting possibility of unlimited growth.
Apart from being demanding, the prospective employee is increasingly discerning and most importantly, in short supply. (There are too many jobs chasing too few candidates and the imbalance is only likely to become more acute in the years to come). Statistics might just help us figure out how demography affects the availability of talent and to what extent. Today, most of the developed economies of the world, particularly America, Germany and Japan, are faced with ageing populations. Between 20 to 30 per cent of their populations are already over the age of 60, causing a talent shortage that will last at least till the middle of this century, making them look beyond their borders for talent and growth.
In this global context, India may consider itself lucky. Just 7 per cent of Indians are above the age of 60 and in 25 years this proportion shall increase to 12 per cent. India will continue to be young and will see a swelling workforce of scientific, technical and professional talent. People are something India has plenty of. But ask any business leader what his biggest problem is today and the chances are that he will say it is finding the right people and getting them to work productively. This may sound paradoxical. But the fact is, given the feverish pace of business growth, the demand for talent has already outstripped supply, in terms of both quantity and quality.
A talent famine is now staring us in the face. Farsightedness demands that business leaders elevate management of talent to the highest corporate priority. Talented employees are no longer available in plenty. Nor are they easily replaceable or inexpensive. Against this backdrop, India Inc. is faced with the daunting task of attracting, retaining and growing its people in a very competitive environment. So, how are Indian employers dealing with this challenge? What is it that they need to do to come out on top?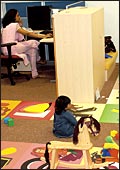 RANK 2
MINDTREE
Employees are being pampered like never before and erstwhile differentiators have been relegated to the status of hygiene factors
Based on the trends we have seen over the last three years, we discern a few "mega trends" in winning the war for talent.

Align and engage-adopting the "win-win" approach: The answer that most employers are searching for lies in alignment-the organisation's willingness to recognise and respect each individual's needs and its ability to address them while keeping in view the larger organisational goal. Despite its clichéd usage and often quoted examples, the task of alignment is not an easy one. The winners of this year's study have shown the ability to treat each employee as a unique individual, while at the same time successfully coordinating the activities of hundreds, if not thousands of them, and ensuring that they are aligned to the achievement of the organisation's objectives. These companies are committed to making considerable monetary and non-monetary investments in developing their people and engaging them beyond the realm of work and monetary benefits. The HR processes in these organisations are designed to deliver on business needs and at the same time cater to individual training requirements, individual careers and individual queries.
It's not what you do; it's how you do it: The study reveals that employees are being pampered like never before and erstwhile differentiators have been relegated to the status of hygiene factors. The bouquet of benefits, facilities and personal services being offered by most companies to woo employees is more or less the same. The focus has shifted from the "what" to the "how"-how to make every touch point between the organisation and the employee an experience that lets them know how valuable they are. The winning companies ensure that all the information that an employee could possibly need is available even before it is asked for. One company ensures that all upcoming announcements and campaigns are shared internally with employees by the CEO before they hit the press. Another has refined its recruitment process to ensure that each candidate goes back from an interview as a brand ambassador of the company, regardless of the outcome. They have all mastered the art of 'assimilating' new employees seamlessly into their environment, leaving no question unanswered and no loose ends to be tied. These organisations make the effort to constantly elicit employee opinion and take it into consideration while making policy decisions. Employee queries are responded to promptly and suggestions are sought after, making employees feel that their voice is being heard.

Innovate and integrate: Most companies that have made it to the top 10 have leveraged technology not only to reduce the administrative burden but also to build truly integrated HR systems and processes. A fully automated training management system adopted by one of our winners showcases how training needs for each employee that emerge from a performance review are then automatically translated into an organisation-wide training calendar. These very training needs form the basis of individual developmental plans as well as an organisational skills inventory used to track and monitor capability.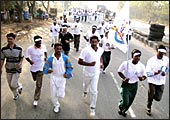 RANK 4
DR REDDY
Today, most companies have fairly comprehensive HR systems. However, this tried and tested formula will no longer suffice
Some companies have developed sophisticated performance management systems, the outputs of which are systematically linked with rewards, employee development, manpower planning, management of high potential employees, succession and career planning. The tools used to measure performance and manage employee development have been separated in order to ensure that the focus on development is not diluted. The mechanisms used by these companies to evaluate the effectiveness of these HR processes also speak volumes about the level of maturity the processes have reached.
Put employees in charge of their careers: The best companies to work for also reaffirm their faith in their employees by putting them in charge of their own careers. The better employers provide employees with the requisite information, infrastructure and developmental support to enable them to shape their careers based on their own aspirations and abilities. One of our winners supports employees in seeking structured feedback at any point of time regarding their suitability for any organisational role. It then goes a step further by helping them interpret and act on the results. The Indian employer and employee have finally come to terms with performance-based progression and rewards, as is evident from the widely accepted prevalence of variable pay and differential growth paths, which are tailor made for high-performing employees.

Redefine and reinforce culture: Mere words and no actions might be a quick-fix solution, but in the long run, employees need to feel attached to the company they work for. Each of the winning companies has worked hard on building a strong culture which reflects the values that the company wishes to inculcate in its employees. Whether it is the focus on transparency emphasised by one of the winners by making 360 degree feedback results visible to everyone across the organisation, or the message of openness given out by another through fully open workspaces, or the emphasis on integrity by a third company through value-based induction sessions facilitated personally by the head of the organisation; the involvement and accessibility of the senior management is the common thread that runs across the fabric of each organisation.
There has been a substantial narrowing of differentials between the top 10 companies and the others are catching up fast. The only way for an organisation to get noticed is to be different in an era when differentiators are constantly diminishing. The level of sophistication, integration and innovation in people management practices is what sets the best apart and makes them truly world class. Their employees speak highly of them and external stakeholders also confirm their status as an "employer of choice" in their market.
Today, most companies have fairly comprehensive and detailed HR systems and processes. However, this tried and tested formula will no longer suffice. Additionally, what works for one organisation or industry may not work for another-change and innovation have become the order of the day. In winning the current war for talent, being good is just not good enough.
Padmaja Alaganandan is a Principal Consultant, Gyan Anjan Kaur and Saaket Arora are Consultants at Mercer Human Resource Consulting.