Wage inflation and talent shortages are two related, if predictable, consequences of the high growth the Indian economy has been experiencing over the last few years. Our education system supplies far fewer qualified youth than are required, pushing up wages and attrition.
It is, therefore, not surprising that recruitment and compensation management have become the two main focus areas for hr managers. Nothing can be more strategic than getting the right people in at the right time and in the right numbers and managing their compensation and career expectations.
To be fair, employers have tried every trick in the book and used every lever to help attract and retain talent: high and differentiated compensation, innovative titles, faster (if at times illusory) career progression, training, a congenial work environment, more satisfying jobs, overseas exposure, opportunity to work on cutting edge technologies and problems, retention plans, referral schemes etc. Success rates vary and the problems remain.
There are three areas where employers can yet do more.
Segment your workforce
While customer and vendor segmentation has become an art and science, the concept of workforce segmentation is still in its infancy. Yet, sophisticated employers are deploying tools and techniques to segment their workforce, not only based on performance and potential, but also on the basis of demography, skill and business needs, and using the outcomes of such segmentation to craft distinctive strategies to manage the compensation and career expectations of each segment. In such an approach, the concept of fairness and equity apply within a workforce segment rather than to the workforce as a whole. To be sure, implementing a segmented approach is challenging but if done well, the rewards for both employer and employee will outweigh the costs.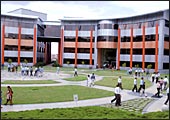 Hard to please: Infoscions at the tech giant's Bangalore campus
Place HR management responsibility where it truly belongs
It is time line managers owned up to their responsibility for their human resources, just as they take responsibility for managing financial resources, materials and equipment. Too often, they pressure hr into recommending high salary increases based on anecdotal evidence of departures of their staff, but do little to attract good talent and even less to retain what talent there is. That the line managers and supervisors are chiefly responsible for their people is well known but not easily accepted in the Indian context, where the chief responsibility for talent attraction and retention is still that of the hr manager. A formal shift in responsibility from hr to line is overdue. To facilitate the shift, performance objectives of the line manager must reflect and accord high weight to people management. The roles of line and hr must be redrawn. And managers must be educated about and contribute to the formulation of their company's compensation policies and practices so that they can then play the key role in communicating with and managing their staff.
Manage employees' expectations
Finally, managers must learn to manage employees' expectations. Communicating the economics of a company's business to employees transparently and regularly is one way to do this. Very few companies take the trouble of explaining the company's performance to their employees at all levels-the quarterly results, the company's competitive environment, its future goals, the need to balance the needs and expectations of all the stakeholders and to strike the right balance between rewarding for today's success and investing for tomorrow's. This is a task managers can no longer avoid. All too often, managers dismiss their subordinates as immature or lacking in the ability to understand. In doing so, they make a grievous mistake and underestimate and insult the intelligence of their people. Honest and credible communication is a visible manifestation of the respect that employees owe each other.
While these measures may not in themselves stem attrition or attract talent, they will go a long way in building and deepening people management capabilities, leading, in turn, to strong, business-focussed hr management that strikes the right balance in addressing the needs of the various stakeholders.
R. Sankar is Country Head and Head (Human Capital Advisory Services), Mercer Human Resource Consulting, India.