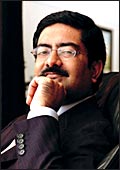 K.M. Birla: Coming soon with an IPO
The AV Birla group-owned Idea Cellular is readying itself for a busy period. It has just concluded a sale of 24 per cent equity in the GSM major to Providence Equity Partners, ChrysCapital, Citigroup and TA Associates. While no official numbers have been forthcoming, it is gathered that Providence will hold approximately 15 per cent, Citigroup's share will be just about 1 per cent, while the rest will be spilt almost equally between ChrysCapital and TA Associates. It is gathered that the total size of the deal is close to Rs 2,900 crore, placing the valuation of Idea at Rs 12,080 crore. This is a significant jump from the time the company was valued at Rs 9,150 crore in June this year when the AV Birla Group bought the Tatas' 48.14 per cent holding for Rs 4,406 crore.
The AV Birla Group is expected to dilute another 9 per cent in Idea, reducing the group's holding in the telco to 65.3 per cent; the AV Birla Group held a 98.3 per cent stake in Idea following the buyout of the Tatas' stake. The next step will be Idea's IPO-DSP Merrill Lynch and JM Morgan Stanley are said to have bagged the mandate for this-which is expected to hit the markets early next year. Today, Idea's footprint extends to 10 circles and accounts for a total subscriber base of 10.36 million, giving it a market share of 8 per cent in India's wireless market. The company plans to expand its presence to 12 more circles which will give it a pan-India presence-something that only Bharti Airtel has today.
---
Not Over Till It's Over
Will Ericsson and Nokia get to implement BSNL's mega plan?
One and a half years after announcing its mega-expansion plan for 63.5 million GSM lines, the state-owned giant BSNL has tentatively lined up three multinational telecom infrastructure majors to implement a bulk of the order based on their financial bids. Ericsson, Nokia and Siemens get to lay 45 million lines, and a fourth MNC, Alcatel could get to have a go at the remaining 18.5 million lines, via its joint venture with ITI from the public sector-30 per cent of the project is reserved for public sector undertakings (PSUs). BSNL officials confirm that Swedish major Ericsson has emerged the lowest bidder with a bid price of $107 (Rs 4,922) per line, followed by Finnish equipment maker Nokia, which had quoted a price of $176 (Rs 8,096), and Siemens with a quote of $400 (Rs 18,400) per line. Of the 45.5 million lines, the lowest bidder is slated to get 60 per cent of the project, and the second lowest bidder the rest, but only on matching the lowest bid price. Siemens will then move out of the race. The iti-Alcatel combine will also have to match the lowest bid price in order to get a purchase order from BSNL (ITI is currently undertaking a project to supply 3 million GSM lines to BSNL for Rs 857 crore, at $61 per line). The total value of the 63.5 million lines project works out to roughly $6.7 billion or Rs 31,000 crore. For ITI-Alcatel, it will fetch close to $2 billion or Rs 9,200 crore, while the value for Ericsson and Nokia will be $2.9 billion (Rs 13,340 crore) and $1.9 billion (Rs 8,740 crore), respectively.
CRACKS IN THE LINE

The areas of discontent in the BSNL contract:
» Motoroloa, one of the disqualified bidders, is unclear why its bid was not accepted.
» BSNL says Motorola's available equipment did not match the tender requirements.
» Alcatel gets a piece of the pie, thanks to its alliance with PSU ITI, although it did not participate in the bidding process.
» BSNL feels the bid prices may be on the higher side, and may negotiate further on the pricing front.
» Final project to be awarded only by March-April 2007.
So, is the stage set for a smooth execution of this mega-project? The answer predictably is a resounding no. One of the original five bidders, Motorola, has moved court challenging its disqualification. An official release from Motorola alleges that BSNL never informed Motorola about its disqualification on technical grounds, despite the US major providing "compliance undertakings on various requirements". "At no point in time was Motorola told that its bid was being dropped due to technical reasons, says the release. Motorola also says it wants more transparency and an "equal consideration."
Things get more predictable from hereon. BSNL officials refute the charges. "Motorola (and ZTE, the fifth bidder) were disqualified because their current available equipment did not match the tender requirements. They promised to comply, but that was not our criteria," says a BSNL official. The courts have yet to pass a verdict, so far they have not granted a stay. As far as BSNL is concerned, it is business as usual.
Another sore point in industry circles is Alcatel sneaking into bidding process via its partnership with ITI, without even participating in the bidding. An ITI spokesperson counters that it's a transfer of technology that Alcatel is providing to ITI, and that ITI would pay Alcatel a royalty since all of the equipment would be indigenously manufactured at the PSU's two units at Mankapur and Rae Bareily. An Alcatel spokesperson confirmed that Alcatel, as royalty, will get one-third of the value of the project awarded to the combine.
The chosen bidders, for their part, may not be celebrating yet. BSNL officials say the bids would be financially evaluated to check whether prices are justified and to negotiate the pricing further, if possible. "On the face of it, the bid price seems to be on a higher side but we can't confirm it since this project has a significant element of 3G lines as well," a senior official in BSNL told BT. The project has earmarked 25 per cent for the 3G lines, to be supplied by all three vendors in proportion. He added that awarding of the contract will take time and that the process was likely to be completed by March-April next year. That's a long time in the public sector universe.
-Shaleen Agrawal
---
Deregulation, Govt Style
The coal sector will be opened up to the entire power sector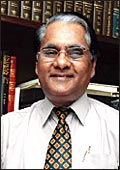 R.V. Shahi: Power play
The quest for primary resources has never gotten more acute. Till recently a global phenomenon, the contagion has now spread back home. The government has stepped in to allocate coal blocks for the various segments in the power sector-public sector entities, private sector companies, etc. So far the sector has been tightly regulated, and mining for open sale is not allowed; coal mines were earmarked primarily for public sector units.
However, the provocation for allocating mines is also an attempt to reverse an earlier decision to allocate captive mines to power distribution licensees, central generating and state generating companies only. This decision was followed by protests made by several private producers across the country who pointed out that the move was clearly anti-competition. Consultations then ensued between the various arms of the government-the Prime Minister's Office, the power ministry and the coal ministry-and a new allocation policy was finalised. Under the proposed dispensation, coal mines will now be allocated to merchant plants also-power plants with no firm commitment to supply electricity to any particular distribution company. "We expect around 10,000 Mw of merchant capacity to come up on this basis. This will provide critical mass for a power market," says power secretary R.V. Shahi.
So long as the Left parties support the government at the Centre, the coal sector is unlikely to be opened up completely to the forces of market. Till then, the erstwhile Quota Raj will keep bobbing its head up in several forms.
---
Scotching a Whisky Deal?
Heady valuations may blight UB's Scottish venture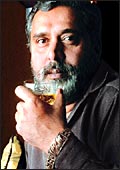 UB's Mallya: Figuring it out
A failed $700 million (Rs 3,220 crore) bid for Champagne Taittinger and a successful bid of $15 million (Rs 69 crore) for Bouvet Ladubay, a French wine maker. That has been the scorecard of Vijay Mallya, the colorful Chairman of the ub Group in his attempt at international acquisitions to close the gap between his flagship company United Spirits (formerly McDowell) and Diageo, the number one spirits company in the world. Mallya is now attempting to make further headway on the global stage by making a play for Whyte & Mackay, a Glasgow-headquartered distiller of Scotch whisky. Last fortnight, Mallya was in Glasgow to hold talks with Vivian Immerman, Chairman of Whyte & Mackay. Ravi Nedungadi, CFO of the UB Group, who is closely involved in the negotiation, says: "Yes, it is true that we have been talking to them. However, as we speak, we are not close to a deal. We are not desperate for an acquisition and we will go ahead only when the fit is right."
The fit pertains to valuations. Initially Whyte & Mackay was believed to be interested in offloading a distillery it owns in Scotland. Nedungadi says that UB's interest is in a 'composite' deal. Mallya is believed to be offering close to £400 million (Rs 3,400 crore) while the Scotch maker is expecting a valuation of close to £600 million (Rs 5,100 crore). Whyte & Mackay has a 9 per cent global market share in scotch whisky and has several leading brands like Isle of Jura Single malt, Dalmore, Vladivar Vodka and Glavya Liqueur. Last year, the company had a turnover of £149 million and a net profit of £11.1 million. Says an industry analyst on the condition of anonymity: "The valuations being sought are very rich. Just five years ago the current owners bought the company for just around £200 million, though some investments have been made since then. I think the two parties will eventually end up in some kind of a marketing arrangement or a tie-up."
Mallya has in the past fought against European Union regulations which do not accept Indian whisky as the genuine product as it is made of molasses (whereas Scotch whisky is made out of grain). Acquiring a distillery in that continent would thus make immense strategic sense. But not at any price.