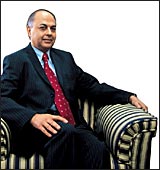 Novartis' Shahani: Consolidation time
Mylan Labs of the US may have made its presence felt in Hyderabad through a buyout (of Matrix Laboratories) but another global pharma giant, Novartis, has also trained its sight on the southern city. But the Swiss healthcare major isn't looking to acquire manufacturing capacities; rather research and it-enabled services (ITEs) are what Novartis plans to kick off in Hyderabad. Novartis is setting up a major ITEs operation in the city and is also learnt to be looking at setting up an R&D centre there, a first such centre in Asia for the company. Company officials aren't revealing much, but do admit that they are talking to the state government and that a memorandum of understanding could be signed soon (which means it could happen even before this issue of BT hits the stands). "We hope to consolidate our India-based global business activities in Hyderabad," ventures a company spokesperson. The company which has a manufacturing presence near Mumbai-its India head office is in Mumbai-is believed to be looking to acquire some 150 acres on the outskirts of Hyderabad.
BT learns that Novartis is looking to build an integrated campus in Hyderabad to meet its global needs. The figures doing the rounds suggest an investment of Rs 500 crore and a headcount of 5,000, making it the third such major centre for the company globally (the other R&D centres are in Switzerland and the us). R&D may clearly be the focus for twin reasons: One, Novartis is known to be an R&D-intensive company (in 2005, R&D spend was 15 per cent of net sales). Two, costs of doing R&D in India are significantly lower. The centre is being designed to emerge as its key knowledge centre in this region. Even in ITEs, the company is to take up high-end work (for instance, say, protein modeling as against just data management).
Andhra Pradesh, it would seem, has plenty of appeal for the global pharma sector. Japanese major Eisai is also believed to be keen to invest in setting up a manufacturing unit in Visakhapatnam and an R&D centre in Hyderabad.
-E. Kumar Sharma
---
Stocks And Stakes
They're buying into the India story-and its brokerages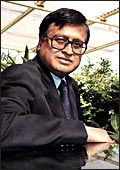 ICICI's Mukherji: High stakes
A tell-tale sign of a sustainable bull run is when stockbrokers aren't just mopping up shares in the secondary market but when their overseas counterparts begin picking up chunky stakes-even controlling ones-in their domestic operations. That's exactly what's happening on and around Dalal Street. Last fortnight, when French bank BNP Paribas picked up a one third stake in the south-based Geojit Financial Services, it marked yet another transaction in the on-the-go world of broking services. Just before that us online trading major E*Trade bought a controlling stake in IL&FS Investmart. Other notable deals in the broking space include Merrill Lynch's acquisitions of sub-10 per cent in Indiabulls and India Infoline; and domestic house Motilal Oswal's purchase of two regional broking outposts in the south. There's action on other fronts too. ICICI Securities is merging its retail and institutional arms, and banks such as Citi, Standard Chartered, ABN Amro and UBS are planning retail broking forays, as is Anil Ambani's non-banking finance company, Reliance Capital.
Says Frederic Amoudru, CEO and Country Manager, BNP Paribas: "The Indian stockmarket has grown substantially in size, it is technologically advanced, penetration of internet trading is growing and participation of day traders and retail investors is quite significant." Indeed, the Indian securities market can boast of infrastructure comparable with the best in the world with the T+2 settlement system, completely electronic settlements and vibrant derivatives trading being well-established practices. The opportunity for brokerages is also immense as currently just around 2 per cent of household savings is invested in equities.
GOING FOR BROKE

Developments in the stockbroking sector over the last one year:
» BNP Paribas acquires one third stake in Geojit Financial Services.
» Online trading biggie E*Trade buys controlling stake (27 per cent) in IL&FS Investsmart.
» Merrill Lynch acquires sub-10 per cent stakes in Indiabulls and India Infoline.
» ICICI Securities merges its retail and institutional broking arms
» Motilal Oswal buys Gayatri and Peninsular Cap in the south and is on the look-out for more buys up north as well.
» Others such as Citi, StanChart, ABN Amro, UBS, and Reliance are also planning retail broking forays.
S. Mukherji, Managing Director & CEO, ICICI Securities, points out that rapid economic growth has put more money in the hands of the retail customer. "If they are going to buy real estate and other consumables, then naturally at some point in time they shall also buy some more equities and other investment products," he says. Moreover, the Indian middle class itself is projected to grow from 33 per cent of the population to 49 per cent by 2010 and that will provide a sharp jump in the investor population, says C.J. George, Managing Director, Geojit Financial Services. George believes that full capital account convertibility will also help these brokerages sell investment products of other countries in India.
Selling stakes to overseas partners is just one way to ride the boom. ICICI Securities has merged the retail and institutional portfolios to improve its balance sheet strength and open up financing possibilities. Motilal Oswal spent over Rs 45-50 crore over the last year buying up brokerage firms and is ready for more as well. Earlier this year, it raised Rs 125 crore from private equity firms. "As research becomes more specialised, the market becomes more information sensitive and tougher risk management systems are deployed, consolidation will be the way to go," Hitungshu Debnath, Director, Retail Business, Motilal Oswal Securities.
As the market is far from mature, there is clearly more scope for organic market expansion just yet. There are no great cost drivers for consolidation just yet, believes Sandeep Presswala, chief operating officer, IL&FS Investsmart. However, what is certain is that there will be greater diversification of products and services, sharper business models and more customer segmentation. Customers for their part won't complain as long as the returns keep coming.
-Shalini S. Dagar
---
Coffee, Tea & Biyani?
Starbucks may break bread with Planet Retail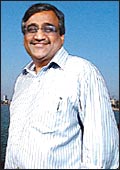 Pantaloon's Biyani: Deal time
If there was an award for the most speculated entry into the Indian retail market that hasn't yet materialised, one of the contenders would be Starbucks, the global chain of coffee shops (Wal-Mart would perhaps be another). For the past two years, speculation has flourished about the India operations of the company with the two-tailed mermaid logo. Mercifully, a recent announcement by Starbucks President Martin Coles on the $6.4 billion company's plans to establish locations in India by the end of the current fiscal indicates that the company has reached the final stages of talks with a joint venture partner in India. At an analysts' conference in early October, Coles revealed that the company is negotiating the terms of a joint venture and will make an announcement once a definitive agreement has been signed. Coles added that with a population of more than 1.2 billion people, a rapidly growing economy and significant increases in consumer spending, India represents one of the most exciting growth markets in the world for the company. According to a Technopak study, coffee outlets in India are going to double to 1,000 in the next 2-3 years as existing players like Café Coffee Day, Barista Coffee, Gloria Jeans Coffee, Barnie's Coffee, Costa Coffee and Georgia look at increasing their presence in India. Starbucks may finally be ready to join the party. "Starbucks has entered different countries through different formats, and although predominantly the company does not enter through the joint venture route, it may do so in India; and then again, although it has traditionally grown its business organically, the inorganic route cannot be ruled out," says Rajesh Srivastava, Managing Director and Head, Corporate and Commercial Banking, Rabo Bank.
According to a Reliance Retail spokesperson, the company was in talks with Starbucks for outlets at the Reliance Infocomm's WebWorld stores. The talks ended one and a half years ago when Reliance tied up with Javagreen, a chain of gourmet coffee and food cafes; the industry buzz, though, is that Anil Ambani is wooing Starbucks once again.
If Starbucks is taking so long to finalise its India strategy, it could just be that it's not been able to find the right JV partner/acquisition target. "For Starbucks, multiple-locations and high-street presence are two important factors and it is hard to find a retailer in India who will satisfy both the conditions," says Partha Dattagupta, CEO, Barista. The most eligible contestant appears to be Planet Retail, an Indonesian firm, in whose Indian subsidiary Pantaloon's Kishore Biyani holds a majority stake. Planet Retail is tipped to be the master franchisee for Starbucks in India as it is already the licensee for Starbucks in Indonesia. Arun Bhardwaj, MD, Planet Retail Holdings, was not available for comment and Pantaloon's spokesperson refused to comment on the deal. However, a Mumbai-based analyst says Planet Retail is an unlikely candidate for Starbucks as it will not likely to be associated with a company that has many other JV partners in India. "For a company like Starbucks, a JV with Pantaloon is not a likely scenario as the business model and the client groups of both companies are different," says the analyst. In the lifestyle retailing segment, Planet Retail is the licensee for brands such as Marks & Spencer, Guess, Next and Women's Secret. But the company has no other licence in the Indian food and beverage industry. "Starbucks is looking at all the options in India. Hypothetically speaking, they could also be looking at buying a stake in Barista as a viable option, as the company has a presence in 25 cities, says Technopak CEO, Harminder Sahni. Barista is looking for a stake sale and for a company like Starbucks, this will not be an expensive deal, adds Sahni. The speculation continues, but as things stand today it is advantage Biyani.
-Pallavi Srivastava
---
Bridging the Gulf
Investments from West Asia are pouring into the country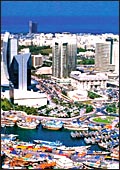 Dubai: Waking up to ventures
While India and the gulf countries are hopeful of finalising plans for a 'Free Trade Agreement' by early next year, they are already doing enough business to account for an estimated 15 per cent of India's total foreign trade. During the period between April 2004 and March 2005 India's exports to GCC countries amounted to $10 billion. Now major public and private players in the Gulf-Abu Dhabi Investment Authority (ADIA), Qatar Investment Authority, Dubai Holding, Dubai World, and Emaar amongst others-are aggressively increasing their presence in India. While it, infrastructure and education are the more recent choices, a majority of the investors still prefer older sectors like petroleum, banking, real estate and construction. "There are two kinds of investors from the Gulf. While the Gulf business houses have been entering the country through various sectors like construction, finance, and oil, expatriate Indians are the new generation of investors who want to invest back in the country," says Amitabh Dhawan who heads the Indian Business and Professional Council in Dubai.
Indian state governments are also waking up to the fact and the most active state has been Andhra Pradesh in this regard. The Emaar Group has already completed two projects in Hyderabad (a convention Centre, the largest of its kind in India and a golf resort); it is now in the process of setting up a knowledge corridor in Andhra Pradesh for a joint venture between the governments of Andhra Pradesh and Dubai. "We have already announced the country's largest foreign direct investment in real estate with a capital outlay of $4 billion," says Nader Mohamed, Executive Director, Emaar Properties.
-Pallavi Srivastava