Early in the year, when the government gave the go-ahead for up to 51 per cent foreign direct investment in single-brand retailing, the stage was set for global brands to open up their specialty stores in the country. The action is just about beginning to hot up, with a host of brands, ranging from the luxury variety to more humble (not by much in some cases) mass-market ones, readying to launch flagship stores in the country. Some of the world's biggest and best-known names-Disney, Calvin Klein, Gucci, FCUK, Armani and Ermenegildo Zegna-are giving the final touches to their Indian game plans. A few, like Tommy Hilfiger, Versace, Marks & Spencer, Gucci and Giordano, have already put up their first own stores here. "After the multiple-brand retail format store, the next growth is from specialty retail. This format is already popular abroad, but it is catching up in India now," says Harminder Sahni, CEO, KSA Technopak, a Delhi-based retail consultancy.
Last month, the Disney group announced plans to set up a chain of exclusive stores in India to sell its branded stationery products. Disney Consumer Products will set up some 150 'Disney Artist' stores across India over the next five years, offering greeting cards, stationery, arts, crafts and party products. Disney also has plans for exclusive 'Disney Home' stores as well as 'Disney Princess' and 'Disney Teen' stores in India as a part of its global strategy. "In India, as in many of the emerging markets, we are moving to concept stores that are more utility-driven and aimed at satisfying the consumer's need in one category. Our objective is to have the consumer make these stores the first stop and the only shop for satisfying needs in a particular category," says Rajat Jain, Managing Director, Walt Disney India.
Calvin Klein is entering India by Spring 2007 with an exclusive retail store licence to launch 40 Calvin Klein stores over five years. Products under various Calvin Klein brands include apparel, accessories, shoes, underwear, sleepwear, hosiery, socks, swimwear, eyewear, watches, jewellery, coats, fragrances as well as products for the home. "In my view, there is enough space for the global as well as Indian retailers to co-exist, be it via multi-branded retail outlets, single-brand stores or luxury department stores," says Vijay Murjani, Managing Director of the Murjani Group, a Mumbai-based apparels maker. The Murjanis will also be setting up exclusive retail stores for Calvin Klein, Gucci, FCUK and Jimmy Choo.
Giorgio Armani is another luxury brand that plans to have its own shops here-four of them in Mumbai and Delhi by mid-2007-to sell, in addition to the clothing brand, Emporio Armani accessories (sunglasses, watches, perfumes, aftershave). Another company that will be foraying into India in 2007 is Gucci, which will set up boutiques in Mumbai and New Delhi. Cadini and Ermenegildo Zegna are some of the brands finalising plans to enter India through their own stores instead of multi-brand retail stores. The brands aren't restricted to clothing. UK's leading retailer in babycare and maternity products, Mothercare, will also launch stand-alone stores in India (the brand also has shelf-space in Shoppers' Stop). Luxor Parker is looking to set up a stationery retail chain. And if you include the stores coming up in the five-star hotels, almost every global luxury brand is booking or has booked its space, right from Louis Vuitton, Fendi, Canali and Mont Blanc to Bally, Hugo Boss, Guess and Daks.
According to an A.C. Nielsen study as many as 31 per cent of Indians in Sec A category buy designer clothes to "uplift one's social status." The study reveals that the upper-middle class in India is getting more brand conscious. Calvin Klein & company will approve.
---
Grocers' Gripe
Retailing food sounds easy, procuring is a nightmare.
The reams that have been written on the organised food retailing sector-and in particular one Indian conglomerate's plans for it-could make you reach two conclusions: One, there's a huge opportunity waiting to be tapped; and, two, tapping that opportunity will be as easy as pie. You would be right about the opportunity-food is estimated to make up 40 per cent of the country's organised retail pie-not quite about the ease with which it can be exploited. To be sure, there are pitfalls, especially for the big players. The biggest of those has to do with securing agri-produce and grading it. "Procurement of agri-produce would be a huge challenge for players who aim to be in the volumes business," avers Kalyan Chakrabarty, Country Head, Food and Agri-business, yes Bank.
Though corporate farming may seem an easy and practical solution to procurement woes, political realties make it a no-go in India, not all Indian corporates have been able to benefit from the alternative-contract farming. Says Rajeev Sinha, Deputy Managing Director, DCM Shriram Consolidated: "There are difficulties in fulfillment of contract obligations." DSCL, which runs 30-odd Hariyali Kisan Bazaars for procurement of produce such as tomatoes and coriander, supplies to modern retailers and to terminal markets. What is more, there is no legal recourse for breach of contract with farmers. Such infringements are aplenty, particularly so in commodities such as wheat, rice, pulses and other regularly-consumed vegetables, all of which have a domestic market. When the prices of such commodities shoot up, the farmers like to sell their produce outside the contract; when prices are plunging they fear the corporates are unnecessarily raising quality issues. "Successful contracts are the ones that create reciprocal dependency between the company and the farmers," says S. Sivakumar, Agri-business Head at ITC.
Against such a backdrop ensuring a regular supply of fresh food is going to be a huge challenge for domestic retailers, especially those planning large-scale operations. Aware of this, companies are assiduously building fruitful farmer relationships. Some like Tata Chemicals are deepening their existing relationships of providing farm inputs such as fertilisers through branded outlets such as Tata Kisan Vikas Kendras. ITC's e-choupal initiative is by far better known than most since it has been around for six years. With demand from retail chains increasing, ITC has little choice but to further loosen the purse-strings; it will invest Rs 5,000 crore over the next seven years. With payback periods of 7-10 years, it is a long haul for the new agri-warriors. "Comprehensive engagement with the farmer is critical," says ITC's Sivakumar. That's one reason why the Tatas, Reliance, Larsen & Toubro, Sunil Mittal's FieldFresh, Voltas and even DLF Universal are vying to set up eight modern terminal markets for perishables across the country. The government received over 100-odd initial expressions of interest for these markets which will be set up on a public-private partnership model. A much-needed link between the farming community and retail chains, these terminal markets constitute just one piece of the massive infrastructure that's needs to be created in the food retailing business.
-Shalini Dagar & Pallavi Srivastava
---
RIL's Bazaar in the South
Mukesh Ambani's grand retail rollout will begin in Hyderabad.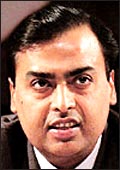 Mukesh Ambani: Harvest time
Reliance retail's much-anticipated foray into fruit and vegetable retail is likely to kick off in the days ahead in Hyderabad. In the first phase of Reliance's Rs 25,000-crore retail rollout, multiple stores are expected to be flagged off in the city. The group expects to have a number of stores up and running in Hyderabad in a few months, which will sell fresh fruits and vegetables. The produce, all priced to market, will be sourced from all over the country, as well as the hinterland of Andhra Pradesh where the group has tied up with farmers. The stores will span between 2,500 and 4,000 sq. ft., and will sell consumer goods apart from vegetables. Hyderabad was chosen as the launch base as it is amongst the cheapest cities for rentals, and properties are easily available. Reliance, according to watchers, is investing substantially at the back end and in the supply chain, especially in a cold chain. The group has tied up with fmcg manufacturers and, while negotiating for higher margins, is looking to pick up stocks directly from the companies themselves.