A year ago Bharti Airtel pioneered a trend of sorts in the Indian telecom sector by outsourcing network infrastructure from Nokia and Ericsson, billing application services from IBM and customer care call centre activity to a number of BPO service providers. Now Bharti, along with other pan-India operators like bsnl, Reliance Communications and Hutch, is taking another step on the infrastructure front by tying up with domestic builders of cell sites (or tower sites, which transmit signals to cellular phones). Telecom infrastructure players such as GTL Infrastructure, Quipo and Essar are building these sites across India, thereby offering third party infrastructure services to wireless telecom service providers. The towers will be shared by multiple players. The objective is two-fold: One, save on costs and, thereby, be in a position to drive down tariffs further; two, be in a position to focus on core operations, namely product development, sales and marketing.
In industry parlance, telecom infrastructure is either passive or active. The former includes towers, shelters, and optic cables and is estimated to comprise 50-60 per cent of total infrastructure; electronic equipment and antennae make up the active part. If two service providers share a single tower, they can drive down their passive infrastructure costs by 50 per cent. One way of doing this is for one operator to use sites created by another service provider-for instance, last fortnight, CDMA player Reliance, which is contemplating a GSM rollout, was reported to have tied up with two GSM players for sharing their cell sites. The other way of doing it-and a more cost-effective way, say analysts-would be to go to a third-party firm that builds these towers on their books and then leases them to multiple operators. The government has mandated tower companies to set up towers in high security areas in metros, where as many as four to six operators can share the same site. It has set a target of 1,800 shared sites by 2007 for Delhi alone. Quipo has plans to set up 5,000 fully equipped towers in two years; GTL hopes to roll out 6,700 cell in sites in the next three years; and Essar will do 250 sites a month.
Says Manoj Tirodkar, Chairman & Managing Director, GTL: "Highways, rural and semi-urban regions and dark spots (urban spaces that lack network coverage) are the areas where we are building towers. By March 2007, we will build 1,200 towers in eight states, including Maharashtra, Delhi, Gujarat and Rajasthan." A report by Lehman Brothers points out that huge investment outlays will persuade operators to share passive infrastructure. The report estimates that telecom players in the next three years will spend a little over Rs 73,000 crore and the number of tower sites will go up from 81,500 in mid-2006 to 1,36,000 in a year. The operators, for their part, are reacting enthusiastically. "If we have to continue to provide lower rates to customers, infrastructure sharing is the only way out. There is humongous scope in infrastructure sharing, but we are far from optimal," says Sanjay Kapoor, Joint President, Mobile Services, Bharti Airtel. Kapoor adds that Bharti is in talks with almost all operators as well as third-party providers. "Of the current 30,000 sites, nearly 75 per cent of our passive infrastructure is shared," he points out.
"Spice Communication has been a pioneer in third party infrastructure sharing," claims Navin Kaul, Chief Operations Officer, Spice Communications. "We started it in Punjab, and then replicated it in Karnataka. All telecom providers see infrastructure sharing as a cost advantage because the passive infrastructure costs almost two-third of the entire BTS (Base Trans-receiver System) site cost. Passive infrastructure costs can be shared by two or more telecom providers, thereby reducing the cost for each one of them." Reliance Communications is thinking along similar lines. "In the 'B' and 'C' circles, where population density is widely spread, we will go in for shared infrastructure. This will help to cut costs by 10-15 per cent in capital expenditure," reveals a company official. According to the Lehman analysts, third-party tower firms can help operators clock a 30 per cent saving in capital expenditure.
---
The Tide's Turning
FMCG firms hike prices, but not profits-not yet.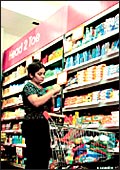 It's been some time now since the marketers of fast-moving consumer goods (FMCG) have been in a position to hike prices. But it's only of late that pricing power appears to have made a comeback, what with increases taking place across more categories, and across more companies. Roughly 75 per cent of the price hikes in the last one year have taken place in the last five to six months. Market leader Hindustan Lever (HLL) has hiked prices across categories like detergent powder, laundry soap, toothpastes, shampoos, fairness cream and tea. The increases in these brands have been in the 3.8 per cent (Pepsodent 2 in 1) to 8.5 per cent (Rin Advance) range. HLL's smartest hike though has been in the 800-crore toilet soaps industry, in which it has jacked up the price of Lifebuoy-the largest selling toilet soap brand in the country-and Pears by roughly 10 per cent. Godrej Consumer Products (GCPL) has also announced a 5-8 per cent mark-up in soap prices. Others like GSK Consumer, Dabur and Colgate have raised prices in flagship categories in the 4-5 per cent range.
But it's not as if these higher prices will translate into rosier profits. As Nikhil Vora, Vice President (Research), SSKI, a Mumbai-based broking house, explains: "These price hikes are adequate enough to offset input costs and now that markets have stabilised, these companies are in a position to hike product prices. With backward area benefits and lower cost of production already in place, price hikes are going to constitute a small part of the margin expansion." Adds H.K. Press, Executive Director & President, GCPL: "The price increase after more than two years is mainly to offset rising costs of palm oil derivatives that go into soap making." Sure enough, GSK Consumer, a leader in the health drinks segment with a 70 per cent market share, has hiked prices of its Horlicks category to cover up the increased costs of malted barley and milk. Dabur has jacked up the price of recently-acquired toothpaste brand Babool by 25 per cent. Hikes in other categories (shampoo, juice and honey) range between 4.6 per cent and 10.5 per cent. Says V.S. Sitaram, Executive Director, Consumer Care Division, Dabur: "The price increases undertaken will cover the anticipated inflation levels and there is no further need to touch the prices this year."
Marico, for its part, hasn't been relying on price increases for growth, even though it has hiked prices by up to 3.6 per cent in key categories like coconut oil and cooking oil. "In the first quarter, the Marico group grew revenues by 38 per cent in value. Only 1 per cent came from price increases and the balance growth was all in volumes. This trend is likely to continue for the first half of the current year," says Milind Sarwate, Chief Financial Officer, Marico.
If there's one company that's bucking the trend, it's Nestle, which has cut the price of its most saleable product in India, Maggi 2 Minute noodles, by Re 1. But that's only because of a reduction in excise duties on processed foods. "Pricing power is now back with the companies, so we may see price hikes but no reductions. Margin expansion, as a result of price hikes, will only happen if there is a continuous upward price movement," says Kunal Motishaw, a Mumbai-based research analyst.
-Pallavi Srivastava