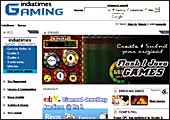 What: 'Games on Demand' is a service through which all BSNL broadband subscribers can log on to play the games any time.
Who: BSNL is the service provider and the content is being provided by indiagames.com.
When: BSNL executives say the service will be launched by the end of November.
Type of Games: Both multi-player and single-player games like 'Rise of Nations', 'Flight Simulator', and 'Diner Dash 2' will be available
How is it different from other game sites: It's difference vis-a-vis other game sites is not yet known as BSNL is still working on it.
Pricing: The modalities are "still being worked out". The pricing can be either on a pay per use basis or by subscription.
Who else: Airtel has a similar service, which gives unlimited access on a payment of Rs 199 per month. Interestingly, Airtel's content provider is also indiagames.com
---
What is it: The T66 is a phone that operate on both GSM and CDMA networks.
Who has it: Reliance Communications is the first operator to offer the handset. In fact, after China Unicom, Reliance is only the second company in the world to offer such a service.
Why: Reliance is saddled with a legacy that includes GSM networks in places such as Himachal Pradesh, West Bengal, Madhya Pradesh and the North East. Users in these circles could not roam into and out of Reliance CDMA networks and the phone will help as the company migrates from CDMA to GSM across the country.
What other features does it have: Well, this is a fairly high-end handset with a 1.3 megapixel camera, two 2.6 inch colour screens and other toys.
How much does it cost: Reliance has not officially launched the phone as yet, but expect it to be in the Rs 10,000 price band.
---
CORPORATE PROFITS
Status: 760 companies earned Rs 26,913.30 crore for the quarter ended September 30, 2006, up 15.15 per cent
Impact: Rising corporate profitability augurs well for the economy as well as the corporate sector. India Inc. is increasingly part financing its expansion plans from internal cash accruals and also adding to investor wealth by doling out higher dividends and bonuses.
STATE BORROWINGS
Status: $158 billion, up 25 per cent
Impact: Rising foreign exchange reserves offer a security blanket against any sudden outflow of capital from the country. If the reserves keep growing at this pace, RBI may open its purse string to allow resident Indians to invest abroad in equity, mutual funds and other asset classes.
---
P-WATCH
A bird's eye view of what's hot and what's not on the government's policy radar.
SEMICONDUCTOR POLICY ON THE ANVIL
LURING THE INVESTOR
» Draft policy has been formulated
» Provides for sops for the sector
» SEZ-like benefits, lower taxes
» Unlimited carry-forward of losses mooted
After months of long wait since finance minister P. Chidambaram announced it first in February in his budget speech, there is finally some action on ground on the semiconductor policy.
Tax concessions for the seminconductor industry are finally round the corner. It is learnt that the Finance Ministry has agreed to give semiconductor facilities SEZ-like benefits. The Cenvat rate, for one, for these facilities has been fixed at the lower rate of 4 per cent. These units will also be given depreciation benefits of 33 per cent for three consecutive years, with unlimited loss-carry forward facility. Also, the timeline for fabrication facilities to become positive net earner of foreign exchange would be 10 years instead of five years for SEZs, keeping in mind the longer gestation period in the business.
So, who are all waiting for the policy? SemIndia, which had earlier lined up an investment of $3 billion (Rs 13,800 crore), but later toned it down to a few hundred million towards R&D and packaging for the time being; other majors include Intel, Texas Instruments, ST Microelectronics and Freescale. Clearly, the policy has got to be good enough to check competition from China and Vietnam.
RULES TO CHECK DRUG 'SIDE-EFFECTS'
Pharma companies that have been raking in good money amidst loose laws are likely to be in for a rude shock. The new drug policy in the offing, Drug (Price Regulation & Control) Bill 2006, will come down heavily on pharma companies that have been evading the drug price control rules by marginally distorting formulations of drugs.
The move comes in the wake of the prevalent practice of several companies to alter the composition of drugs sold under a brand name, simply to avoid the price regulatory list. The government is also proposing to vest itself with the overriding powers to enforce price controls on any category of drugs, even on those imported from abroad.
Medicines for medicine suppliers.
RESERVATION IN BUSINESS DEALS!
'Reservation' might just get another booster dose. a cabinet panel headed by Ram Vilas Paswan has recommended that 30 per cent of purchases made by the Central government should be sourced from entrepreneurs belonging to the Scheduled Caste/Scheduled Tribe segment.
The recommendation might face resistance from the industry yet again -recently, the industry put its foot down on the idea of reservation of jobs in the private sector.
LENDERS FOR THE POOR
If all goes well then the microfinance bill is likely to become an act by summer of next year. According to Finance Ministry officials, the draft version of the Bill has been finalised. The apex rural lending institution NABARD may well become the regulator for the sector. The move will boost lending to the weakest segment of society. Surely, for once, political and commercial interests are aligned.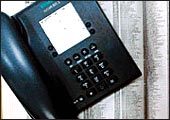 Out of order: For now
TELECOM MERGER IS OFF
The proposal to merge BSNL and MTNL has been given a burial. Telecom minister Dayanidhi Maran recently said that the two companies would be better off on their own.
The move was initially mooted during the earlier NDA regime by the then telecom minister Arun Shourie. The recent report of consultants appointed for the purpose of evaluating the proposal suggested a slew of options ranging from merger to 'no-merger'. Clearly, leaving it open for the political class to decide!