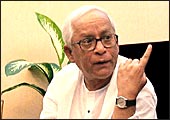 Bhattacharjee: Sole voice of reason in the Left
West Bengal chief minister Buddhadeb Bhattacharjee is emerging as the sole voice of reason among the country's Left leaders. The latest proof: his opposition to the introduction of trade unions in his state's fledgling IT industry. Even as the CPI(M)'s labour wing, the Centre for Indian Trade Unions (CITU), gets ready to launch the West Bengal Information Technology Services Association on November 14, Bhattacharjee, is distancing himself from the move. "I am in touch with the senior IT executives to remove any apprehensions they may have," he says.
It's falling into a pattern. Bhattacharjee proposes, his party disposes, but the Left Front government still (usually) goes ahead and carries out his wishes. The disagreement with his party over the IT sector is the latest in a long list of stand-offs. Bhattacharjee, who has become a poster boy for economic reforms, has had to take on powerful local leaders over his decision to allot 1,000 acres of farmland to the Tata Group for its Rs 1-lakh car venture. Then, he embarrassed his party's leadership by publicly declaring that he wanted private sector participation in the modernisation of Kolkata's Netaji Subhash Chandra Bose International; he also sparked off an ideological debate in Left circles when he invited Indonesia's Salim Group to invest in the state.
Bhattacharjee's commitment to reforms and, indeed, the extent of his writ over the state he rules will be put to the acid test on December 14, when the Left Front has called a Bharat Bandh. Bhattacharjee ducks the issue. "See what happens on that day," he says. India Inc. will be all eyes.
---
22.15%: The proportion of people living below poverty line in 2004-05 compared to 26.09 per cent in 1999-2000, according to the National Sample Survey Organisation
400,000: The number of engineers India produces every year
$78 billion (Rs 3,58,800 crore): The amount Airbus needs to break even on its A380 superjumbo project. The A380 has a list price of about $300 million (Rs 1,380 crore). The Toulouse-based company has so far sold 159 of this double-decker aircraft in the six years since its official launch
$90 billion (Rs 4,14,000 crore): The amount US citizens spend every year on obesity-related healthcare, according to University of Pennsylvania researcher Adam Gilden Tsai
$20 billion (Rs 92,000 crore): The current two-way trade between India and EU
66,150: The total number of employees at Infosys at the end of September, 2006, compared to 46,196 in September, 2005
$3.6 billion (Rs 16,560 crore): Chinese software exports in 2005, a rise of 28 per cent year-on-year
2 billion: The number of cups of coffee drunk every day worldwide. In terms of being a world commodity, coffee is second only to oil
Rs 300 crore: The sales target set by Godrej Appliances for this festive season. The corresponding figures for Videocon Industries, LG Electronics and Samsung are Rs 500 crore, Rs 2,500 crore and Rs 850 crore, respectively
$21.9 billion (Rs 1,00,740 crore): The amount the Industrial & Commercial Bank of China aims to raise through the world's biggest IPO
68 million: The number of iPod users worldwide. The iPod was launched on October 23 five years ago, and now has a 72 per cent share of the US portable MP3 player market to be precise
---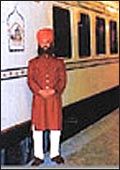 ANNOUNCED: By Indian Railways, the launch of the second Palace on Wheels train with more luxuries and facilities. This will make it the most expensive train in Rajasthan. The 21-coach train will have special suites, foreign exchange counters, exclusive kitchens, mini bars, gym and steam bath facilities and a conference hall.
RECORDED: By India, a 37 per cent rise in merchandise exports in the first half of the current financial year, to $59.3 billion (Rs 2,72,780 crore), compared to $43.2 billion (Rs 1,98,720 crore) in the corresponding period the previous year. Imports grew 32 per cent to $83.9 billion (Rs 3,85,940 crore) against $63.5 billion (Rs 2,92,100 crore) in the first half of 2005-06.
LAUNCHED: By MTNL, the One India plan that offers STD rates of Re 1 per minute; the rental: Rs 180. The One India tariff will be applicable throughout the day and does away with the system of peak and off-peak charges that is now in vogue. Local calls will also cost less. Local calls to other MTNL phones will cost Re 1 per 180 seconds. But those made to phones of other service providers will continue to cost Re 1 per minute.
REJECTED: By a US court, Ranbaxy's bid to revive the Lipitor case. The Indian pharma giant's attempt to bust Pfizer's monopoly over its cholesterol-lowering pill, Lipitor, has suffered a major setback following a US court's decision not to rehear Ranbaxy's case challenging Pfizer's patent. Lipitor is the world's largest selling drug.

SOLD: By the Aditya Birla Group a 25 per cent stake in Idea Cellular to Providence Equity Partners, ChrysCapital, Citigroup and TA Associates. The deal, which will bring the Aditya Birla Group's holding in Idea down to around 73 per cent from 98.3 per cent, is believed to be worth over $550 million (Rs 2,530 crore).
CLEARED: By the commerce ministry's Board of Approvals 46 more Special Economic Zones. Seventeen of these are IT-related. This takes the number of SEZs approved to 236. Another 169 such SEZs have received in-principle approvals.
---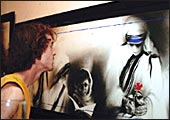 The booming business environment and the increasing influx of expatriates into India is resulting in increased demand for service providers who can help such professionals-and also Indians on transferable jobs-relocate from their home base to new cities. "Companies want one-stop end-to-end relocation solutions-this includes finding the right kind of housing, educational facilities for children, familiarisation with social bodies like clubs and leisure facilities and other orientation programmes," says Rohit Kumar, Managing Director, IKAN Services, which operates in this space. There are about half-a-dozen companies offering such services, like Writers Relocation, Crown Relocations and Global Adjustment.
---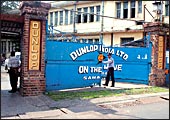 The Pawan Ruia group-owned Dunlop India proposes to roll out tyres from its Sahagunj unit near Kolkata from October 31. "Dunlop still has a strong brand recall. There's a huge demand both in the OE and replacement market (the Indian tyre market is clocking a CAGR of 8 per cent) and we've received enquiries from both the domestic and the export markets," says P.K. Ruia, Chairman of the company.
The Sahagunj plant in West Bengal, which has been shut for eight years, has now been spruced up and refurbished, and will begin operations with 1,200 workers. When it downed shutters, it had 2,700 workers; some of them have died or have gone past the retirement age. Ranjit Guha Neogy, President of the INTUC-affiliated employees union, has no complaints. "We are extremely happy that the plant is reopening after so many years," he says.
Dunlop India now has an entirely new executive team led by Samir K. Paul, former MD of Falcon Tyres. "We hope to touch an output level of 90 tonne/day at each of the two plants (the other plant is in Ambattur in Tamil Nadu) soon, and have set a reasonable turnover target of Rs 350 crore for the current financial year," says Ruia. Dunlop is also eyeing acquisitions in India and abroad.