I am a management graduate from IIM, Calcutta. I received a pre-placement offer from a reputed FMCG company. A few days after I accepted the offer, another company-to which I had applied earlier-approached me with an offer. Since I have an offer in hand, should I negotiate with the second company and see if I can get a better deal?
Salaries at the management trainee level are usually standardised and the remuneration across companies and industries is nearly the same unless, of course, one has prior work experience. In either case, it is not a good idea to bargain for a higher salary as this will send out the wrong message. Chances are that your attempt to get a better package may backfire. The initial stage in one's career is crucial and one needs to concentrate on learning and acquiring skills. Salary is important, but should not be an over-riding criterion. Keep in mind your long-term plans of sector-specific specialisation while considering offers from potential employers.
I am on the faculty of the chemistry department of a deemed university. Although I enjoy interacting with students, my passion and enthusiasm for teaching has diminished over the years. I have applied for a research and development (R&D) post in a reputed Hyderabad-based pharmaceutical company. The compensation package is much better, but having been an academic all my life, I am still a little tentative about joining the private sector. In case I get an offer from the company, should I take a sabbatical and try out the new job before making a final decision?
There is always a feeling of insecurity when one steps out of his or her comfort zone. If don't enjoy teaching anymore, the sooner you move out the better it will be for your career. If you let this opportunity go, chances are that you would find it harder to get what you want in the future. What you should keep in mind, however, is that the corporate world is quite different from academia. You should take that into account while considering the switch. However, if you are keen on a change, you should go for the interview with an open mind. Remember, you have to take some risks to get what you want. Even if you choose to pursue a corporate career, you will still have the opportunity to teach at universities as a visiting lecturer.
I am an IIT-IIM product with a specialisation in finance. While I head the marketing division of a multinational company in Delhi, my wife works in Mumbai as an advertising professional. I wish to relocate to Mumbai and am considering a switch to finance. Does such a change make sense at this stage of my career? I have already received an offer from a financial services firm in Mumbai and have to make up my mind very soon.
Considering current market conditions, the financial services industry is not very hot. But I think it's a risk well worth taking. Just make sure that the company is a reputed and a stable one before you take the final decision. Given your experience in the marketing field, you will always have the option of returning if your new line of work doesn't suit you.

I am a senior manager in the human resource (HR) department of a multinational company. A colleague of mine, who is married, is having an affair with the personal assistant of the head of the department. The problem is that as a good friend of his, I am not only expected to do his part of the work, but also cover up for his absence from the workplace. This is adversely affecting my peace of mind and work.
As a colleague, his personal relationships are of no concern to you, unless they are actually affecting your work. If that is so, you need to have a frank talk with him. If the problem persists, you could take up the matter with the hr head. As a friend, you could advise him on the personal entanglements this affair may land him in. You also need to be absolutely honest with him about your problem. Chances are your friendship may come to an end, but you should be prepared for the consequences. As an hr person, I am sure you know how to handle the situation sensitively and tactfully.
---
Tarun Sheth, a senior consultant at the Mumbai-based recruitment and training consultancy firm Shilputsi, addresses your career concerns every fortnight. Write to Help,Tarun!!! c/o Business Today, F-26, Connaught Place, New Delhi-110001.
---
Baby-Sitting-The Corporate Way
Corporate childcare seems to be finally taking off in India.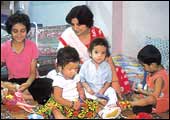 The Xansa creche at Noida: play at work
When software engineer, Bharti Bhardwaj gave birth to a son one-and-a-half years back, she thought it was the end of her career. With no family support to pitch in, there seemed to be no way out. That was before she heard about the company creche at Xansa India. A trained governess, toys, television, and a pantry dedicated to the children, all in the basement of the same block that housed the techies-she could not have asked for more.
Bhardwaj is one of the 20 parents at Xansa India using the company creche. According to Bhardwaj, the creche has been a lifeline for her career. Encouraged by the success of the creche, the software company has opened a similar facility at its Pune office. This is despite the fact that its parent company in UK does not offer such services.
Xansa is not alone. Neilsoft, a Pune-based it and engineering services firm, also has an onsite creche. Says Rajkumari Achtani, Manager (HRD), Neilsoft: ''The creche is an investment that enhances productivity and fetches good returns.''
India Inc. still has a long way to go when it comes to childcare.
Despite a large number of corporations providing creches under The Factories Act, 1948, childcare facilities fall way short of what is needed. Says P. Dwarkanath, Director (HR), GlaxoSmithKline: "Unlike companies abroad, employees in India do not ask for such facilities." Explains Rosita Rabindra, Vice
President (HR), NIIT: "Indians attach a negative connotation to a creche. With working couples still enjoying the advantages of extended families and affordable domestic childcare services, it will take some time before corporate childcare really takes off."
However, a number of companies choose to address the issue differently. While Infosys has a special hr team that has identified creches in residential localities across cities where it has development centres, NIIT provides a creche allowance. ICICI, on the other hand, started a Saturday Kids Club two years ago at its Bandra Kurla office in Mumbai to attend to the children of employees who come to work on Saturdays. Today, the club boasts an average attendance of over 25 children.
Corporates are increasingly waking up to the problems faced by women employees. Kinetic's onsite creche in Pune is expected to be operational in the next three months. Cisco, which is just a year old in India and whose US-based parent boasts of excellent childcare facilities, also has similar plans for its development centre in Bangalore. No child's play, this.
---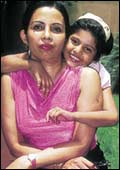 Xansa's Sumita Watsya with her daughter, Smrita: maintaining a sharp focus on her career
The workplace is no longer about just desks and machines, it's also about people and their requirements. India Inc. is becoming increasingly employee-friendly and is moving towards incorporating best employee-related practices. Sumita Watsya, Associate Vice President (Travel), Xansa India, spoke to BT's Bhaswati Chakravorty on how the company creche has helped her to pursue her career goals.
How has the Xansa creche helped you to focus on your career?
I get to meet my daughter just about once during the day, but I know she is being taken care of, despite my absence. The last four years have been the most productive in my career and this is what helps me show complete devotion to my work.
Is it is a distraction to have your child around at the workplace?
At Xansa, there is no restriction on parents meeting their children whenever they want to. However, what matters most to any parent is the fact that the child is safe, and that his or her needs are being taken care of. This helps one to concentrate on work better, and is a contributory factor to enhanced employee productivity.