They're not the mounties and they rarely get their man. Still, the Central Bureau of Investigation's inability to make charges stick against politicos isn't on account of not trying. The real culprit is government interference. Which is why the July 5 judgement by the Delhi High Court convicting former Communication Minister Sukh Ram and former Deputy Director in the Department of Telecommunication, Runu Ghosh to 3 years rigorous imprisonment for causing a loss of Rs 1.68 crore to the national exchequer over the purchase of some equipment by dot is significant. Ram is the founder of Himachal Vikas Congress, a party that supports the ruling National Democratic Alliance.
The amount involved may seem piffling, especially when compared to the Rs 3.66 crore in hard cash that the CBI unearthed in a 1996 raid on Sukh Ram's house-the Delhi High Court is currently hearing a case related to it-or to the Rs 100-crore telecom scam that rocked India in the mid-1990s, but, just this once, the bureau has scored a conviction against a politico with ruling-party connections.
If the celebrations have been muted at its offices in Block 4 of the Central Government Complex in New Delhi, it's probably because the CBI realises that the Ram-Ghosh conviction is an anomaly that isn't likely to be repeated. The memory of the put down it received from the Supreme Court in the Jain hawala case is still fresh in the bureau's mind.
For those who came in late, the CBI had filed charge-sheets against 30 of the country's top politicians alleging that they had been paid off by S.K. Jain, a man involved in a Rs 65-crore forex scam. In December 1997, the Supreme Court quashed the chargesheet, saying Jain's diaries-in which he'd noted down the payments made to politicos in rudimentary code-couldn't be construed as ''books of account within the meaning of Section 34 of the Evidence Act''.
And history does suggest that political offenders often manage a reprieve. An additional sessions court convicted former Prime Minister P.V. Narasimha Rao on charges that he'd bribed some members of the Jharkhand Mukti Morcha in an effort to buy their support for the Congress-led government in 1993, only to see the Supreme Court acquit him three years later.
The bureau doesn't make it any easier for itself. Often enough, admits N.K. Singh, a former joint director of the CBI, shoddy investigation and the improper filing of charges weakens its case. And when it does get everything right, the government could play deus ex machina. Singh, for instance, was abruptly transferred when he had almost completed investigations into an effort to discredit former Prime Minister V.P. Singh by creating a fictitious bank account in tax haven St. Kitts in his son's name.
Thus, no one expects too much from CBI's portfolio of live cases, which includes the Rs 950-crore Bihar fodder scam, a Rs 50-lakh disproportionate income case against former Bihar Chief Minister Laloo Prasad Yadav and his wife, current Chief Minister Rabri Devi, and the other Sukh Ram case-unless, of course, the events of July 5 mark not an aberration, but the beginning of a trend.
---
TWO TS
Winners, Both
Tiger Woods and Sachin Tendulkar don't just stride their respective games like a Colossus; they do the earnings table as well. But Woods has the edge.
Sachin Ramesh Tendulkar
BORN: April 24, 1973
DEBUT: 1989
RECORD: Tests: 96 matches; 8,004 runs with 29 centuries at an average of 57.58. ODIs: 11,455 runs with 33 centuries at an average of 44.3
BRANDS ENDORSED: Pepsi, Visa, Fiat, Britannia, MRF, Adidas, Boost, TVS Victor, and Sahara. Recently signed a deal with ESPN Star and will also be hosting a TV show.
ENDORSEMENT EARNINGS (ESTIMATED): Rs 20 crore/year
CAREER HIGHLIGHTS: Equalled Sir Don Bradman's record of 29 test centuries and has a staggering 33 centuries to his name in one-dayers. But his two shots at captaincy in 1997 and 1999 have been unmitigated failures and he has expressed his disinclination to lead the side at any time in future. Signed a Rs 100-crore, five-year deal with the late Mark Mascharenas' WorldTel.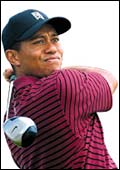 Eldrick 'Tiger' Woods
BORN: December 30, 1975
TURNED PRO: 1996
PGA TOURNAMENTS WON: 32
PGA RANKING: 1
BRANDS ENDORSED: Nike, Buick, Rolex, Asahi Beverages, EA Sports, American Express, Golf Digest, Warner Books, CBS Sportsline, Wheaties, Upper Deck, TLC Laser Eye Centres
OVERALL CAREER EARNINGS: $29 million (Rs 142 crore)
ENDORSEMENT EARNINGS (ESTIMATED): $54 million/year (Rs 259.2 crore)
CAREER HIGHLIGHTS: Won three championships (US Open, British Open, and PGA Championship) in 2000, making it a grand slam at 24. Won the Augusta Masters in 2002, and earned his third Green Jacket. Signed a landmark five-year $100-million deal with Nike.
---
SHUFFLE
What Jaswant Can That Yashwant Couldn't
If Jaswant Singh ends up being a better finance minister than his predecessor he may have providence more than anything else to thank for it.


Jaswant Singh and Yashwant Sinha (R): Singh's proximity to the Prime Minister could help him swing things that Sinha couldn't
If India Inc. wasn't exactly transported with joy when Prime Minister Atal Behari Vajpayee assigned the finance portfolio to Jaswant Singh in the latest reshuffle of his cabinet, blame it on the latter's two most significant actions during his 13-day stint as fm in 1996: he agreed to provide a counter-guarantee to Dabhol Power Company and launched an investigation against Reliance. Corporate India's fears of the return of raid-Raj increased when the government used the reshuffle to realign the Department of Company Affairs (DCA) to the Finance Ministry (it previously came under the purview of the Law Ministry).
Yet, Singh may be just what the GP ordered for the economy. And he can't do the BJP's chances in the October 2004 general elections any harm. Not when his predecessor Yashwant Sinha is seen as the villain of the piece by the middle class, the BJP's traditional electoral base.
Singh if off to a start: apart from initiating an investigation into Xerox Modicorp (see Xerox Modicorp's X-Factor in this issue) and calling for the DPC files, he has, more than once, articulated his brief-food for the poor and money for the housewife's purse. Bravo.
Shashanka Bhide, the Chief Economist at the National Council of Applied Economic Research (NCAER) believes there is one more thing going for Singh-''the backing of the Prime Minister''.
China Story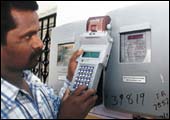 The latest chapter of the C-story concerns Chinese power meters that are suddenly the rage among most state electricity boards in India. They're cheap (by at least 15 per cent), tamper proof, and come with a 10-year guarantee. Will that improve the state of SEB-finances, we wonder?
-Moinak Mitra
Providence is on his side too. The domestic and global economies are showing signs of recovery, and the road-map for second generation reforms has already been scripted by the previous occupant of the Finance Minister's office at North Block. ''(Given) low inflation, there is some room for the new fm to play around,'' says D.K. Srivastava, a professor at the National Institute of Public Finance and Policy. Srivastava's reference is to the Keynesian approach of increasing government spending in an effort to prime the pump some.
Doing that would see a spurt in inflation, but with that statistic hovering around an anaemic 2.11 per cent, no one is really going to object if it goes up a bit. The fiscal situation may prevent Singh from taking that route but he has already hinted at the nature of his first efforts to improve consumer confidence-some tax relief targeting the middle class.
And maybe (just maybe) in an effort to indicate that his brand of financial management will be different, Singh has put a new team in place at North Block. Former Revenue Secretary S. Narayan has been made Finance Secretary and Secretary of the Department of Economic Affairs; Ajay Vikram Singh, Special Secretary in the Defence Ministry has been brought in as Revenue Secretary, and Secretary, Department of Personnel and Training D.C. Gupta has been appointed Secretary, Financial Sector (he'll oversee the banking and insurance sectors). What is that they say about a new broom?