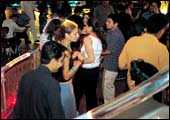 A rashof hip pubs have flung open their doors over the last year. So does Delhi rock? Well, it's trying.
House music thunders out of the heavy wooden door whenever it opens. Now and then girls in skimpy tops and lots of make-up emerge for a breath of fresh air, energising the ranks of buff, often leery, single men trying to get in. As long as it's up to the 118-kg bouncer at the door, they won't.
Bangalore? Mumbai? Actually, this is Delhi, where evening fun was once limited to running red lights and eating roadside "bun-omlets". The hard-living exec really had no place to party, unless your definition of unwinding was nursing a contemplative drink in a deserted five-star bar. On any night-weekends are of course peak hour-these days, Delhi is buzzzzzzing. And so we espy No Escape-a sparsely decorated pub born five months ago, with great music and bean bags, 3,000 sq ft across two floors-with 400 people inside and 250 outside, thronging the parking lot in Connaught Place, hoping for a chance to get in.
It's been an epochal year of sorts so far: call it the year Delhi learned to party. Ludicrous excise laws prohibiting bars from displaying booze or building bar stools are out. A swelling tide of professionals is pressuring Delhi's puritarian mindset. Pubs are now opening at the rate of two every month.
"It was bound to happen," laughs Sunny Sarid, 38, celebrity DJ and now owner, Café Sound of Music, the most lively place in Gurgaon since December. "There has been a phenomenal growth in the number of people that want to go out." For a long time, the only option for party-goers were bars at the five-star hotels like Djinns, Float or 1911. This isn't cheap. Not that the pubs are. The average spend at Delhi's new pubs is around Rs 1,000 per couple, so according to Sarid, there are many who now go about two or three times a week.
HOT AND HIP. OR NOT?
A guide to Delhi's new watering holes
Café Sound Of Music, Gurgaon
AVG SPEND: Rs700-1,000/couple
CUISINE: Lebanese, Continental, Indian, Italian
VERDICT: You can eat, drink or dance the night away. Guaranteed: A good night out.
Buzz, Saket
AVG SPEND: Rs 700/couple
CUISINE: Chinese, Thai, Continental and Indian
VERDICT: A classy place, the definitive pub even. Also boasts the only female DJ in town.
Bacchus, Vasant Vihar
AVG SPEND: Rs 1,000-1,200/couple
CUISINE: Limited global cuisine, including sizzlers
VERDICT: If you're a local, go. The music is good, and it's quite cosy.
Pluto's, Vasant Kunj
AVG SPEND: Rs 650/couple
CUISINE: Mexican, Continental, Italian, Indian BBQ
VERDICT: Good for dancing, but a few too many teeny-boppers
Fox, Gurgaon
AVG SPEND: Rs 700-1,000/couple
CUISINE: Indian, Chinese, Continental and a hint of Lebanese and Thai
VERDICT: Great décor but average food. The band is way too loud.
RPM (revolutions per minute), Chanakyapuri
AVG SPEND: Rs 1,200-1,400/couple
CUISINE: Continental and Indian
VERDICT: Niche crowd of diplomats and bureaucrats. Good if you like hip hop.
Delhi's Devils, South Extension Part II
AVG SPEND: Rs 1,000-1,200/couple
CUISINE: Mixed
VERDICT: It's hip. It's happening. There is something for everyone: great variety in music.
No Escape, Connaught Place
AVG SPEND: Rs 700/couple
CUISINE: Continental, Italian, a hint of Chinese/Indonesian, Thai and Indian
VERDICT: A very stylishly casual hang-out. It's great for house/trance lovers really.
The Final Countdown, Saket
AVG SPEND: Rs 500/couple
CUISINE: Mexican, Italian, Chinese, Continental and Thai.
VERDICT: Almost brand new. Decor is okay but hmmmm. Let's give it some time.
Suede, Bar & Grill, Saket
AVG SPEND: Rs 1,000-1,200
CUISINE: Continental
VERDICT: The epitome of lounge music and atmosphere, combined with a mature crowd: Perfect for execs.
With so many new options (See Hot and Hip. Or Not?) available, there's suddenly a wide choice-and you could go the whole evening without a bhangra. "I enjoy going out to meet friends, hang out with them," confesses a shy Riju Jhunjhunwala, 23, Director, LNJ Bhilwara Group. Edgar Noordanus, 31 (and he's Scandinavian), manager and bartender at Delhi's Devils-open only three months-proudly displays his 7,000 sq ft space. "Finally, tourists have a place to go!" he exclaims with a flick of his ponytail.
But Mumbai loyalists abound, many pointing to the 11 p.m. deadline for alcohol. "Delhi is dead," sniffs Ankur Bhatia, 29, CEO, Amadeus, a company that provides travel software. "There is nowhere I can go after dinner, like in Mumbai or Bangalore." Delhi must also contend with a slightly violent culture. At Pluto's-a haven for underage drinkers nestled in a semi-urban strip of what was once shrub forest-passing through a metal detector is de rigeur. The 'Firearms Not Allowed' sign is of course unique to Delhi.
"Pubs are never safe, especially for women," says Amrit Kiran Singh, 43, Vice President & Area Director, South Asia, Brown Forman Spirits, "But," he muses, "Delhi seems to be growing up." The new pubs are certainly serious about controlling the profile of people that enter. Frisking-the men of course-is the norm, but screening clientele is tough. "Everyone in Delhi suffers from a very strong 'I know so-and-so', and 'I am so-and-so' syndrome," says Noordanus with resignation. Secondly, only couples are allowed. "Stags usually make the couples uncomfortable," explains Shekhar Bhatia, 39, businessman and owner, Bacchus, (Vasant Vihar), a two-month-old addition to the party circuit. "We only let them in if they are regulars or if we feel they are fit to be." Even here, there's change. At the Final Countdown (Saket)-designed on a heaven-and-hell concept- owner Akhil, 21, says he doesn't mind stags: "There has to be someplace where they can go!"
But Delhi clearly isn't there yet. Many want to be seen as trendy, want to be seen with the right people-but not with others-and in the right places. "We make this place," declares svelte Shefali Aswani, 31, partner, Privasia Trading. Delhiites don't just go out for the hell of it. They are averse to being photographed, being identified by certain people who may know other people. For many, going out is still a furtive affair, akin to sin sometimes. That could be why the devil motif seems to be so popular: skeletons, creepy crawlies, red walls, spiders. There's still the hint of the illicit in partying hard.
So what does Delhi drink? "Though cocktails are becoming more popular, Beer and Smirnoff (for its low fat content) are easily the winners," enthuses a hearty Dhiraj Arora, 28, owner, No Escape, who also runs his family business of trading packaging material. "Ideally I start with a drink at Buzz then head off to Pluto's or Sound of Music," says Ashish Sharma, 27, Area Sales Manager, Star TV, who goes out at least twice a week if not more.
And the music: lounge music is in. DJs start with it, then take it to either house and trance (Pluto's, No Escape) or like Devils' celebrity DJ JC, 34, play, "an even mix of 80s, commercial pop/hip hop, house and trance and perhaps a couple of popular Hindi numbers if requested."
The DJ at Sound of Music spins out his tracks from a set located in a piano. Volumes go up after 10 pm, and since that's the time when Delhi begins its evening, forget about that quiet drink.
Noisy, rough, pretentious-Delhi is all these, but at least it's finally alive and kicking, they say. "It's getting there," grins Gaurav Kaul, 24, Manager, HDFC Standard Life. Party animal Kaul moved to Delhi from Mumbai last year and is pleasantly surprised at the changes he sees. Will Delhi actually "get there"? Check in: same page, next year.
TREADMILL

Talking Bull
Back in the early seventies, the one must-have gadget in any self-respecting male teenager's room used to be the Bullworker. Are you old enough to remember the Bullworker? Or did the neighbourhood gym come up by the time your first miserable round of acne did? For those of us who remember the Bullworker-it was always bought by mail order-it used to have this near-mythical property of being able to transform you from a 40-kg weakling to a beefy giant. To be sure, its application of a combination of isometric and isotonic principles did help build muscles. In simple terms, exercising on the Bullworker made muscles work against each other, creating resistance and strengthening them. Its fabled inventor, Gert F. Kobel claimed to have studied the workings of human muscles for over 10 years before producing a prototype from which the Bullworker was derived.
The only problem with the Bullworker was that it could make you look very beefy. No problems with that. Those were the days of the beefcake look-bulging pecs, hefty delts and huge biceps. The lean muscled look wasn't popular then and it was size that really mattered. No one wasted time doing cardio-vascular exercises-the only place you'd risk encountering the treadmill was perhaps in the biology lab where the poor rats would be running on them. A Bullworker was convenient too, it was portable and less cumbersome than, say, having an assortment of barbells and other weights at home. But exercising on the Bullworker had its problems. Like a friend who built huge biceps and very little else. Also, since most of the exercises on a Bullworker are done sitting down or kneeling, your lower body tended to get neglected-another aspect that didn't seem to matter in the seventies!
Sometime in the 1980s, the Bullworker lost popularity. And then came the gyms and a focus on fitness rather than on building muscles. By the time the nineties rolled in, the Bullworker was almost extinct. So I was surprised to learn that it is making a comeback. Its X5 model retails at around $100 on its website and comes in a sleeker design. I'm wondering... if you follow a regime of cardio-vascular exercises and add a bit of Bullworker workouts, could it be a good exercise combo? Perhaps I'm just trying to find an excuse to buy one just like the Zippo lighter I have or the Remington mechanical typewriter I picked up last summer... just for old times sake.