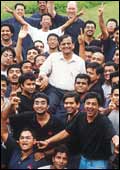 Interim director Prakash Apte, centre, with his students on the IIMB campus
"Aiming low," declares Rammohan Rao, leaning back on a sofa at his home in Bangalore's Fraser town, "is a crime." It's a borrowed phrase, but just the same it aptly describes what Rao has tried to do over the last five years as the director of IIM Bangalore (he stepped down in past May after a three-month extension, and Professor of Economics Prakash Apte is holding the fort). And that is to set one stretch target after another, in his bid to transform a b-school originally mandated to churn out managers for state-owned enterprises into India's top-most institution for managerial talent.
The first part of Rao's turnaround effort (See Business Today November 21, 2000) saw the school put its house in order. Its professors doubled up as managers and launched a number of management initiatives-right from benchmarking to scenario planning to business process re-engineering. The result: recruiters, who for long had perceived the school as an also ran compared to its rival in Ahmedabad, accorded it a new respect. For the first time this year, IIMB's graduating batch snagged a higher average (rupee) salary than its peer in IIMA (the latter, however, received a far higher average dollar salary).
More importantly, some recruiters are actually beginning to see IIMB's apparent lack of 'specialisation' as a virtue. For example, IIMA is perceived to churn out better marketers and general managers and IIMC, in systems and quantitative techniques. Says Guhesh Ramanathan, an alumnus of IIMB and CEO of PortablesRus.com, an e-services company for mobile computing users: "Although some would identify IIMB with finance and economics, the fact remains that it has plus points in all the areas."
Now, Rao-he has just one year left at IIMB-is raising the bar even higher. In another five years, and latest by the end of the decade, he wants IIMB to establish itself as the pre-eminent management institution in the whole of Asia Pacific. And by 2020, be counted among the world's top 10 or, at least, 20. Says Rao, a recipient of the prestigious D Ray Fulkerson Prize for mathematics: "Just like Indian industry, Indian institutions have been inward looking. But it's obvious that we will start facing competition from foreign universities in the near future."
IIMB'S GLOBAL INITIATIVES
International Business in Practice: An elective course, it requires students to spend about two weeks on a project hosted by a company in Asia.
Centre for Practising Management: To be launched in 2003, the Centre will collaborate with global universities and offer an Executive MBA programme.
Tie-ups with 23 business schools world wide allows IIMB students to spend a term at any of these schools.
Culture Transfer: The ongoing arrangement with St. Gallen, Switzerland, is to be extended to several other B-schools in Asia.
The faculty is focusing on collaborative research with foreign B-schools, with the aim of building greater credibility in Asia Pacific.
Goal: In another five years or so, IIMB wants to establish itself one of the top-most management institutions in Asia Pacific.
Bangalore To Bangkok
Some of the reasons why IIMB has sharpened its edge over the years, are rather apparent. First and foremost is its location itself. With Bangalore becoming a hub for new economy companies, IIMB has been able to get the best of visiting faculty from the industry and also some big-time recruiters. Second is the fact that the school-unlike IIMA, which, its critics say, has been resting on its oars-has been pushing itself to reach the top slot. It has been trying out new things with its curriculum and teaching methodology-or pedagogy, as the school calls it. Says Lokendra Tomar, an IIML alumnus and founder of coolavenue.com, which partners with BT for survey of placements at top b-schools: "IIMB students give you a feeling of wanting to go out and prove themselves." Not surprising then that one of the recent classes on ethics did not feature a lecture at all. Instead, the students were shown The Insider, a movie starring Al Pacino and Russell Crowe that portrays the real life story of a cigarette company Vice President who blows the whistle on his firm's nefarious practices.
The growing recognition has encouraged IIMB-which now boasts of a biometric-based attendance register for its faculty-to test its brand appeal internationally. For the last three years, it has been going on roadshows to countries like Singapore, Hong Kong, and Bangkok to woo foreign students. Last year, the school focused on Bangkok and Singapore, made seven offers, but only three students (all of Indian origin) joined. Says Geetika Kapoor, one of them: "I could have studied at any other foreign university, but I know that IIMs, particularly IIMB, is as good as any of them. Adds Kristjan Kull, an exchange student from the Helsinki School of Economics, who had the option of going to IIMA: "I chose IIMB because of the reviews I had read, and especially because of its faculty strength in finance and economics."
BEYOND BUSINESS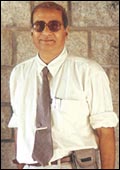 Prof. Chiranjib Sen
Chairperson, Centre for Public Policy

In 1997, when IIM-B drew up its vision statement, it said "excellence through partnership". Since then school has partnered with both industry and business schools abroad. The one with the local software industry led to the setting up of a part-time course in software enterprise management, the only of its kind in the IIM network. A more recent partnership with the Department of Personnel and Training and UNDP has led to the setting up of a Centre for Public Policy. The full-time, 11-month programme is aimed at mid-career civil servants. Says Prof. Chiranjib Sen, Chairperson of the Centre: "The idea is to allow the government to be much more responsible, flexible, and innovative in its policy approach." When BT visited the Centre, the first batch, comprising 28 mid-career bureaucrats, was already undergoing training. Sen says that eventually, the school would like to get into an MDP mode (read: executive education), with short and long-term courses.
It's unlikely that the number of foreign students-either at IIMB or any other IIM-will ever be significant. For one, their MBA programmes are quant heavy and emphasise too much on theoretical learning. Most international students, in contrast, look for a broader exposure to management. As a concession, IIMB already allows foreign students to take the Graduate Management Admission Test (GMAT) instead of the common admission test (cat). While that may help entry, it doesn't in any way prepare them for the academic rigour. Besides, as Abhoy Ojha, Associate Professor and in charge of the admissions committee points out, "just to get international students, we can't compromise on admission quality."
The need for school's globalisation, as IIMB calls it, is not in question though. Over the last two years, the school-it will soon roll out an ERP system to, among others, speed up turnaround time to queries-has been looking for ways increase the international exposure of its students. In 2001, it introduced an elective course called international business in practice (IBP) that offers a mix of classroom and field study. Each student is expected to spend two weeks in an Asian country, and work on a project hosted by an international company. Last year, 40 students and four professors participated in the IBP, working on projects at companies such as Digital Equipment (Singapore), Thai Board of Trade, and Ranbaxy (Thailand). By 2003, the school hopes to ramp up the numbers to 80 and eight, respectively. Says Benoy Ravindran, a mechanical engineer from IIT Kharagpur, who is doing a PGDM in finance at IIMB: "As the economy opens up even more, exposure to international markets will be an added advantage."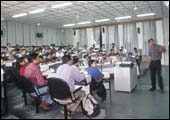 This is where some of India's best managers are made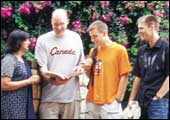 Prof. Rajluxmi Murthy with exchange students from overseas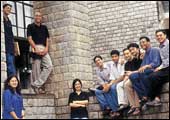 This lucky bunch will work on projects in some Asian countries
Another area where IIMB is putting a lot of emphasis is cultural transfer. Last year, 20 students partook in the Asian Culture Transfer hosted by the University of St. Gallen, Switzerland. This kind of partnership is to be extended to others business schools in Asia. Says Rajluxmi Murthy, Assistant Professor of Quantitative Methods and Information Systems, and head of the exchange programme: "We are hoping that such initiatives will help our students get a first-hand experience of globalisation, and sensitise them to some culture-specific management issues."
Rao and Apte (when BT went to press, a government appointed committee had shortlisted candidates for the post, and Apte was one of them) realise that taking IIMB global would involve much more than student exchange and overseas projects. The school's edge will necessarily be cut by its faculty.
Research, consultancy, and writing of papers for leading management journals are being pushed with renewed vigour. For example, IIMB already collaborates with the Oslo University, and similar arrangements are to be worked out with some institutions in Singapore. Says Rao: "Asia Pacific is a fairly competitive region, and we have to publish in international journals to establish ourselves firmly it."
For almost seven years now, IIMB has been offering-along with the University of Lancaster, McGill, insead, and a consortium of Japanese universities-an International Masters Program in Practising Management (IMPM). The idea now is to turn that into a Centre for Practising Management and offer post MBA programmes, or executive MBAs. The details are still being worked out, but the school wants to kick-off the programme by next year. Points out J. Ramachandran, BOC Professor of Business Policy at IIMB: "Over the past few years there has been a much more active engagement of our customers and partners. Our offerings are structured according to our customers' needs."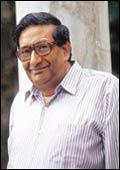 DR RAMMOHAN RAO
"We want to be one of the best B-school in Asia."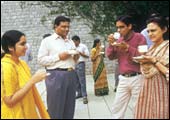 Mid-career civil servants studying at the Centre for Public Policy, enjoy a tea break on the campus
That, in fact, is happening with the school's staple too: the post graduate programme (read: MBA). Two years ago, as part of its benchmarking exercise, the school made some changes in its curriculum. The number of courses was slashed from 24 to 18, and credits in the first year lowered from 56 to 48, and in year two to 45 from 49. Explains Janat Shah, Professor of Production and Operations Management, and part of the team that did the benchmarking: "Under the old curriculum, the emphasis seemed more on evaluation than learning. Ever since we made the changes, there's been an increase in the extra-curricular activities of our students."
To factor in the slump in tech and finance-and the general uncertainty in industry-the school has introduced orientation and reorientation sessions. The former is held at the beginning of the first year, and the latter at the beginning of the second year.
The idea is to review performance in the first year and assess the student's aptitude. Based on that, the students are advised on a course of action. A Bangalore-based company Eduquity helps the students carry out the self-assessment.
Ranjan Acharya, Corporate VP (HRD), Wipro, who has been watching the changes at IIMB closely, says that all the IIMs are good, "but what sets apart IIMB is the strength of its faculty and students, especially in the area of strategy." Just like a corporation, though, a B-school's future is shaped by the man in charge. The Ministry of Human Resources has taken it upon itself to appoint the directors at the IIMs, predictably raising their hackles. As long as the appointees turn out to be talented academics, there shouldn't be any issue. If political considerations outweigh merit, then the global rise of schools like IIMB and IIMA may well be reversed.