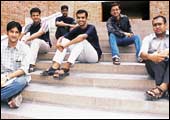 Some second-year students strike a pose on the famous Harvard steps
It was a trial by fire for a school that traditionally had the privilege of deciding who would recruit from its hallowed halls. First, the economic slowdown in the US, aggravated by the 9-11 attacks on the World Trade Centre, made sure that there were fewer big-ticket Wall Street and consulting firms queuing up at its Vastrapur campus. Then, just as the school was gearing up to place its Class of 2002, Godhra happened. Placements had to be rescheduled twice. Numbers tell the story thereon: just 36 students in a batch of 161 got overseas offers with dollar salaries; the rest had to settle for Indian companies. In percentage terms, that's a drop of 31 per cent. Also uncharacteristically, IIMA's average Indian salary was lower than those of IIMB, IIMC, Faculty of Management Studies, Delhi, and even XLRI.
Still, it's a testimony to IIMA's enduring reputation that some of the best names in industry braved riots and their own business constraints to come and pick students from India's pre-eminent B-school. Lehman Brothers alone, for instance, snapped up 12 graduates. No wonder, Jagdeep Chhokar, Dean and Director in charge of IIMA, insists that his school continues to be among the finest globally. "The marginal reduction in the number of investment banks and consulting firms coming to our campus or making foreign offers was not out of proportion to the reduction witnessed by global B-schools," he points out.
IIMA has traditionally been pitched as a school for strong general management. The premise being that the need is not so much for marketing or finance specialists as somebody who understands an organisation in its totality and is able to improve the quality of decision-making. Says G. Raghuram, Chairperson, PGP: "A global recession does affect the number of companies offering dollar-denominated salaries, but none of us feels the need for any change in the basic parameters of the programme."
IIMA: SOME KEY NUMBERS

Total Students

161

Average Indian Salary

Rs 5.88 lakh

Highest Indian Salary

Rs 13.5 lakh

Average Dollar Salary

$76,421

Highest Dollar Salary

$155,000

Offers per Student

1.24

Overseas Offers

36
That does not mean IIMA isn't tweaking its courses to better meet the changing business environment. For instance, in the second year of the programme, most of the courses are electives. Students can choose between a concentration package and an across-area package. The number of elective courses on offer has gone up to 50, with nearly 20 additions in the last five years, and the school is still adding. Says V.K.S Nair, Post Graduate Programme Officer: "This year, based on student suggestions and the changing business environment, we are considering offering elective courses in retail marketing, business-to-business management, services marketing and high-performance leadership under resilience in the September term.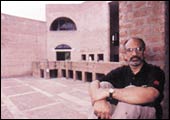 CHAIRPERSON OF PGP:
"Our programme is fundamentally strong"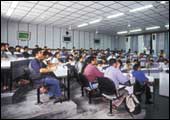 Quiet, please, class is progress
The Student Factor
Last fortnight, when BT caught up with the two-weeks-old batch taking a tea break at the Louis Kahn Plaza, it was clear that it still considered an MBA from IIMA as the ultimate in B-school education-recession or no recession. While the broad mix of the students joining IIMA remains the same-most of them are engineers, followed by graduates in commerce, arts and science-this year there are a wee bit more it engineers. Says Girija Sharan, admissions in charge and professor at the Centre for Management in Agriculture: "If they had the same sense of security and growth as what prevailed a year or two ago, they may have postponed studying further."
Not just engineers, but doctors, chartered accountants, and students of economics, all make up the new batch. Students with background in medicine could be the vanguard of a new trend: health care consultancies, or managed healthcare. Shrikant Rajgopal, a doctor and student, explains what brought him to IIMA: "A management degree will make it possible for me to closely study how an organisation can be managed in its entirety, and that includes finance, operations and HRD."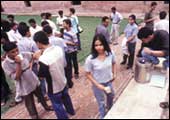 Ah, finally, a much-needed tea break at the Louis Kahn Plaza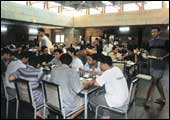 After food for thought, some real food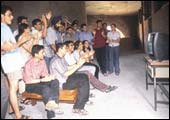 Watching India battle the English cricket team at Lord's
In some ways, the future of IIMA has never looked brighter. The number of applications received is going up each year. Of the 190 offers made in the current academic year, 169 students are already in. Says Sharan: "There was not much of a difference between acceptance ratio this year and in earlier years." Only four candidates did not take the offers and joined other IIMs citing reasons of frequent disturbances in Ahmedabad. But to make up, IIMA also boasts of a student who passed up on an offer from the Richard Ivey School of Business, University of Western Ontario.
Not just that, the "twos" (read: Class of 2003) who were doing summer internship in India and abroad took effort in contacting students who had been made offers and fielding queries from parents and students-taking pains to explain that life on the campus had not been affected by the Ahmedabad riots. Apart from one-on-ones, there were get-togethers held in various cities.
Given the mixed bag that this year's batch is, the placement cell is already at work. It's going to be tough work this year too, and that's not just because of the continuing slowdown. Some of the "ones" (read: class of 2004) are actually looking for niche jobs like those in UN organisations, healthcare and even construction consultancy. Says Rajkumar Subramanian, student co-ordinator and a second-year student: "For the summer internships, we have shortlisted some newer companies, since we expect the regulars to cut down on their intake."
Of course, if the global economy revives-there are some indications-IIMA will be on the roll. Once again. As usual.