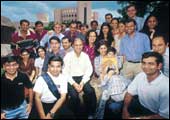 One Big Happy Family: ISB's new dean, Vijay Mahajan, centre, with the new batch at the "Rock" on the Hyderabad campus
Raphael Laurens Hegeler first learnt of the Indian School of Business in a French magazine. Although the 29-year-old market development manager at Intel's Munich office already had a degree in international business, ISB's one-year MBA programme seemed just the kind of experience he was looking for to switch to Intel's venture capital arm. When Hegeler, who went to school both in Germany and France, put forth the idea to his employer, it was excited enough to write out a cheque for his tuition fee.
Not surprising. The one-year-old school has just the right kind of credentials to lure students like Hegeler. Right from the 250-acre campus to its faculty, ISB has the word global written into its DNA. Conceived by consulting numero uno, McKinsey and Co., the school is affiliated to the Kellogg School of Management, the Wharton School, and the London Business School. Its governing board boasts of corporate big-wigs, including Bernard Arnault of LVMH, Keki Dadiseth of Unilever, Rajat Gupta of McKinsey, Bon-Moo Koo of LG, Rahul Bajaj of Bajaj Auto, Ramesh Wadhwani of i2 Technologies, and N. R. Narayana Murthy of Infosys, among others.
Its one-year MBA programme-designed to reflect the international trend-is taught by a star-studded visiting faculty, including Bala Balachandran of Kellogg, Sumantra Ghoshal of London Business School, Jagmohan Raju of Wharton, and Rajiv Banker of University of Texas (Dallas). Even the campus is designed by international architectural firm, Portman & Associates, which made sure that the modern structure embraces elements of traditional Indian architecture. For example, many of the buildings have been lifted off the ground to enhance airflow, and incorporate water bodies in the design for natural cooling as an answer to Hyderabad's dry weather.
These, then, are some of the reasons why despite launching its first batch of graduates in 2001-arguably the worst year for B-schools globally-ISB managed to attract top-notch recruiters such as Lehman Brothers, Novartis, Unilever, GE, Goldman Sachs, McKinsey, DaimlerChrysler, and Deutsche Bank. Until about the first week of July this year (the school follows a rolling placement model), about 70 companies had visited the campus for recruitment, making 193 offers in all. Of these, 27 were for overseas positions, and the remaining were local.
IT TAKES ALL SORTS...


This 29-year-old marketing executive from Intel, Germany, is looking for a future in the chip-maker's venture capital arm.


A doctor from Christian Medical College, Vellore, Prasad expects ISB to help marry her knowledge of medicine with management.
The average overseas salary works out to $82,000 and the average rupee salary, Rs 8.4 lakh. Impressively enough, 159 of the offers made on campus were for higher-than-entry-level positions. The highest Indian salary offered was Rs 28 lakh and the highest overseas, £140,000. While, most of the batch has been placed, about 10 students have not received any offer-an issue the school is grappling with. Says Vijay Mahajan, ISB's dean of 20 days, who has come on lien from the University of Texas at Austin: "We have no control over the economy, yet in a sluggish market the school did very well."
Still, Mahajan has his work cut out. With ISB's processes in place, his focus is now on building the faculty and raising funds. For starters, he has recast the seven to eight-member international recruiting committee to include those well connected with the academic community. Parallely, he has re-energised the process to undertake a global search best-fit faculty. "I have also sent out e-mails to all the deans of the major schools that have phd programmes," he says, as if to emphasise the urgency and the top attention being given to this issue.
Similarly, Mahajan has begun making presentations to "high-power people" to get endowments-ISB's primary source of capital. It had set out to raise about $100 million by 2007, but so far it has managed just half of it. No doubt, the result of tech meltdown and the global slump. But money is required to roll out ISB's centres of excellence in five areas: entrepreneurial development, strategic management, finance, technology and leadership and change management. "We want to be research-oriented and produce thought leaders in these areas with a global orientation," says Mahajan.
ISB already has a centre for entrepreneurial development, named after its benefactor Romesh Wadhwani, Vice Chairman, i2 Technologies. Launched in December last year, it is founded, led, and managed by entrepreneurs and academics, and aims to create entrepreneurs from among the student community. The research focus is to develop quality entrepreneurship, particularly in developing countries.
The school will need to generate its own funds for another reason: it has built a capacity three times its current operations. While its long-term needs are taken care of by the commitments made by institutions and corporates, it is currently trying to best manage its cash flows. ISB wouldn't reveal its cash burn rate, but says that it is "pretty manageable".
To that end, cash management is done in a typical enterprise fashion, with budgets and a CFO. For sometime now, ISB has being toying with the idea of looking at "innovative ways" to generate funds, including bonds. It could also consider raising funds through endowments or donations for setting up a chair (this way the expenses of the professor can also be met).
One visible shift in the composition of ISB's second batch is the increased share of those from information technology and telecom, and the drop in the number of executives with a manufacturing background.
STAR CAST


ISB's visiting faculty list sports some big names
KELLOGG SCHOOL OF MANAGEMENT
Balachandran is the J L Kellogg Distinguished Professor of Accounting Information & Management and teaches cost management at ISB.

LONDON BUSINESS SCHOOL
Ghoshal, Professor of Strategic and International Management at London Business School, was part of the core team that founded ISB, and gave it a hi-profile.

WHARTON SCHOOL
A Visiting Professor for Marketing Decision Making at Wharton, Raju is considered an expert in the areas of pricing and retailing.

WHARTON SCHOOL
Currently the Vice Dean and Director of the Wharton Graduate Division, Allen is a Visiting Professor for Microeconomics.
For instance, more than a quarter of ISB's maiden batch had experience in manufacturing, but that percentage has dropped to six in the case of the current batch. In contrast, the share of it and telecom has gone up from 18 per cent last year to 39 per cent. Mahajan's explanation: there's relatively less retrenchment in manufacturing industries, whereas tech executives are using layoffs as an opportunity to upgrade their skills in a bad year.
Happily for ISB, though, it has more takers this year. The number of students has increased to 168 from 128 last year. And like last year, the current batch has a diverse background. There are two doctors, as against one last year (who has now joined Dr Reddy's Laboratories). One of them is Deepti Prasad. Says the 31 year old, who is passionate about working on social issues and is involved with the aids Forum in Karnataka: "I see a knowledge gap between my awareness about the medical healthcare on one end and the social issues on the other." After ISB, Prasad hopes to work for some un organisations or may be on individual projects or even join a company that is socially responsible.
If Prasad is hoping the ISB will help her better manage social issue projects, her batchmate Reshma Krishnan, the 23-year-old BA in international management from Oxford-Brookes University B-school, feels the ISB experience will help her bridge the knowledge gap in finance. Says she: "We have some excellent professors in this field like Bala V. Balachandran."
Krishnan, whose father is a merchant navy officer and mother, an entrepreneur from Coimbatore, is hoping for an overseas job, but would also be comfortable in India. "With family members spread between Europe and India, any option would suit," she says.
Placement, says Mahajan, is just one of the channels to find employment. "We will encourage our students to aggressively network with alumni and other industry people and keep themselves attuned to global trends. While Mahajan spends time between India and Texas, and travels extensively over the next few months for fund-raising, faculty-building and recruitment, the ISB will have a question to answer on the permanency at the top, quite like what Ravi Mathai gave to the Indian Institute of Management Ahmedabad, and N.S. Ramaswamy to IIM Bangalore in the initial years.


This 23-year-old went to Oxford Brookes University, the UK, and then joined ISB to strengthen her understanding of corporate finance
Equally important is the fact that despite its high-tech campus, with all the gizmos for wired classes and video conferencing set ups, the ISB is not alone in seeking to provide students with global perspective and leadership skills.
The IIMs, for instance, are closely looking at their curriculum and increasing emphasis on giving a global perspective to their students. As early as last year, Prof. Pritam Singh, Director of IIM Lucknow, had talked of a global amp (Advanced Management Programme) at its new campus coming up in Noida, near Delhi. The programme involves three weeks of stay on the IIM-L campus and two weeks abroad (France, Germany, United Kingdom and Holland).
The ISB nonetheless, has chalked out plans to create synergies between India, Asia and the global business environment by creating a global community of students, faculty, and business leaders. It will teach its students a distinctive set of skills and capabilities to capitalise on today's opportunities and to face tomorrow's challenges.
What the ISB claims to produce is "not capable management graduates but true global business leaders". It is now upto the new dean and the new set of students to move up the path laid out by ISB's ambitious founders.