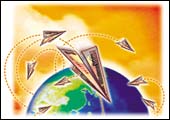 Happy about that Rs 3,920 one-way fare from Delhi to Mumbai? Chances are you're thrilled. Though Rs 2,405 by ac ii-tier is still some distance away, the differential does not indicate the hardship of toilets-that-are-holes, uncomfortable bench seats, meals-on-laps, and of course, a journey that lasts the better part of a day-if all goes well.
Now, the big question: could the airlines do even better?
Yes! A million times yes. How about a Delhi-Mumbai air journey at Rs 1,500? That's about the same cost as a ticket on the hellishly cramped ac III-tier (why couldn't they ever stick to the gloriously spacious and comfortable ordinary first class?).
Such heady fares are just a sensible tax cut away. In India, aviation turbine fuel is a critical input cost to airlines: the fuel is about 50 per cent higher for domestic airlines than it is for foreign airlines, or elsewhere in the world. Then there's a 15 per cent inland air travel tax imposed during the Gulf War in 1990 to help pay for the evacuation of Indians. Of course, once imposed, the tax mandarins simply refused to take off the tax. And there's every state lining up for its share of the booty, imposing a sales tax of between 20 and 40 per cent on aviation fuel. The result is that Indian Airlines, Jet and Sahara pay Rs 19,000 per kilolitre of aviation fuel, while international prices hover around Rs 9,200 per kilolitre. Reduce the cost of fuel to world standards and you could have that ticket for Rs 1,500.
It's a truism that business and society are becoming increasingly globalised. The engines of this growth are cheap telecommunication and inexpensive air travel. Telecommunication has, of course, been the prime driver in creating the flourishing global village-and marketplace-but physical transport, particularly by air, has played a big, big role in creating initial contacts between people. These contacts are then maintained and enhanced by telecommunication. The boys in Bangalore will tell you how important cheap fares and direct flights out of their city to international destinations have been to creating India's tech juggernaut. It's quite clear that travel and telecommunication are synergistic. Each feeds and supports the other. The tragedy of Indian aviation is that no one realises this intertwining-or if they do, it simply isn't accorded due attention.
If you look at it strictly in rupee terms, the new discounted prices are hard to match anywhere in the world-despite the fact that the rest of the world does not have to shoulder the tax burden that airlines in India do. A little research will show you that the cheapest ticket from New York to Chicago (almost the same distance as Delhi-Mumbai), one of the densest routes in the world's most competitive airlines market, costs $79 (Rs 3,860).
Let's forget all about PPP (purchasing-power-parity) syndrome for the moment. This cost is for a ticket booked 30 days in advance, a ticket that sends you on an indirect route that could take up to six hours: The Delhi-Mumbai discounted ticket, in contrast, will whisk you across in one hour and 50 minutes.
The message here is that like almost anything sold in India-plastic buckets, newspapers, lunch, cellular air-time-an airline seat too can be cheaper than anywhere else in the world. The argument that aviation fuel is dear to India doesn't really work because it accounts for roughly 0.1 per cent of our oil expenses.
So what stops the government from letting air travel proliferate, much like it allowed car production to skyrocket? Only an age-old penchant of thinking short-term. They say things are changing. We have belatedly realised how important expressways are to unlocking economic energies. But reducing air fares becomes all the more urgent given the fact that highway development takes time and will still leave big swathes of India untouched. Trains and buses are likely to be ponderous and uncomfortable for a long time to come. It's time to free the skies.