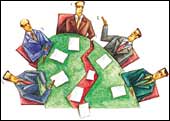 It was time for the 'vision clarity test'. R.M. Lagoo, 56, ceo, Osiris Synthetics, pushed the 'demerger plan' docket aside, stared at his company's logo-a pyramid with an eye at the apex-and then shut his eyes.
Lagoo liked what he saw. It was seconds before the final demerger meeting, and his mind was almost made up. Osiris, which had started as a yarn maker, was now predominantly a maker of yarn's raw material-polyester. This bit of backward integration had worked well; in fact, it was the cost-crimping of the polyester division that had helped Osiris make a comeback recently. But now there was reason to believe that the future lay in splitting the two businesses into separate companies. ''This should be easy,'' he mused, as his top strategy team started assembling in his office.
''Mobius has hired a pipeline consultant,'' murmured Rajiv Vedi, 40, Marketing Controller, as an aside. ''Hmm,'' responded T. Suresh, 48, Vice President (Finance), ''good for it.'' The 'it' was a petrochem major that hovered at the back of every Osiris mind, and not only because it was 20 times the size. ''We are in the polyester business,'' added K.P. Mankad, 50, president of the polyester SBU, brushing Vedi's information off. ''You are in polyester, we are in life-quality enhancement," said Adarsh Ahuja, 55, president of the yarn SBU, ''and that's why we're here-so that we're clear on the div...''
''Ahem,'' interrupted Lagoo, "the whole point of the demerger should be to free the two SBUs to pursue independent strategies based on the peculiarities of the businesses-focus where you need to, and raise shareholder value.''
Peculiarities. Divergences. These were listed on the first page of everyone's demerger docket. For one, synthetics was capital-intensive, yarn was labour-intensive. The bigger differences concerned market dynamics. The Indian synthetics industry had woken up to consolidation during the recent 'bust' phase of the commodity cycle. With Osiris now boasting a fifth of all-India sales (second only to Mobius), it was waiting for the coming 'boom'. Surfing the waves of this cycle was, in a sense, Osiris' core competence. Yarn, however, marched to a different drumbeat. It was a highly fragmented business, with hundreds of small players-and the opportunities here concerned buy-outs.
"Let's break the commodity mindset... customers are customers, and I'm sure yarn buyers can help us serve polyester buyers better"
Both needed fresh investment, but for different purposes. Polyester needed additional capacity to gain marketshare, plus an R&D budget to differentiate its offerings. Yarn needed to stimulate demand for synthetic products overall. Beyond clothes, applications could extend to upholstery, shoe-linings, tyres, cords, aprons... even polymatted building blocks.
''So finally, we get to drive our own business,'' said yarn's Ahuja, looking forward to a leadership role-without anybody looking over his shoulder. ''You could have done it even without this demerger,'' retorted polyester's Mankad, ''and you'll still have to drive efficiencies-the basics won't change. There's no saying where naphtha prices will go.''
The two SBU heads did have rather divergent views, and the capital markets thought it justified. ''Look,'' said Suresh, ''so long as we need to raise money, it's not as if we have much choice about this split. Vertical integration works if it goes all the way, an oil-to-fabric affair, like Mobius. That name spells 'success', period. For us, investors want some four-to-five easy variables to track. If you're excited about capacity tightening in polyester, you may not be excited about yarn.''
''Unless we show what we can pull off,'' said Ahuja.
''Yeah, sure,'' acknowledged Suresh, ''But let's be done with it-two companies, with two fields of competence.'' There was a moment's silence, as the CEO turned to Vedi. ''Rajiv,'' said Lagoo, ''any point you have on marketing?''
''Er,'' began Vedi, absent-mindedly pressing the two points of a geometry-box divider onto the tabletop. ''I know it's easier to focus separately on specialised customer needs. But I think we need to crack our skulls over Mobius. Why are they so merge-happy?''
''Where's the mystery?" asked Suresh, ''Their model is vertical, and they'll buy the Caspian Sea if they could, and maybe the planet's silicon crust as well.'' There was some laughter.
''Hey, level with me, alright?'' Vedi seemed serious. ''They present a common front, and it works. What Mobius says is what holds. They set domestic prices and can choke realisations on polyester.''
''If they want, that is,'' replied Mankad, ''Given the forces of globalisation, they have a good incentive for economic rather than predatory pricing in polyester.''
''But aren't we being defeatist? Don't you see any strength in diverse skills functioning under a common banner?'' Vedi asked.
Everybody stared at Vedi, who stopped for awhile, and then continued. ''I mean, even if we operate in a narrow band, we should foster a culture where everyone is tuned into the dynamics of the entire chain, from crude oil to fashion trends. Maybe we can exert influence be relevant on cost issues when it comes to the big picture. Maybe we can also integrate forward into clothing and catalyse new consumer aspirations... by spanning a wider range of market inputs, we'll get cross-field insights that'll help everyone innovate and add value.''
Lagoo was bemused. ''You want oil traders to take fashion designers out for lunch, no? I've heard this one before. The management books keep dispensing this fluff-but can we get real here, please?''
Vedi was undeterred. ''I'm saying our 'core competence' should be a function of our understanding of the world rather than some chemicals. Let's break the commodity mindset... customers are customers, and I'm sure yarn buyers can help us serve polyester buyers better. Remember the time Ahuja found small mills using weak loose-weaves because they wanted lighter fabric? Mankad used the information for polyester's R&D. Remember my paper on naphtha prices? I didn't make any 'commodity' calculations, instead...'' Vedi trailed off, as his gaze fell on his PalmPilot, ''It's Mobius-they might be setting up an investment cell in Russia!''
Russia? That word had the room's attention. ''Oil contracts?'' asked Suresh. ''No, media-in South Russia. I suggest we abort the split-up and think again.''
The question: should Lagoo proceed with the demerger?
1 2