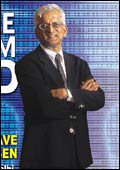 S. Ramakrishnan, Managing Director, Tata Tele
On august 15, roughly a year after it bagged the licence for the Gujarat circle, Tata Teleservices Ltd (TTL)-the basic telecom services provider that has licences for six circles-will flag off a pilot run of its wireless and wireline services. If all goes well, in exactly a month from Independence Day, TTL Gujarat will kick off Phase I of commercial operations in the key cities of Ahmedabad, Baroda, Surat and Rajkot. The array of services on offer will include limited mobility, fixed wireless telephones, fixed wireless telephone booths using smart-card technology, and the promise of higher data speeds, up to 144 kbps, 10 times more than what users are accustomed to today.
But the readiness for rollout is not the only reason for the charged atmosphere at Gujarat Bhavan, the TTL headquarters in the heart of Ahmedabad's commercial hub that houses 300 spirited employees whose average age couldn't be too many days over 30. As the team headed by Chief Operating Officer Jagrut Vyas works frenetically at lifting the blueprint off the drawing board onto a subscriber base that's estimated to be 30 lakh-strong (that's just the current base of fixed line users) and growing at 19 per cent annually, there's one burning impetus to meet the September deadline. TTL Gujarat would have pipped Reliance at the post in the rollout race.
Indeed, both the Tatas and the Ambanis are stepping on the gas in the Gujarat circle, and both have made fair progress (although TTL officials love to point out that the Ambanis had got the Gujarat licence six years before they did, in 1995). For instance, TTL has put up some 26 cell sites (needed to provide seamless mobility with land-line-like clarity) in Ahmedabad, 12 in Baroda and 18 are planned for Surat; Reliance too say industry watchers has made similar progress. In terms of a backbone to provide wireline services (video-conferencing, isdn, DSL, VPNs, etc), the Tatas will lay close to 2,000 km of pipes in the state, whilst the Ambanis could go up to 3,000 km. TTL has covered close to 500 km, and company officials concede that the Ambanis are ahead in this race. But it isn't known whether Reliance has installed switches, which are crucial to commence operations. TTL has its switches in place at Ahmedabad, Surat, and Rajkot.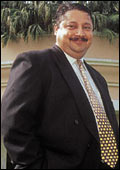 N. SRINATH/ DIRECTOR (OPERATIONS)/ VSNL
Formerly a part of the Tata Tele top brass, Srinath's mandate is to create a 5,000 km long backbone from Punjab To Ernakulam, which will then be used to provide network-based and data-centric services, including national long distance, and data centres.
If the Tatas are able to commence Gujarat operations before the Ambanis -- renowned for their project execution skills-it will spur TTL in the other basic services circles, into which Rs 8,250 crore is being pumped, to step on the gas. For instance, in Delhi too the Tatas and the Ambanis are pitted against each other, with TTL targeting the third quarter for launch. The Andhra circle, where as of end-May TTL had garnered 1.7 lakh subscribers, begins its third year of operations, and in Maharashtra (including Mumbai and Goa), by acquiring Hughes Tele, TTL is for all purposes up and running, with instant access to 8,000 buildings in Mumbai's financial district (which Hughes has wired up). And in the remaining two circles, Tamil Nadu and Karnataka, TTL is targeting a launch-date in the current year.
The new-found speed and aggression at the House of Tatas isn't confined to just basic services. From his first floor office at the Lokmanya Videsh Sanchar Bhavan in central Mumbai, N Srinath, Director (Operations), VSNL, declares that he's slashed international long-distance (ILD) rates, which account for 87 per cent of the recently-privatised telecom major, by 40 per cent to match the competition (from Bharti). Realising that the recently-acquired telecom major has to find new growth avenues fast, he's set to roll out national long-distance (NLD) services by end-July-a market estimated at Rs 6,000 crore-with VSNL's existing ILD switches. And by December, once a chunk of VSNL's national backbone is laid (the Tatas have transferred the installation of the national backbone to VSNL post-acquisition), along with full-fledged NLD services Srinath will also flag off IP telephony services. "Once the Tatas bought VSNL plenty was expected in terms of price cuts and bundling of services, but they now seem to be getting more active," says Kobita Desai, Senior Analyst (Telecom), Gartner India.
In terms of sheer scale, there aren't too many who can boast the kind of ambitions being nursed by India's No. 2 business house. Indeed, in terms of grandeur it can only be matched by India's No. 1 business house, the Reliance group. Reliance Infocom will be spending close to Rs 25,000 crore over five years on its infocom blueprint, a fair bit of which will go into wiring 115 cities. The Tatas have lined up Rs 14,000 crore over five years to provide nationwide end-to-end telecom solutions, which includes laying a 5,000-km backbone between Punjab and Ernakulam in Kerala.
THE VSNL EDGE
» Eight gateways, 12 switches
» 47 earth stations
» Relationships with 85 carriers in 75 countries
» Founder signatories of six submarine cable systems terminating in India
» Over 3 gigabits of operational international bandwidth for voice and data
» Over 2.5 gigabits of operational domestic bandwidth for voice and data
» A 6 lakh-strong Internet subscriber base
» 130 years in the ILD business
To be sure, as far as integration goes, the Tatas could lay claim to having the most focused footprint, addressing 70 per cent of the country's voice and data traffic, covering both access and transport, and being best placed to offer a bouquet of services. Along with VSNL and its cellular joint venture idea, the Tatas can provide international bandwidth, ILD and NLD, basic and cellular services, and Internet and value-added services. What's more, it also in a better state of preparedness across the spectrum. The VSNL acquisition has given it access to international bandwidth, ILD, NLD (for which VSNL has a licence), idea Cellular has a significant presence in the mobile space, and the basic services bandwagon is beginning to pick up pace.
"Our offering will address both voice and data, service and backbone, corporate and individuals, wholesale and retail, front-end and backend services. This will ensure that we address/deliver to each and every segment/requirement of the market," explains S. Ramakrishnan, Managing Director, Tata Teleservices.
Plenty On The Plate
Whilst Gujarat, Maharashtra, Tamil Nadu, Karnataka, Delhi, and Andhra are the six circles in the spotlight today-TTL aims to rope in 3.8 million subscribers for its basic services from these circles by 2007-the Tatas are also considering venturing into Punjab, Haryana and Kerala. For now, though, TTL has plenty on its plate, with the two biggest challenges being successfully implementing the concept of limited mobility (subject to court and government approvals) and the CDMA-based fixed wireless services.
THE OFFERINGS
[ DATA ]
ISDN: Allows audio, video and text to be transmitted simultaneously via end-to-end digital connectivity; high-quality digital video conferencing
LEASED LINES: Point-to-point dedicated pipes connecting two leased circuits; high-speed transfer of data, voice and images
DSL: Digital connectivity and flexibility of bandwidth on demand.
OTHER DATA PRODUCTS: Internet access, virtual private networks, data centre, disaster recovery, security solutions, network management, network security consultancy
[ VOICE ]
CENTREX: Customers can access group members via 3-4 digit dialing
DID: Enables utilisation of facilities traditionally provided through a PBX on a Tata Tele exchange
FIXED WIRELESS: Provides quick connections
LIMITED MOBILITY (TATA MOBITEL): 3G 1 X CDMA technology, capable of delivering seamless coverage, crystal-clear voice and high-speed data; no airtime charge; Rs 1.20 per local call for 3 minutes; Make or receive local, STD or ISD calls
PUBLIC TELEPHONE BOOTHS (TATA TELESMART): Smart-card technology-based phones; tamper-proof billing systems
WHAT COULD GO WRONG
» The courts rule that basic service operators can't provide limited mobility. Do the Tatas have a Plan B?
» Expected demand from corporates for data products and services (VPNs, video-conferencing, etc.,) doesn't take off. Will the investment in the national backbone be viable?
» With ILD rates falling rapidly and VSNL losing its monopoly, can the Tatas find fresh growth avenues fast?
» NLD is a growth avenue, but is there room for three players-the Tatas, Reliance and Bharti?
As coo Vyas puts it, the advantage of the 3G 1X CDMA-based limited mobility service being provided by TTL is "landline voice quality but mobile and capable of high-speed data speeds." Dubbed Tata Mobitel, the advantages of the service is that there are no air-time charges, a three-minute local call costs just Rs 1.20 and it allows for making and receiving std and ISD calls whilst mobile. "Also, since incoming calls are free, and there's no fear of huge bills, there will always be a market for these services," adds Sanjeev Garg, General Manager (Marketing) Tata Tele.
As for the technology, CDMA-which basically is one method of multiplying bandwidth just as GSM is another-is no more an unproven technology. Some 26 per cent of the world's networks is CDMA-based and the global subscriber base has crossed 100 million, with a higher density in the US and Korea. It has its benefits, which include low power requirements, extended reach (which is beneficial to users in outer-lying areas), smaller phones, possibility of simultaneous conversations, a clear developmental path to 3g networks and increased efficiency (which means that the carrier can serve more subscribers).
TTL officials will tell you that they were the first to offer CDMA-based fixed wireless connections in India, in Andhra. And it is this experience that's given the Tatas the confidence to move at breakneck speed in the other five circles. After some initial hiccups (courtesy a high licence fee and a bar on migration of subscribers), TTL is well on its way in AP, covering 10 cities, and adding at least 10,000 subscribers per month. A 1,200-km backbone has been created in the state, and the company is offering, besides mobility, post-paid Internet services, smart card-based mobile public telephones and public telephone booths (branded Tata Telesmart). TTL has already installed some 3,900 pay telephone booths in that state. The subscriber target for the current year is a total of 3 lakh.
Clearly the Tata gameplan is to capture early share via speedy rollouts, and in the process the group isn't averse to taking risks. For instance, there's still no 100 per cent clarity on the limited mobility vs cellular issue. If the Supreme Court does decide in favour of the cellular operators, the Tatas will have to roll back their services in AP and move on to Plan B in all its circles. They better have a Plan B in store.
Then there's also the reality that the Tatas will be eating into their own subscriber base, once subscribers of idea Cellular begin moving on to Tata Mobitel services-after all, TTL is expecting to gain from a churn in the mobile space. Ramakrishnan explains that the two services don't clash head-on. But he agrees that "a third of the mobile market could go either way". There's no reason why limited mobility and cellular services can't exist side by side, but the uncomfortable part for the Tatas is that their cellular operations is a joint venture in which the other partners have nothing to do with basic services.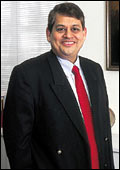 KISHORE CHAUKAR/ MD/ TATA INDUSTRIES
Chaukar has been responsible for putting together the Tatas' integrated telecom blueprint, which gives the group a presence at every point of the services spectrum
The Challenges Ahead
Another challenge for the Tatas is to find fresh growth pastures for VSNL. "VSNL will not be able to entirely cover the loss of its ILD monopoly," says Gartner's Desai, although she does point out that the advantage for VSNL is that its subscriber acquisition and retention costs will always be lower than the competition's. By getting VSNL to invest Rs 1,200 crore in Tata Tele for a 26 per cent stake, the Tatas have ensured that the former PSU has more options. Yet, it will be the NLD business that could prove crucial for VSNL, given that it will be competing with Reliance and Bharti. Also, VSNL now has the mandate of laying the nationwide telecom backbone, and concerns amongst analysts include whether there will be enough demand to justify the investments being made in pipes, and whether there could be a glut with VSNL, Reliance and Bharti laying so many thousands of kilometres of fibre.
But then again, telecom is all about risk. And speed. Gestation periods are long, and that's why quick roll-outs could well mark the difference between the quick and the comatose. TTL appears to have it all figured out: operating costs before interest should be covered in the second year; after interest in the fourth; after depreciation in the sixth; and net profits by the eighth. But projections mean nothing till they're met, as the Tatas have realised in Andhra, where they've fallen behind by a year thanks to the high licence fees and a delay in migration of subscribers. The good news, though, is because of the early start, the AP circle is today showing operating profits (before interest, depreciation, and tax).
Other than being a high-risk business, telecom also guzzles cash-the Tatas have still to make investments of another Rs 10,000 crore (Rs 5,000 crore has already been spent). Ramakrishnan rules out an ipo before the fourth or fifth year. A private placement, though, is on the cards. With over Rs 1,000 crore being sunk into each circle, the Tatas need the money. And the progress made in Andhra should be enough to convince investors to loosen the purse strings.