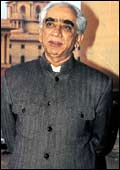 JASWANT SINGH: Blue-blooded politico
T
heir first names rhyme, they are equally old (64), and they just swapped jobs. But the new Finance Minister Jaswant Singh and the equally new Minister of External Affairs Yashwant Sinha are chalk and cheese when it comes to their background and style of working. A scion of the royal family of Jodhpur, Singh still carries an air of aristocracy around him (he still loves to go horse-riding-a hangover from his army days, when he was a Major in Central India Horse, a tank regiment). He has a squeaky-clean image, is known to be curt when provoked, and strongly believes that he is destined to play a major role in India's march into globalisation.
Sinha, on the other hand, first ventured into academia (he was a Political Science teacher at a college in Patna) before he cleared the Indian Administrative Service and spent 24 years as a bureaucrat. Known to be easy going and a team player, Sinha-his father was an advocate at the Patna High Court-is at ease with both political peers and bureaucrats. In fact, one of the first things that Sinha did soon after taking charge of mea was to set up an advisory council to help him on the job. After all, he will be the first IAS officer (in a way) to head the Indian Foreign Service.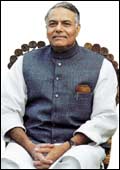 YASHWANT SINGH: A babu among ministers
Therein lies another crucial difference between Singh and Sinha. Bureaucrats have always considered Sinha as "one of us", while Singh has a reputation for putting overbearing bureaucrats down. Says a senior official in the Planning Commission: "Singh is a stern taskmaster, who brooks no nonsense from anyone. So, bureaucrats are most unwilling to take liberties with him."
Singh, some of his officers say, is also one of the few Cabinet ministers who is not only well read, but is quick to understand complicated issues. In mea, Singh always had the bigger picture in mind while formulating foreign policy. And when convinced about a course of action, will risk going against the majority opinion. In his first avatar as the Finance Minister in 1998, he went against the advice of finance ministry mandarins and gave a counter-guarantee to Enron's Dabhol power project.
That said, Singh can also cut across party lines and seek advice of people he trusts. When he was holding the Defence and External Affairs portfolio between March and October 2001, he appointed Arun Singh (a friend of Rajiv Gandhi) to advise him in defence matters. Even today, Singh often wears a maroon beret to army functions-the same cap he wore during his army days. The question, however, is if Singh can outdo Sinha in his new job.
Predator To Prey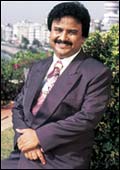 P. RAJARATHINAM: Change in roles
Wanted: 42-year-old male, wheatish (fair) complexion, 5 feet 2 inches, weight around 100 kilograms. This handwritten poster (inset) inside Gate 1 of the Bangalore airport would have gone unnoticed except for the fact that the enhanced passport-size photograph featured in it was that of P. Rajarathinam. Yes, the same one-time takeover tycoon from Chennai who snapped up almost a dozen companies, including Garware Paints, Sears Elcot, and the Benares State Bank in his heydays between 1992 and 1995. His acquisitions are believed to have cost more than Rs 100 crore. The fact that Rajarathinam has debts to settle and was barred by SEBI last year from tapping the capital markets is no secret. The intriguing part is this: The Bangalore police has no clue who put it up. Says H.T. Sangliana, the city's Police Commissioner: "We have spoken to the Central Industrial Security Force that is in-charge of airport security and an enquiry has been ordered as to who put up the notice." Rajarathinam himself was not reachable at any of his known addresses, but one broker on the Madras Stock Exchange told BT that he hasn't been heard of in a long while. For a man once famously billed the "precocious predator", playing prey must be hard.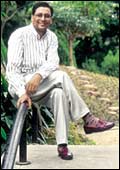 VINOD DHAM: Tapping local genius
Chip On His Mind
When at Intel, he fathered the chipmaker's most hi-profile microprocessor: the Pentium. And when he moved over to rival AMD, he helped launch a competitor to the Pentium, the k6. Now that Vinod Dham is no longer a chip designer, he's looking at bigger things. Last fortnight, the 52-year-old was in India to announce the launch of NewPath Ventures, a $50-million venture capital fund, along with Tushar Dave of Armedia Inc. The company will focus on funding companies in the area of chip design, embedded software, and system design. Says Dham: "India has proved beyond doubt its capabilities in software services, but it is time it moved a notch higher to hardware design." For starters, Dham is only looking at about five companies, and an investment of between $5 million and $10 million each. The companies will be registered in the US, and serve as the marketing front-end. But product development teams will operate out of India and employ 100-500 employees in each of the companies in the next two-to-three years. Taiwan, here we come...