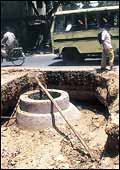 Chennai: Every city has its share pot-holed roads, but Chennai has got no roads, only pot-holes
Down south in sunny (it always is) Chennai, everyone is celebrating the fact that the city isn't expected to get any rains till November. The reason (for the celebration, not the rains in November) is the state of the city's roads, if there are still things that can be called that. Until recently, the problem was the composition of the city's corporation. Mayor M.K. Stalin belongs to the DMK and Deputy Mayor Karate Thiagarajan to rival AIADMK that rules the state. For the past nine months, the two spent more time nixing each other's plans than on trivial issues like the state of the city's roads. A loan of Rs 15 crore from a state-owned financial institution didn't come through because Stalin did not want to meet with the concerned ministers (from AIADMK). With Stalin's recent exit, things should improve but they probably won't. Word from the corporation is that roadwork bids are still being called for. And the recommendations of a committee appointed to suggest ways to improve the flow of traffic—it prescribed 12 more flyovers—are likely to remain that: overpasses were Stalin's idea and the AIADMK is bent on proving that he pushed for flyovers from pecuniary, not welfare motivations. Maybe if the absence of roads-there really aren't there—were to affect investments, the state government would relent. After all, it is its city, and its corporation now.
---
REPORTER'S DIARY
Tirupur! Tirupur! Tirupur!
Each of its 600,000 residents generates exports of Rs 75,000. But it is its garment exporters' D-I-Y attitude that makes this town unique.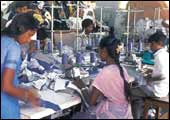 Waiting for WTO: Once quotas on export volumes go, Tirupur's exporters hope to double their exports
Mammon is the deity-of-choice in Tirupur, a heaving town (area: 12 square kilometre; population: 600,000 of which 150,000 is floating), 52 kms east of Coimbatore. Retail outlets display signs that say Om Labham-the closest translation would be praise be to the greatness of profit.
Garment exports constitute Tirupur's lifeline. Motorcycles zip around the town's narrow streets loaded with bales of fabric that need to be stitched or dyed. The few export-reject stores do brisk business, selling garments by the kilogramme. All of Tirupur lives for the creation of wealth from fabric: Rs 4,500 crore from exports, Rs 1,000 crore from domestic sales, and Rs 365 crore from the sale of export rejects.
Tirupur's older residents claim the town's tryst with garments started soon after it was founded, in the early seventies. Some speak of the arrival of a mysterious Italian (sometime in the mid-1980s) who suggested that the town focus on exports-an idea that the town promptly adopted.
Today, buyers from 35 countries frequent Tirupur's two business hotels. There aren't too many places in the world that can deliver customised samples in under 12 hours, half-a-million pieces in a matter of days.
There's no doubting Tirupur's competitiveness. A Sakthivel, the President of the Tirupur Exporter's Association, and the owner of a Rs 90-crore company, talks fondly of a future when the World Trade Organisation's rule on the removal of quotas will come into play (right now, there's a ceiling on the volume of garments that can be exported to certain countries). ''Once it goes, Tirupur will double its exports.'' That's no idle talk. Tirupur Inc. has invested upwards of Rs 1,000 crore on modernisation; its 700 dyeing units use effluent management systems; AZO dyes are on list of things banned at the town, as is child labour; and 40 exporters have formed a consortium that will export under a common brand name.
If Tirupur does keep its tryst with the post-WTO global market, though, it won't be exclusively on the strength of any of these, but on the attitude of the tea.
The association runs the largest industrial complex in town and invested Rs 4 crore in an internal container depot in 1995. When the state electricity board dragged its feet over the installation of some sub-stations citing the unavailability of land, tea 'gifted' 10 acres to it. In 1997, it convinced the National Institute of Fashion Technology to start a school NIFT-tea Knitwear fashion Institute.
The association's newest cause is the New Tirupur Area Development Corporation, a Rs 1,000-crore project towards which it has contributed Rs 10 crore as equity. If all goes well, 18 months from now, Tirupur will have piped water supply (water is currently supplied through tankers), and a first-world-type drainage system. It's happening, and they've done it themselves.
---
INC PLOT
Wanted: More Old Fashioned Accountants
The US accounting scams are a reminder that Corporate India may itself be sitting on a powder keg that could go off at any moment.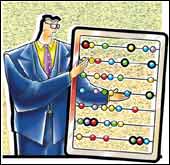 In India it is almost de rigueur to appoint a ca to head a company's finance function, although there is no law like the one that makes it compulsory for companies of a certain size to hire qualified company secretaries.
In the US, as a recent study by a headhunting firm found, just 20 per cent of the Chief Financial Officers (CFOs) at the Fortune 500 companies were Certified Public Accountants (the US' equivalent of our Chartered Accountants); 35 per cent were MBAs and just 5 per cent had both the qualifications. The implication of that piece of statistic, particularly, when CFOs at several top-drawer corporations are under scrutiny is a pithy one: accountants are a dying breed. Indeed, another survey in the US reveals that less than 1 per cent of high school students today want to be CPAs compared to 4 per cent in 1990. The situation has become so piquant that the Institute of Certified Public Accountants has launched a campaign urging students to become CPAs much like the armed forces do to encourage young people to enlist.
But what's more pertinent is that it is the relative absence of bean-counting CPAs and the plentifulness of MBAs as CFOs that is being blamed today for the accounting fiascos that have rocked Corporate America. At companies like Enron, Xerox, and WorldCom, where the worst accounting scandals have been revealed, the men at the helm of their company's financial affairs have been MBAs and not CPAs. And, it is argued, unlike CPAs, who are trained to have a healthy respect for numbers, MBAs are more prone to creativity, particularly when it comes to accounting.
It is unlikely that the Institute of Chartered Accountant of India (ICAI) will launch a campaign similar to the ICPA any time soon. For although the ca qualification in India may have lost some of its sheen to the MBA, the number of candidates who appear for ca exams (especially the entry-level ones) is still burgeoning every year. It is unlikely too that you will find too many Indian companies where the CFO or the head of finance is not a ca. In India it is almost de rigueur to appoint a ca to head a company's finance function, although there is no law like the one that makes it compulsory for companies beyond a certain size to hire qualified company secretaries. And it is not uncommon to find even Indian CEOs who are qualified CAS and not MBAs.
But if you think that makes Indian companies any less creative in accounting than their US peers it will be a mistake. Although mis-statements amounting to the rupee equivalent of billions of dollars are unlikely to surface in India (our companies are obviously not yet in that league), creativity abounds as a leading credit rating agency's division recently found. In its much-publicised report analysing nearly 700 Indian companies' accounting statements, a division of Crisil found 266 to have adopted measures that resulted in significant variances between reported profits and the profit figures arrived at by the agency. Among them were large companies belonging to some of the best-known Indian business groups.
Crisil clarified that most of the ''adjustments'' were in accordance with the law, although they may violate the spirit of the law. But such violations can cost investors dear. If a company puffs up its bottomline, using accounting tweaks that aren't illegal but yet are probably not fair, doesn't that tantamount to cheating its investors? Corporate India may not have too many ''creative'' MBAs heading up finance departments, yet it probably isn't lacking in the creativity department. True, the current crop of instances listed out by Crisil's division may conform to India's Generally Accepted Accounting Principles (GAAP), but then GAAP is only a set of standards. There is plenty of room in GAAP for unscrupulous accountants to distort figures. And that is patently unacceptable.