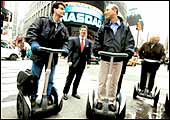 Dean Kamen (L) with Amazon's Jeff Bozos (R): The IT icons
It was definitely the first and, arguably, the most definitive scoop of the 21st Century. And the timing couldn't have been worse. The early January 2001 write up on Inside.com-a website on the entertainment industry that closed down in October 2001-received enough play in India. It spoke of it, a revolutionary invention of Dean Kamen's that would change the way we live. And it offered the opinions of legendary venture capitalist John Doerr, Apple's mercurial founder Steve Jobs, and Amazon's Jeff Bezos about the product, codenamed Ginger.
By then, it was evident that the dotcom wave was more an inverted V than anything else; it was past its peak and was hurtling down, at twice the speed of its ascent, towards a premature death. Brash dotcommers, in India and everywhere else, had hyped their ventures, using phrases such as "change the world" and "the next big thing" with careless abandon. The world in 2001, then, had become just that bit more hype-resistant. Still, the Inside report's comments about Jobs' belief that "cities would be architected around Ginger" and Doerr's description of Kamen as a mix of "Ford and Edison"-comments that both later denied-caught everyone's fancy. it, it became clear, was not an intangible will-o-the-wisp like most dotcom ventures were, but something altogether more solid.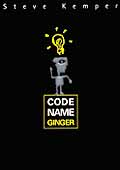 Code Name Ginger
By Steve Kemper
Doubleday
Price: Rs 595
PP: 315
And it, it later emerged, was not the name used by Kamen or any of the other people involved in the project, but something coined by an agent keen to sex up Steve Kemper's book on the invention. Kemper, a journalist, whose works have appeared in BBC Wildlife, Smithsonian, and National Geographic, had written an article on Kamen, an archetypical eccentric-inventor-genius for the second and had been invited by the man to chronicle Project Ginger. Kamen more or less pulled the plug on the book post the leak (which was based on Kemper's book proposal), so Kemper's account of the birth of the Segway Human Transporter (Segway ht), Code Name Ginger, The Story Behind Dean Kamen's Quest To Invent A New World, ends abruptly. The tone changes from involved-participation to arms-length-communication in the course of the last few chapters of the book.
That said, Code Name Ginger still rocks. Kamen, boy-genius who made it good by starting a company while still in his twenties and cashing out in his thirties-he was a millionaire several times over by the time he was 31; owns an island that he labelled a nation state, even bestowing it with its own currency; and lives in a house replete with fireman's pole and a secret passage connecting his library to the bedroom-is an enthralling subject. As is Ginger itself, a cool human transporter driven by complex mechanical technology, super-efficient code, and the driver's desire to transport himself (the Amazon website, where you can buy one for around $5,000 offers an engineering-heavy description of the technology that the tech-minded can peruse). And Kemper, by virtue of having been part of the team (well, almost), captures a fascinating interplay of vision and passion, engineering excellence, greed, ingenuity and East Coast hauteur versus West Coast inventive-genius.
The timing of the release of the book may be a bit off. The Segway-its name is derived from segue-has not been the success everyone involved in its creation visualised it to be. That could well change, although in a country like India, where sidewalks-for-pedestrians are all too rare, it is difficult to visualise people zipping into work on Segways.
---

India's Economy
By Shankar Acharya
Academic Foundation
Price: Rs 245
PP: 180
As the chief economic advisor of the country for eight tumultuous years (1993-2000), Shankar Acharya was not only a witness to a crucial period of India's economic history, but also an important participant in the hurly-burly of policy-making-or sometimes ''unmaking'', as he likes to describe it.
So, one turns with great interest to his slim 180-page book to look for nuggets on his days in the North Block. Only to be disappointed. There is only one chapter, All The fm's Men, devoted to the reforms team of Montek Singh Ahluwalia, C. Rangarajan, S.S. Tarapore and himself, among others. But Acharya cannot be faulted for this, since the book is a collection of articles that the author wrote from time to time in various publications.
However, this lucidly written book does manages to raise many serious policy issues about the Indian economy which should be of interest to non-specialists too, apart from the more obviously high-alert issues of the unsustainable fiscal deficit, the quiet distress in banking or even tax policy. For instance, whether the services sector alone can drive economic growth, or why the external finances are so strong while domestic finances are so weak, or the simple question of how to arrest urban decay.
Services alone cannot do the job, Acharya believes; the global experience strongly suggests that rapid growth requires industrial dynamism as well-a warning to all tertiary success optimists.
But he keeps his final barbs for Kolkata, ruling categorically that the city's decline cannot be reversed. Says Acharya, ''It's hard to conjure a happy conjunction of economic opportunity and political sagacity that might put Kolkata on a virtuous cycle of economic and social regeneration.''
-Ashish Gupta
---

Futures And Options
By N.D. Vohra and B.R. Bagri
Tata McGraw-Hill
Price: Rs 350
PP: 392
A textbook on derivatives written jointly by an academic and a capital markets player. It is full of definitions, mathematical formulae and the like.

Limbo: Blue-Collar Roots, White-Collar Dreams
By Alfred Lubrano
John Wiley & Sons
Price: Rs 1,288
PP: 297
The dual-lives of Americans, the author included, who were born in blue-collar families and have made it to white-collar jobs. ''I am two people'' it begins.

India's Agrarian Structure Economic Policies And Sustainable Development
By V.S. Vyas
Academic Foundation
Price: Rs 695
PP: 398
Recommended by M.S. Swaminathan, a book on India's agri-sector policies by an agricultural economist who's on the PM's Economic Advisory Council.