This year, the Indian economy will grow by an estimated 6.5 per cent. Not too many economies in the world will see that kind of growth. Indian industry, meanwhile, is on a high, with some of its more prominent representatives having just registered their largest profits ever. The Indian services bandwagon continues to roll on, and multinationals are rushing to either offshore entire processes to the country, or set up a base here. And in the middle of September, the country boasted foreign exchange reserves of $86 billion (Rs 3,95,600 crore). Put everything together and the result is a nationalistic, yet accurate conclusion: Circa 2003, India is no rollover when it comes to economic prowess.
The government seems to have arrived at the same conclusion. It is increasingly using its diplomatic power to open markets for Indian goods and attract foreign investment. ''This,'' reckons A.N. Ram, a former secretary of economic relations in India's Ministry of External Affairs, "should further both its economic and strategic interests.'' Prime Minister Atal Behari Vajpayee is of a mind to agree with Ram. He has constituted a six-member committee under super-bureaucrat N.K. Singh, currently a member of the Planning Commission, to suggest a framework to extend credit for infrastructure projects in poor countries in the neighbourhood. India's diplomatic missions, the pm's thinking runs, should undertake more commercial and economic work. That's the kind of thinking that would do a First World nation proud.
INDIA'S BILATERAL TRADE OFFENSIVE
» The M-factor: Evident in the recent aid of $350 million to IMF to bail out Brazil and the $10 million soft loans extended to both Cambodia and Laos.
» Towards Trade Blocs: Work towards the proposed agreement with ASEAN; the preferential agreements with Singapore and Thailand; and the agreement with the Gulf Co-operation Council.
» Build Alliances: Continue to nurture relationships with South Africa and Brazil and present a common front at WTO
At the core of this strategy lies a free trade agreement with the 10-member Association of South East Asian Nations (ASEAN), a process that began in November 2002. In an effort to facilitate such an agreement, India is discussing the possibility of differential trade agreements with individual ASEAN members. Such discussions with Singapore and Thailand are reported to be close to fruition. And Vajpayee recently visited Laos and Cambodia and offered both countries soft loans worth $10 million (Rs 46 crore).
A free trade agreement with China would take the cake, but that could take some time, although the two countries have agreed to initiate a study on economic co-operation. Senior officials in India's commerce ministry attribute this delay to a fear among Indian corporates that cheaper Chinese goods will put them out of business. However, since ASEAN is busy negotiating a trade agreement with China, Japan, and South Korea under Malaysian Prime Minister Mahathir Mohammed's ASEAN-plus-three formula, the idea of a larger trade bloc that includes all these countries and India isn't merely in the realm of trade-fiction. "It is not impossible to visualise an Asian trading community comprising Japan, ASEAN, China, India, and South Korea (JACIK), that can be compared with the expanded European Union," explains B. Bhattacharyya, the Dean of Delhi's Indian Institute of Foreign Trade.
Then, there's the preferential trade agreement the country has with Afghanistan, the fact that the Gulf Co-operation Council (a West-Asian trading bloc in the making) is keen on signing a trade agreement with India, and the decision of India, South Africa, and Brazil-India recently gave $350 million (Rs 1,645 crore) to the International Monetary Fund as aid to the last-to explore common economic interests and present a united front in the World Trade Organization. Multilateralism may have its advantages, but India does have a Plan B in place should WTO go out of business.
-Ashish Gupta
---
The Tata group isn't speaking-it refused to comment on the issue-and the business dailies were preoccupied with the volatility of the stockmarket, the Cancun meet of WTO, and the scotched divestment of HPCL and BPCL. And so, the group's application for four more basic telephony licences last fortnight went largely unnoticed. This, at a time, when every other TELCO in the country is in a wait-and-watch-mode; it doesn't, the logic goes, make sense to do anything while the regulatory regime is still fluid and the debate on whether basic telephony companies can provide cellular services is still open.
Cellular companies use GSM technology, while some basic telephony providers use the CDMA one on a wireless platform to provide mobile telephony services.
The Tata Group has one foot in the GSM arena-through Idea, which operates in Maharashtra, Goa, Gujarat, Andhra Pradesh, Madhya Pradesh, Chhattisgarh and Delhi-and another in the CDMA one, through Tata Teleservices that operates in Maharashtra, Andhra Pradesh, Gujarat, Karnataka, Tamil Nadu, and Delhi. By committing to invest Rs 320 crore (that's Rs 60 crore as entry fee, plus bank guarantees), Tata Teleservices, the company that has made the application, has indicated that the Tata Group has decided to throw in its lot with the CDMA brigade. And the timing of the application-the telecom licensing landscape is likely to be redone with the government pushing for a unified licence-suggests that the group expects the emerging regulatory regime to favour basic telephony companies. Smart move!
---
CHOICE
What You Really Really Want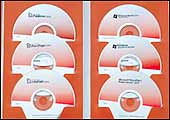 Office vs the E240: Tough!
Ah, the choices that confront a harried CEO. On the one hand we have Microsoft's new Office 2003. Your old Office was a suite of applications that helped you crunch numbers or write reports. This is Office that has been warpfolded into a sophisticated integrated system that lets you manage work flows, access and security, collaborative teams, web-based operations and much more.
Its power is astonishing. But, by the time you've finished putting together all the software you need from Microsoft to run Office 2003, you'll be down approximately Rs 35 lakh, at current suggested official prices for a 100-user installation.
Which might be a bit much if your employees mostly write reports or send mail. After all you were used to getting that for free until not so long ago.
So, on the other hand we absolutely must consider an alternative symbol of corporate excellence, at comparable cost. Such as the finest Stuttgart steel.
The Mercedes-Benz E240 will cost you just a couple of lakh more. For that money, you get one of the finest cars in the world. You won't be the only one with an E-class, but in India owning one still conveys Learjet-level snob value.
Let them use Linux, I say.
---
Andale, What?
It means hurry in Spanish and is part of the eBay experience.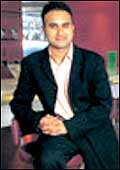 Andale's Shah: eTrade: NYSE:: Andale:eBay
Andale fits the profile of the archetypical dinosaur of the internet age: its software is targeted at micro-merchants-a term that owes its birth to the internet-and its revenue model, by the admission of its Co-founder, President, and CEO rolled into one, Munjal Shah, is similar to that of a cellular telephony company. And Shah is only 30. Oh, oh!
Not quite. Andale is a provider of auction management tools and services and its fortunes are linked inextricably to those of eBay, the world's largest online retail market-some 195 million items were up for sale on it last quarter-and a profitable one at that. In 2002, the value of transactions on eBay was nudging $15 billion (Rs 70,500 crore). And Andale powered 75 per cent of these.
At the core of eBay's success lies the phenomenon of micro-merchandising, where individuals and small companies that cannot afford their own marketing infrastructure sell through the auction site. According to Shah, this is nothing short of a retail revolution.
Andale's software helps merchants merchandise items, manage inventory, track sales, analyse finances, and manage customer relationships across online marketplaces. It can even tell sellers how many XL-sized Ts were sold on eBay, which colour is most popular with buyers, and when (which time of the month or year) most sales happen. Andale-Shah has raised $64 million (Rs 294.46 crore) to fund it from various venture capital firms-has an exclusive arrangement with eBay; it is the only software available to sellers on the eBay marketplace.
Andale (it is cash-positive, claims Shah) isn't the first company to try and tap the micro-merchandising boom. Unlike the others that tried and failed, however, it uses a subscription-based model where buyers can subscribe to the plan that best suits their needs. For instance, a seller, says Shah, "can subscribe for a sales analysis report for around $1 a transaction." And since everything is online, Andale spends next to nothing on reaching and servicing customers. Shah says Andale has 60,000 billable customers with an additional 2,000 signing on every week. And competition? "Our biggest competition are pen-and-paper and Excel," laughs Shah.
Of Andale's 215 employees, 175, including the development and sales teams are based in Bangalore. "All our software is developed here," says Shah. "Our India play is strategic." That's a line we've heard before.
---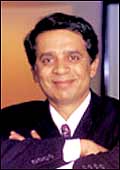 Accelrys' Patel: India Inside
Accelrys who?
Accelrys is one of the world's largest providers of simulation and computing software to R&D organisations in the pharma, biotech, and chemical industries.
What exactly does this software do?
According to Harsha Patel, the company's Vice President in charge of R&D, "They (Accelrys' customers) must manage and exploit data, information, and knowledge in a complex environment. This is where our proprietary tools and software help.''

What kind of people does it employ?
Largely Ph.Ds, so you get the picture. Patel says the company looks for people who understand information technology and biosciences. That's not an easy combination to find.
How big is the Indian operation?
Right now, about 30-strong, but Shane Dodd, Director, Accelrys India, says, "Our goal is to have a 100-man operation here by 2004."