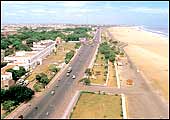 Chennai's C factor: Conservative, Cosseted, and Careful, this metro hosts more disaster recovery centres than others
August 25, 2003
Two bombs rip through Mumbai, the latest in an endemic chain of blasts that began in 2002. Fears of a 1993-reprise, when 13 blasts in four hours killed 257 people and crippled all activity in India's commercial hub return to haunt the city, but temporarily. It's business as usual the following day, but an undercurrent of fear remains.
March 22, 2003
It's just another day at the bourse at National Stock Exchange. Only, the trading isn't happening from its central data-centre at Mumbai but from a back-up one at Chennai. There's nothing to tell the difference between the networks: The Chennai one is a replica of the Mumbai one, which is located in the city's Bandra-Kurla complex. The real-time live-action trial, the first of its kind, is a success. Should the Mumbai exchange shut down (or be shut down), the Chennai one will take over seamlessly. NSE's disaster recovery centre where it backs 100 per cent of its data in real time wasn't always in Chennai; for five years, it was in Pune. Then, post the Gujarat Earthquake (2001), someone discovered that Mumbai and Pune fell in the same seismic zone. Out went Pune. In came Chennai.
Blame it on 9-11. or credit it to 9-11. Before that, business continuity plans (BCPs) and disaster recovery centres (DRCs) were concepts that were the preserve of the paranoid. 9-11 changed all that. Morgan Stanley, which had offices in the World Trade Center, had its information backbone up and running the following day. Instantaneous copies of all its records had been made in a location in New Jersey several kilometres away. And the disaster recovery plan of the New York Board Of Trade (NYBOT), a commodities exchange that was located in the twin towers, came in for high praise. That hadn't always been the case. NYBOT's budget provided $300,000 for a back-up facility in Queens. For years, the expense was questioned, but wiser counsel had always prevailed. A few days after 9-11, NYBOT moved to the Queens facility which, to this date, continues to serve as its de facto HQ. At the end of this month, the exchange will shift to a new building armed with an upgraded BCP: It will conduct business at one location, run the data centre at a second, and back it all up at a third.
Today, every bank, financial institution and financial services company in Mumbai (as indeed, everywhere else in India) boasts a BCP. "Whatever the circumstances, business can go on," is a refrain often heard in India's financial community. This isn't a recent phenomenon, says Andrew Holland, Chief Administrative Officer at DSP Merrill Lynch. BCPs were there even during the y2k scare. Only, "now, with industry (performance) looking up, and the markets getting into a bull phase, banks and other financial institutions are willing to spend that extra bit on alternate sites that replicate their operations."
A SAMPLING OF BCPs
» Standard Chartered's processing hubs are in Hong Kong and Singapore, but in case of disaster, key Indian ops can be run from its Disaster Recovery Centre in Chennai
» ICICI Bank has an offsite data centre in Hyderabad that lies on a different power and telecommunications grid than Mumbai, the location of the bank's HQ
» NSE has a DRC in Chennai; BSE has one for its main trading platforms for equity and derivatives replete with settlement systems at Navi Mumbai
» Each of HDFC's branches has waterproof and fireproof storage in the basement, and all data particular to a city is instantaneously backed up in another
The description may make a BCP sound simpler than it is. In reality, a BCP often is a multi-layered thing that ranges from the mundanely offline to the critically online. Housing finance major HDFC, for instance, is a geographically dispersed company that can process data from multiple locations. "This," says its general manager in charge of technology, R Arivazhagan, "ensures that customers don't suffer and we don't lose business." All of HDFC's offices in a city are on a common network, and 20 branch offices have fireproof and waterproof storage facilities for documents in the basement. And all data is backed up instantaneously in another city. For instance, transaction data from all other Indian cities is backed up in Mumbai; Mumbai data is stored in other cities.
A company's BCP needs to be as elaborate as business-needs warrant it to be. And it should be flexible enough to accommodate disasters of varying magnitudes-that means it needn't go into the 9-11 mode in case a small fire breaks out. DSP Merrill Lynch's Holland believes the best plans operate at three levels. At the first level, if something happens to the building in which the company operates from, it should be possible for employees to work from another office nearby which is connected to the first. In the second level, if employees are unable to access the business district where the building is located, they should be able to work from an office 15 kilometres away. And at the third level, if the problem is citywide, the business should operate out of another geography, such as Hyderabad or Chennai.
Chennai appears to be the preffered location for a disaster recovery centre. Apart from NSE, DSP Merrill Lynch and Standard Chartered Bank have their centres located in the city. Why Chennai? Well, the city doesn't have a terror (or terrorist) problem, is in a non-quake zone, and cannot be reached by even long-range missiles fired from outside India.
For similar reasons, Hyderabad is another preferred destination for companies seeking to locate their DRCs. "The decision to move to another geophysical zone which operates on a different power and telecommunications grid was taken two years ago," says Provir Vora, General Manager, Retail Technology Group, ICICI Bank, which put down a drc in Hyderabad in 2002. Adds Sanjeev Agarwal, CFO, Standard Chartered, "BCPs and DRCs are a priority and over the years we have never decided on investing in new processes or products without evaluating these requirements." And the bank reviews its BCP every few months and upgrades them when necessary. All this comes at a cost, but that's nothing compared to the cost of downtime should disaster strike.
---
MsourcE's Hawthorne Effect
Not really, but that's a catchy headline.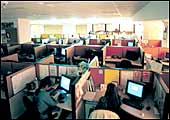 Hawthorne Redux at MsourcE: It's the lighting, stupid
In the 1920s George Elton mayo was part of some experiments at the Hawthorne plant of Western Electric which manufactured telecommunications equipment. One of these experiments involved improving lighting conditions. Expectedly, productivity improved. Surprisingly, however, when the lighting was decreased, productivity again increased. This resulted in the formulation of the Hawthorne Effect which states that employees react positively when employers show increased concern. The experiments were seen by employees as a manifestation of such concern.
Now, the only thing in common between the Hawthorne Experiments and happenings at MsourcE, the it enabled services arm of software company Mphasis is the lighting. All ITEs firms seek to leverage the low cost of trained English-speaking labour in India and the time-zone differential to their advantage. That's great for business but it plays havoc with biological clocks. To address this and to "help employees relax", says R. Elango, the company's vice president in charge of hr and training, "we wanted to try out a couple of unconventional things."
In one such effort, MsourcE, in association with GE Lighting, is tinkering with the lighting at the centre. "It was pure serendipity," says Elango. "We were surprised to note that when the lights were dimmed people began to speak more softly and average handling time came down drastically." That's not surprising, says Dr. L Manjunath, a psychiatrist. "Our body clocks are regulated by light," he explains. "In order to keep employees awake some call centres use harsh lighting; this harms rather than helps."
However, MsourcE discovered that prolonged low lighting had a soporific effect. It is conducting experiments to identify the ideal level of lighting. There are other initiatives-aromatherapy, aerobics classes, even a potter's wheel where employees try their hand-but we love the lighting bit.
-Venkatesha Babu
---
The Certified Astrologer
A Chennai numerologist goes out and gets himself an ISO 9000 certification.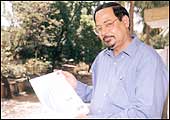 Look, Ma: Keshor Talwar proudly displays his ISO 9000 certificate
One day in April, execs at the Chennai-office of certifying authority BSI Management Systems were surprised to receive an application for an iso 9001:2000 certification from Askurnumerologist, a city-based firm owned by Keshor Talwar. There are an estimated 500,000 numerologists in the world, a tenth of them in India, and none boasts an ISO certificate. "If I had to make a mark, I knew I had to be distinct," says Talwar, a 53-year-old who prefers to dress more like an executive at a BT 500 company than a numerologist, nameologist, and gemologist rolled into one efficient soothsaying machine.
Frantic calls to BSI's London office followed. Then, the local office laid down some ground rules, hired an expert numerologist to check if Talwar was indeed an expert in the subject (he was), and carried out two audits. Talwar and the consultant he hired were asked to produce a quality manual for the business, identifying processes, performance, and measures of customer satisfaction. This was vetted by BSI. Finally, in May, the auditor certified Askurnumerologist. "Talwar fulfilled the criteria and we issued the certificate," says Gurvinder Chopra, Manager, BSI. Since then, Talwar's business has flourished. So much so, that Askurnumerologist became a partnership company recently (Talwar's son was inducted as a partner) and will become a private limited one soon. And Talwar has decided to renounce his business as an intermediary in the pharmaceutical exports trade and become a full-time numerologist. The prominently displayed ISO certification on his site (www.askurnumerologist.com) is a draw for foreign customers. Talwar claims he has 200 of those, apart from some 300 NRIs and 1,000 desis in India). "When they see the certification, overseas clients believe that I am a credible numerologist, not some fly-by-night operator," says Talwar.
Thanks to his growing business and ISO-requirements on documentation, Talwar has drafted his family to help out: wife Anuradha double-checks Talwar's calculations, elder son Rahool Kr. Talwar, helps maintain the website and the it-backbone of the business, and younger son Agam Aadhaar Talwar is learning the ropes. Askurnumerologist's rates are reasonable, and vary from as little as $5 (Rs 150 for Indians) for a gemstone analysis to $1,000 (Rs 20,000 for Indians) for name-studies for corporates. Much like private detectives in the US who get most of their business investigating spouses, Talwar is in demand for his matchmaking services, to suggest suitable dates for marriages and births (matches and hatches in journo-lingo, and the second refers to C-sections).
The one-time English newsreader on the tube who took to numerology on a whim some 25 years ago believes the ISO has improved the quality of Askurnumerologist's services. "I am good at numerology but bad at paperwork," he confesses, "but thanks to the discipline of ISO, clients are now registered, their needs, met in time, and their feedback, collected". Talwar's maternal grandfather may have founded the famous Lalah Spices brand-it's big in Chennai-and he may claim kinship to star-of-the-moment Vivek Oberoi, but it is as the world's first ISO certified numerologist that he will go down in history.
-Nitya Varadarajan