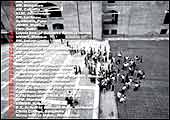 Students between classes at IIM-A: The #a is streets ahead of the competition
There are B-schools and B-schools and B-schools. And there are B-school surveys and B-school surveys and B-school surveys.
It probably doesn't help our cause, Constant Reader, to tell you that we were the first in India to come out with a comprehensive ranking of B-schools. Not when that hoary institution, IIM-A, is the top B-school in the three surveys to have come out thus far this year. And not when the top three schools in the BT survey are exactly the same as those in the two other surveys that predate it (you guessed it, IIMs all, and in alphabetical order A, B, and C).
This is probably a good time and place to explain why, and how Business Today's B-school survey, carried out by our partners ACNielsen ORG-MARG is different. A little bit of history is in order here. Business Today pioneered the part-objective, part-subjective B-school survey. This meant gathering primary data related to admission, teaching curriculum, infrastructure, budgets, placements, salaries, faculty, and industry-linkages from B-schools. And it meant surveying recruiters, alumni, and B-school academics. The first three BT surveys (1998, 2000, and 2002) were based on such a model. As are the B-school surveys carried out by other magazines.
There are four problems with such a model. One, B-schools stretch the truth. And with few schools (apart from the IIMs) publishing their financial statements, and recruiters insisting on confidentiality of placement details, most MBA-factories embellish the truth with impunity.
Two, all B-school ranking methodologies include parameters such as intellectual capital that neither magazines nor their research partners are equipped to measure. For instance, one measure of this is the proportion of the faculty with PhDs. Given that anyone of reasonable intelligence can nab one of those, this approach seems fallacious. Another is the number of research papers published by the faculty. In today's context in India, anything can pass for a paper; the ideal approach would have been to constitute a panel of experts-say a C.K. Prahalad, a Bala Balachandran and a Vijay Mahajan-to assess the worth of these papers.
Three, overwhelmed by a desire to be comprehensive, all methodologies club a host of necessary conditions (like the presence of an admission system or an exclusive campus) with the differentiating ones. Result: A skew in the overall distribution with the unimportant parameters drowning the few critical ones.
| | |
| --- | --- |
| 1 | IIM, Ahmedabad |
| 2 | IIM, Bangalore |
| 3 | IIM, Calcutta |
| 4 | XLRI, Jamshedpur |
| 5 | IIM, Lucknow |
| 6 | Symbiosis, Pune |
| 7 | JBIMS, Mumbai |
| 8 | FMS, Delhi |
| 9 | Loyola Inst. of Business Admn., Chennai |
| 10 | NMIMS, Mumbai |
| 11 | IMM, Indore |
| 12 | S.P. Jain, Mumbai |
| 13 | Xavier Inst. of Mgmt, Bhubaneshwar |
| 14 | IIM, Kozhikode |
| 15 | IMT Ghaziabad |
| 16 | MDI, Gurgaon |
| 17 | Birla Inst. of Mgmt. Tech., Delhi |
| 18 | Amity Business School, Noida |
| 19 | K.J. Somaiya Inst., Mumbai |
| 20 | Shailesh J. Mehta School of Mgmt-IIT, Mumbai |
| 21 | Bradruka College, Hyderabad |
| 22 | Osmania University, Hyderabad |
| 23 | Prin. L.N. Welingkar Inst., Mumbai |
| 24 | Sydenham, Mumbai |
| 25 | CFAI Business School, Hyderabad |
| 26 | IIPM, Mumbai |
| 27 | IISWBM, Kolkata |
| 28 | B.K.School of Business Mgmt, Ahmedabad |
| 29 | Christ College, Bangalore |
| 30 | Nirma Inst. of Mgmt, Ahmedabad |
And four, all validation processes are imperfect.
The Business Today-ACNielsen ORG-MARG survey is different because it is based on a path-breaking (if we say so ourselves) methodology (See How We Ranked The B-Schools for details). It is based on ACNielsen ORG-MARG's trademarked Winning Brands model and it involves a perceptual survey of hr and functional heads of organisations, MBA students and aspirants, and young executives. By not depending on questionable factual information, and by focusing exclusively on subjective information, the BT survey ends up being the most objective of them all. Go chew on that.
CRUNCHING THE NUMBERS
First the jargon: The BEI, or Brand Equity Index (the scale is between 0 and 10), is a measure of the strength of a brand. The BEI of monopoly brands ranges between four and six, that of winning brands between three and four, distinct brands between two and three, undifferentiated brands between one and two, and mediocre brands, less than one.
By that measure, there is one monopoly brand among B-schools, IIM-A (BEI: 6.36), one winning brand, IIM-B (3.1), one distinct one, IIM-C (2.108), and five undifferentiated ones, XLRI, IIM-L, Symbiosis, JBIMS, and FMS, Delhi (1.64, 1.556, 1.33, 1.282, and 1.157).
This doesn't mean respondents do not associate schools outside the top three with parameters such as reputation, quality of placement, quality of faculty, and teaching methodology. Indeed, there's little to differentiate the top five schools on these: IIM-A, IIM-B, and IIM-C, all score alike on these parameters, with the second actually outscoring the first on several. And XLRI and IIM-L score alike with the latter outscoring the former. This is easily explained. These scores are association scores. For instance, 90 per cent of the respondents associate IIM-A with 'good reputation'; 91 per cent do IIM-B. However, this doesn't reflect the intensity of association. The BEI of IIM-A indicates that this, the intensity of association, is probably high in its case, across parameters, and across respondent categories.
Still, across the five categories of respondents, around two-thirds of the 30 schools that were ranked, boasted brand equity indices less than one. The schools ranked by BT and ACNielsen ORG-MARG may constitute the top 5 per cent of India's 800-odd B-schools, but on the basis of brand equity, there are just 10 really outstanding B-schools in the country. There are B-schools and B-schools and there is IIM-A. And there are B-school surveys and B-school surveys and there is the BT-ACNielsen ORG-MARG one.