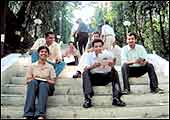 RANK —
NATIONAL INSTITUTE OF INDUSTRIAL ENGINEERING
When a school ranked fourth in one year's B-school survey doesn't figure in the next rankings, it merits attention. Unfortunately (from the news point of view), and fortunately (from the school's POV), the explanation for NITIE's seeming fall from grace is much more mundane. The school, and, for that matter, the Indian School of Business (ISB), Hyderabad, are a victim of circumstances.
Partly, this is of their own making. NITIE is super-specialised; although it offers a post-graduate programme in management, it is for its specialisation in industrial engineering, industrial safety, and environmental management that it is known; and it admits only engineers. And ISB offers a one-year course targeted largely at people with considerable work experience and priced fairly high (it costs over Rs 10 lakh); not everyone, thus, wants to get into this school; some know they won't because they lack the work experience, and others know they won't be able to afford it. Given that the first phase of the BT-ACNielsen ORG-MARG study involved a survey of aspiring MBAs and hr heads, neither ISB nor NITIE figured in the top 30 (and only 30 schools could go into Phase II of the study). That said, for engineers who want to make a career in operations management, there are few better options than NITIE.
That doesn't make all NITIE's students gear jocks. "While their base is tech, their attitude is holistic," says Tapan P. Bagchi, the school's director. An engineer himself (from IIT Kanpur, and he has a PhD from University of Toronto), Bagchi worked for oil major Exxon in the US for 16 years and believes NITIE's engineering-orientation makes it the ideal hunting ground for recruiters in search of operations talent. Recruiters agree. In 2003, out of the 47 companies that visited the school during placements, around 15 picked students who had specialised in supply chain management. Hyderabad-based Triniti Corporation, a company that implements Oracle applications and supply chain automation software is one such. Anant Padmanabhan, the company's general manager in charge of hr is happy with his recruits from NITIE and believes that the fact that they are engineers helps. "These guys are not afraid to get their hands dirty to solve a problem," he says.
Super-specialisation has helped NITIE to become a brand-albeit a niche one, as our survey indicates-in a mere nine years since it started offering its management programme. In 2003, average annual salaries on campus were Rs 6.76 lakh, a number that's actually higher than IIM-A's Rs 6.2 lakh, and IIM-B's Rs 6.1 lakh.
The super-specialisation also bestows the school's students with an edge. Ankur Bhagat is the service leader of the customer logistics function at fast moving consumer goods company Procter & Gamble. The 27-year-old graduated from NITIE in 2000 and has since been on the fast track. And he owes his success, at least in part, to his specialisation. Just as NITIE-despite its absence from this year's ranking-owes it to its niche.