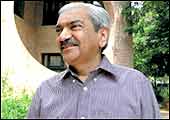 Global brand :
Dholakia aspires to make IIMA an Ivy League B-school
It's a, it's the best." the delightfully erudite description comes from a second year student of the Indian Institute of Management, Ahmedabad's post graduate programme (PGP) in management, described by Economist magazine as the toughest B-school programme to get into. It explains why this student, like many others in his batch-it numbers 150-plus; the first year batch numbers 254; and the batch-size is estimated to hit 300 next year-chose IIMA despite receiving offers from all the alphabets in the growing IIM-family, B, C, L, I, and K. It also explains why the bottom 20 per cent of the class at the school, a parameter usually ignored by fact-oriented researchers and perception-oriented journos engaged in ranking B-schools, is, arguably, far superior to the bottom 20 per cent at the other IIMs. Empirical evidence supports this claim: In a simple experiment, several people this writer spoke to picked far more 'losers' they know (and know of) from the other IIMs than from IIMA. "The students and the teachers here are far more motivated than those back home, or anywhere in Europe," gushes Kasper Knokgaard, an exchange-student from the Copenhagen Business School.
Recruiters-at least some of them-agree that there is that 'something' about students from IIMA. Adil Malia, the hr manager of Coca-Cola India, is one such (although he has a soft spot for XLRI, Jamshedpur too). "The success rate of students we hire from IIMA is very high," he says. "That's why we will continue to hire from it.'' Prem Kamath, the head of management resources at Hindustan Lever Limited, is a bit more circumspect, strange, given that he is an alumnus of the school. "We do not have any bias towards IIMA," he says. "We try and maintain as diverse a management pool as possible." However, he admits that IIMA has amongst the most stringent admission criteria in the country.
It must be modesty that makes Jerry Rao, CEO of Mphasis, to declaim that he'd like to believe that there is nothing special about students from IIMA. After all, Rao is an alumnus of the school, and served as the head of Citibank's Indian operations before deciding that his heart really lay in technology. "Then, "he says, "empirical data proves otherwise; the guys we have hired (from IIMA) have been proving their worth.'' Rao, the guest-of-honour at this year's party for freshers and a role model for IIMA students daring to walk the entrepreneurial path-"He had a great job in Citigroup but chucked it all up and started his own company," says one student, admiration writ large on his face-pauses. "It is such a good place to learn," he says softly.
IT'S THE BRAND




IIMB outscores IIMA in terms of association with key parameters...

IIM B

IIMA

Reputation

91

90

Placement

91

89

Quality of placement

92

90

Infrastructure

82

82

Faculty

88

87

Teaching

85

84

Specialisation

64

64

Admission Eligibility

38

39

Figures are proportion of respondents of the BT survey who associate the schools with these parameters

... But in terms of brand equity index, across respondents, IIMA tops

IIMA

IIMB

All

6.36

3.1

Current MBAs

6.338

2.938

MBA Aspirants

6.853

3.305

HR Heads

5.742

3.575

Young Executives

6.903

2.654

Functional Heads

5.883

3.238

Figures are brand equity scores
Rao is also part of the school's recently founded Alumni Council. With members such as Ashok Alexander, a McKinsey vet who heads the Bill and Melinda Gates Foundation in India, HLL Chairman M.S. Banga, ICICI Bank CEO K.V. Kamath, and Tata Industries' head Kishore Chaukar, the council is a veritable who's who of corporate India. And Infosys Chairman and Chief Mentor Narayana Murthy, a former employee of the school-he sort of started its computer department-is iima's chairman. The school's current director, Bakul Dholakia, proposes to tap the advice and seek the assistance of the council and the chairman in his efforts to make IIMA an "Ivy League" business school. "We have the product," he says. "And we have the brand (as the BT-ACNielsen ORG-MARG survey would verify); now, we have to spread the message."
Even without trying to proselytise, IIMA has a distinctly international feel to it. Like a few other schools in India, most notably IIMB, it has a vibrant exchange programme with schools from all over the world (Chicago's Graduate School of Business; New York University's Stern School of Business; St. Gallen Graduate School of Business, Switzerland; Copenhagen Business School; and Australian Graduate School of Management, Sydney). Every year, 50 students from IIMA spend a term abroad, and 30, from these European and Asian schools, at Ahmedabad. Still, none of these, not the quality of its students, not the exchange programme, not even the marquee alumni, can explain why IIMA emerges as the only "monopoly" brand in India's crowded B-school firmament according to the BT-ACNielsen ORG-MARG survey.
THE MAKING OF A BRAND
Could the faculty, as others visiting the subject before this writer have argued, be the key to IIMA's supremacy? Dholakia is a specialist in economic growth and planning, who, a joke among the faculty goes, will be best remembered for allowing Harsha Bhogle to skip an exam to commentate in a cricket match, thereby playing a part in the man's rise as one of the world's best known cricket commentators. His obsession-of-the-moment has to do with acquiring talent. "We have 75 full-time professors," he says. "With some retirements due over the next few years, we need around 30-35 new teachers." There are resumes aplenty on Dholakia's database, but the man who joined IIMA in 1979 is committed to quality, not quantity. "It is not enough to be a good teacher; you have to be a committed researcher and an able administrator." The combination, he candidly admits, is not very common in one individual.
Recruiters and MBA aspirants don't even have to think twice about it: IIM-A is their #1 choice
Money is one constraint. In 2002-03, faculty-salaries at IIMA ranged from (approximately) Rs 2.5 lakh (a year) for an assistant professor to Rs 5 lakh for a professor; this, when the average entry-level salary of the class of 2003 was Rs 6.2 lakh per annum. "Why should anyone be interested?" argues Pankaj Chandra, the Chair of the school's fpm (fellowship programme in management). Most professors buttress their salaries with income from consulting. The school has the money; its faculty members, even fellows, frequently travel abroad to attend seminars and conferences and it is in the midst of its biggest expansion drive since 1974 (this will cost Rs 50 crore and explains the hectic activity on a 39-acre lot adjoining the 65-acre campus), but India's Ministry of Human Resources- the IIMs fall under its purview-is loath to change pay scales for professors. That could explain why, when this writer posed a question to students and professors on the one thing they would like to see change at IIMA-A wag in the crowd answered that he would like more natural light in his room; an architectural quirk makes this well nigh impossible-most people replied "more autonomy".
Dholakia can't offer monetary benefits; what he can, though, is a culture of excellence that is the natural result of hiring only the best instructors. "Why would I want to go anywhere," asks Rekha Jain, a professor of computing and information systems, and chair of the placement committee. "I love this place and my colleagues have kept pushing me to realise my own potential." Then, there's the culture of egality and freedom. Everyone, assistant professors, associate professors, full professors, is designated professor, and the school has rotating chairs in various areas; even junior professors can hold these chairs. Abraham Koshy, a professor of marketing at the school-he has been at IIMA for over 15 years and is a legend in his own right-says he will never trade the "freedom this institute gives me for anything; it is part of what makes this place great".
M.S. Bagga, Chairman, HLL

K.V. Kamath, CEO, ICICI Bank

Harsha Bhogle, Commentator

Don't discount the old-boy factor. IIMA boasts alumni such as Banga, Kamath, and Rao. Why, even ace cricket commentator Harsha Bhogle is an alumnus of the school
The school is also keen that it doesn't lose the research-edge. "Good research is important," says Jayant Verma, the chair of research and projects. "It keeps you on your toes and helps you command the respect of peers and students." IIMA publishes a report at the end of each year, detailing exactly how much research each professor has done.
Still, it is unlikely that faculty (or the quality of it) is the school's differentiator. The directors of the schools ranked second and third in the BT-ACNielsen ORG-MARG survey, IIMB and IIMC, Prakash Apte and Shekhar Chaudhuri respectively, are alumni of IIMA. And in the mid-1990s, under the stewardship of then director K.R.S. Murthy, IIMB embarked on a drive to hire faculty that would, even by today's standards, be termed ambitious.
The real reason for IIMA's pre-eminence is a mix of everything- the alumni, the students, the faculty-plus one other critical ingredient, the school's case study method of instruction. This isn't unique to IIMA, but "the range, depth, and intensity with which we deal with the subject, and the fact that these cases are real-life, makes them unique", says Dholakia. Adds Samir K. Barua, the PGP-chair, "We facilitate comprehensive discussions and students have to participate." The quality of the discussion, given that of the students, is high and it may, over a period of time, well play a part in honing the skills of instructors. That, says an IIMC alumnus, could explain why IIMA seems to have mastered the art of "teaching its students to think". Can other schools replicate this? Logic suggests they should be able to, but then, some brands derive their strength from being context-specific.