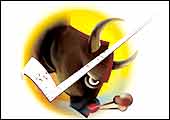 Stockmarket rallies over the years have followed a somewhat predictable pattern: The bull charge begins slowly and silently, catching many sections of analysts, strategists and fund managers unawares. Some 20 per cent into the rally, and the same guys, who pre-rally were making gloomy predictions, dishing out time-to-shut-shop-soundbytes, and threatening to abandon their trading terminals in favour of vedic pursuits, join in the party. Some 50-60 per cent later, the good old retail investor throws his hat into the ring, but scarcely has he mumbled "buy" when the indices climb on to a roller-coaster. Those who've made obscene amounts of money so far and are resting on their gains (note: there aren't too many of this type) as well as those grudging unwashed who've missed out on the rally scream: "It's over." Those who've made obscene amounts of money, but are still gunning for even more vulgar bounties, clear their throats and hiss infuriatedly through their teeth: "Relax, have some paan masala, it's only a correction." Poor Mr Retail Investor is confused: Should he be hanging in there, or wanting out?
Our take, if it's of any use to MRI (Mr Retail Investor): The market is taking a long-overdue breather. At the time of writing, the 30-share Sensex is at 4,152, down by 321 points, or 7 per cent, from the highest note it hit during this four-month bull charge. If you take into account the intra-day highs and lows, of 4,473 on September 9 and 4,098 on September 19 respectively, the maximum loss from the peak is 376 points, or 8 per cent. Now, an 8 per cent loss isn't big enough to begin pronouncing the end of a rally. On the other hand, is it small enough to be labelled a correction? Unfortunately, rather than receiving clear-cut answers, at times when the markets reach such ambiguous levels, another ritual begins: Finding the rogue elements responsible for the bouts of selling, and their rougish reasons for such indiscretion and insensitivity.
This time round, Dalal Street's Enemy No. 1 turned out to be the hedge funds. To be sure, after reading and hearing out all the views on these dreaded market participants, you can't be blamed for getting the feeling that the hedge funds are not too different from the colonial invaders of yesteryears. After all, here are a bunch of #$@&s who storm in, make a quick big buck and exit before the ink can has dried on your depository slip. But that's the nature of hedge funds, and they behave in such a manner in all markets-at least in those where arbitrage opportunities exist. For example, they can make money by buying Infosys in India (where it is cheap compared to its ads) and going short on its ads in US at the same time. Another way is to tap into the difference between the cash and derivatives (futures and options) market in India itself. These hedge funds are currently active in the derivatives market. With the mutual funds banned from writing the options (they are only allowed to buy options), the options segment is virtually their monopoly.
What's more, if the hedge funds have a good thing going in India, why in heavens name would they be willing to call it a day so soon. If one looks at the flows of foreign institutional investors (FIIs), it's tough to believe that the hedge funds have packed it in. As these hedge funds are investing through the participatory notes (P-Notes) of other registered FIIs, the precise quantum of their investments in India are not known. Around 50 per cent of the FII inflow now is from hedge funds (up from 20 per cent last year). In other words, the hedge funds money is getting clubbed with the FII inflows. And the FIIs continue to pump in money. On September 18, when the Sensex toppled by 101 points, FIIs were net buyers to the tune of Rs 299 crore. In fact, it is the Indian financial institutions and mutual funds that were booking profits. According to SEBI data, Indian mutual funds have withdrawn Rs 423 crore from the market between September 9 and 18.
Fear not the hedge funds, or other similar market animals. What we are witnessing is a correction, because the fundamentals-good corporate results, good monsoons-are still intact. It's just that what goes up too fast must slip a notch or two sooner than later. A breather is needed for a further upward movement. As some tired soul once put it: "You can't make love all through the night."